Using a Mortgage Broker vs. a Bank
A mortgage broker can offer a wider array of options and streamline the mortgage process, but working directly with a bank gives you more control and costs less.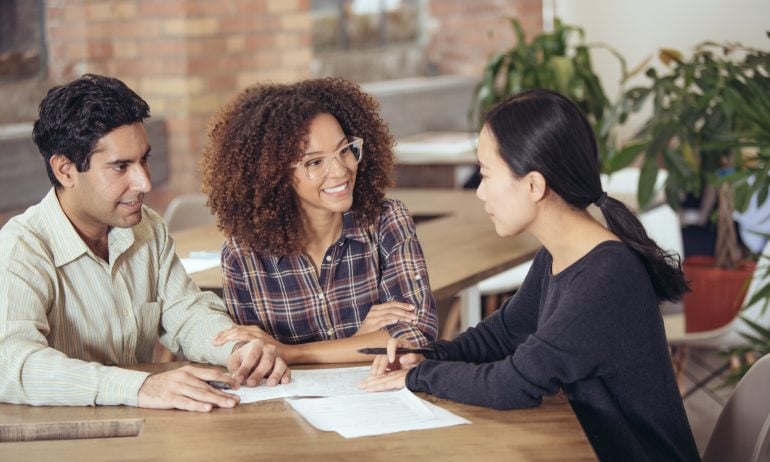 Some or all of the mortgage lenders featured on our site are advertising partners of NerdWallet, but this does not influence our evaluations, lender star ratings or the order in which lenders are listed on the page. Our opinions are our own. Here is a list of our partners.
Whether it's better to work with a mortgage broker or get a home loan directly from a bank depends on your financial situation and your preferences. For example, if you might have trouble qualifying for a mortgage or you place a high value on convenience, a mortgage broker may be worthwhile for you. On the other hand, working directly with a bank might make more sense if you're comfortable crunching some numbers and you want to feel more in control of the homebuying process.
Getting ready to buy or refinance a home? We'll find you a highly rated lender in just a few minutes
Just answer a few questions to get started on a personalized lender match
What is the difference between a mortgage broker and a bank?
Working with a mortgage broker vs. a bank is like working with a travel agent vs. researching and booking a trip on your own. It might be less hassle on your end to work with a professional, but there may be tradeoffs for that convenience.
Banks are one type of direct lender; when you're getting a mortgage, the bank is directly lending you the money to buy a home. Other types of direct lenders include online lenders specializing in mortgages, specialty lenders that cater to certain types of home buyers (like companies that focus on military service members) and credit unions.
When you shop for a home loan with a bank, you're doing the legwork of figuring out whether that bank is right for you. So chances are, you'll find yourself setting up a spreadsheet or at least making a list to keep track of rates, fees and other considerations.
A mortgage broker serves as an intermediary between you and direct lenders, which include banks. After discussing your needs, mortgage brokers take care of the rest. They reach out to their contacts at direct lenders and come back to you with options that fit your criteria. The broker then works with you to figure out which loan best suits your circumstances and continues to facilitate the transaction through the closing.
Pros of using a mortgage broker
There are several advantages to using a mortgage broker versus a bank. Doing the research and finding a mortgage lender on your own can match some of the benefits of working with a broker, but a mortgage broker may have access to more resources.
Help with prep. You can start working with a mortgage broker reasonably early in the homebuying process. In addition to answering your questions about getting a home loan, a mortgage broker can help you go about gathering all the documents and information you'll need to apply for a mortgage.

Access to various loans. A bank's loan officer can only present you with home loan products the bank offers. A mortgage broker, on the other hand, can help you obtain any home loan. If you're looking for a type of mortgage that's less common, working with a broker can give you a shortcut straight to the relevant lenders.

Customized assistance. Suppose you're someone who might not qualify for a home loan, or you have circumstances that require more explanation (for example, gaps in employment or a thin credit file). In that case, a mortgage broker may be able to help you find lenders amenable to your situation. Even if you're a borrower who wouldn't have any trouble getting a mortgage, a broker will meet with you (in person or virtually), go over loan options, highlight points of comparison and support you in making an informed decision.

Convenience. Getting a mortgage is a time-intensive process. Even after doing all the due diligence to find the right bank for you, the actual application and loan closing process are intense, with lots of back-and-forth and requests for documents you swore you already provided twice. A mortgage broker will generally handle the paperwork and lender-wrangling on your behalf; a good mortgage broker will save you time and stress.
Getting ready to buy or refinance a home? We'll find you a highly rated lender in just a few minutes
Just answer a few questions to get started on a personalized lender match
Pros of working with a bank
Working with a mortgage broker isn't for everyone. If you feel comfortable talking to loan officers and want to be in the driver's seat, you may work directly with a bank.
Direct connection. If you're working with a loan officer at a bank, you're working with a bank employee. They should be able to address any issues right away. On the other hand, when you're working with a mortgage broker, they may not always be able to influence what goes on at the bank since they don't work for it.

Potential discounts. While it may feel easiest to go with your existing bank when you're ready to buy a home, it's always a good idea to shop around to find the best mortgage rates. But make your bank one of the options you shop, since many offer discounts to existing customers who use other products or services like credit cards, checking, or savings accounts. For example, if your bank already offers you a low rate and favorable terms, getting a discount on closing costs or paying no origination fee might be enough to tip the scale.

Fewer fees. Mortgage brokers don't work for free, and if you use one, that adds to the cost of your home loan. Generally, mortgage brokers earn a flat fee equal to 1% to 2% of the total cost of the loan. If you pay this as the borrower, it may be part of your closing costs or rolled into the loan amount. Sometimes the lender will pay the mortgage broker (since, after all, the broker is bringing the lender business). Although that may look less expensive on paper, your lender might build the broker's fee into the cost of your loan. Mortgage brokers must disclose their fees upfront, so it's something you can ask about when you're looking for a broker. If you're paying the mortgage broker, they cannot receive additional compensation from the lender — either you pay, or the lender does.
Mortgage brokers by law cannot steer clients toward particular lenders solely to increase their compensation. If you compare a loan with lender-paid broker fees to one that would require you to pay, look closely at the numbers to be sure you're clear on the broker's fee.
Fewer people to manage. You might be able to cut out a lot of the headaches of the loan process by working with a mortgage broker, but you'll still have to do some research to find a mortgage broker in the first place. You'll want a mortgage broker who works well with you and also with your buyer's agent. If the relationship doesn't go as expected, you can change brokers — but then you're back to square one.
Getting ready to buy or refinance a home? We'll find you a highly rated lender in just a few minutes
Just answer a few questions to get started on a personalized lender match
Get more smart money moves – straight to your inbox
Sign up and we'll send you Nerdy articles about the money topics that matter most to you along with other ways to help you get more from your money.