What Is an iBuyer?
Companies known as iBuyers use digital tools to simplify the home selling and buying process.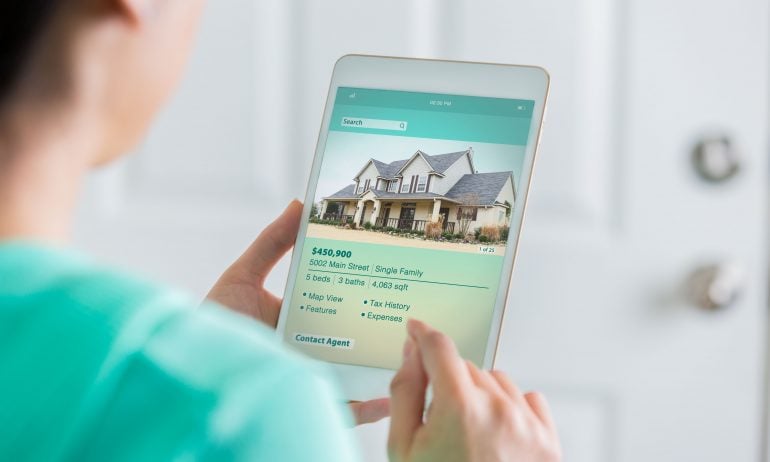 Some or all of the mortgage lenders featured on our site are advertising partners of NerdWallet, but this does not influence our evaluations, lender star ratings or the order in which lenders are listed on the page. Our opinions are our own. Here is a list of our partners.
An iBuyer, or "instant buyer," is a real estate company that uses algorithms and technology to buy and resell homes quickly. When selling a home to an iBuyer, you may get a cash offer in as little as 24 hours.
You can also buy a home from an iBuyer. The company's website or app lets home buyers view available properties, schedule tours and request information. Closing may occur more quickly with an iBuyer because you don't have to accommodate a traditional seller's timeline.
Just a few years ago, iBuyers were presented as a major disruptive force in the real estate market. However, more recently, some of the most high-profile iBuyers — including Zillow Offers and RedfinNow — have shuttered, and others have contracted their operations. Orchard, for instance, laid off 25% of their staff in 2022 (after receiving a $1 billion dollar "unicorn" valuation just a year prior), and now operates in just three states. According to the National Association of Realtors, 1% of sellers sold to an iBuyer in May 2023.
While iBuyers' presence in the industry is shrinking, you still have options if you choose to work with one. Whether you're buying or selling with an iBuyer, here's what you need to know.
Who are the biggest iBuyers?
Your choice of iBuyers is limited by your location, as individual iBuyers don't often operate in all markets. One option is ExpressOffers, which is part of eXp Realty and is available in all 50 states. Depending on your state, your other options may include:
| | | | |
| --- | --- | --- | --- |
| | | | |
| | Yes (Phoenix, Prescott, Tucson). | | |
| | Yes (Los Angeles, Riverside, Sacramento, San Diego, the San Francisco Bay Area). | Yes (Riverside, San Bernardino, Sacramento). | |
| | Yes (Colorado Springs, Denver, Northern Colorado). | Yes (Colorado Springs, Denver, Fort Collins). | Yes (Denver, Fort Collins). |
| | Yes (Jacksonville, Miami, Orlando, Southwest Florida, Tampa). | Yes (Fort Myers, Jacksonville, Orlando, Tampa). | Yes (Jacksonville, Orlando, Tampa). |
| | | | |
| | | | |
| | | | |
| | | | |
| | | | |
| | Yes (Minneapolis-St. Paul). | | |
| | Yes (Kansas City, St. Louis). | Yes (Kansas City, St.Louis). | Yes (Kansas City, St. Louis). |
| | | | |
| | | | |
| | | | |
| | | | |
| | Yes (Asheville, Charlotte, Greensboro-Winston, Raleigh-Durham). | Yes (Charlotte, Raleigh). | Yes (Charlotte, Raleigh-Durham). |
| | Yes (Cincinnati, Cleveland, Columbus). | | |
| | | | |
| | | | |
| | Yes (Charleston, Columbia, Greenville). | | |
| | Yes (Chattanooga, Knoxville-Morristown, Nashville). | | |
| | Yes (Austin, Corpus Christi, Dallas-Fort Worth, Houston, Killeen, San Antonio). | Yes (Austin, Dallas, Houston, San Antonio). | Yes (Austin, Dallas-Fort Worth, Houston, San Antonio). |
| | | | |
| | | | |
| | | | |
The specifics vary by company, but generally iBuyers tout their ability to get you through the home selling or buying process quickly and conveniently. Here's what you can generally expect.
Selling a home to an iBuyer
To see if an iBuyer will purchase your home, you typically submit basic information about the property using the company's website or app. You may also be asked to provide photos or other evidence of the state of the home.
The iBuyer estimates your home's value and, if it wants to proceed, sends you an offer, along with information about any service charges and closing costs. If you like the bid and terms, the company will schedule a more detailed evaluation of the home and then provide a final offer. If the company notes any necessary repairs, they may lower their offer in order to cover these costs.
Be aware that Opendoor has been cited by the Federal Trade Commission for inflating the costs of repairs and paying less for homes than a seller could get on the open market. In 2022, the company had to pay out $62 million in fines to make customers whole after its claims were deemed to be "deceptive."
You don't have to agree to the iBuyer's offer; in fact, you can typically back out at any point prior to closing. If you decide to move forward with them, you may have the option to choose your closing date, allowing for a bit more flexibility than a traditional transaction because you're not dependent on an individual buyer. You'll then plan your move based on the terms of the contract — for example, Offerpad requires sellers to move out within three days of closing.
According to Opendoor, after you've closed, you can expect the payment to come through within a few days.
Buying a home from an iBuyer
Before shopping, first figure out how much house you can afford. Then shop mortgage rates among at least a few lenders and get preapproved for a home loan. A mortgage preapproval is a letter from a lender showing how much loan you're likely to qualify for. Some iBuyers have their own lending divisions, but it's important to shop around to get the best deal.
You can browse homes for sale on iBuyer websites, schedule times to visit properties and notify the companies if you're interested in a particular listing.
Homes owned by iBuyers are typically ready for occupancy because the previous owners have moved out and the companies cover repairs before listing them. But it's still a good idea to get an independent home inspection.
Generally you'll have the option to make an offer through your own real estate agent or by contacting the company directly, and you can negotiate with the iBuyer on price.
Once you've signed the contract and secured financing, you can choose your move-in date. Because the seller is a company and not a person currently living in the home, you may be less likely to deal with delays on their end. For example, the contract won't be contingent on the timeline of the seller's next home purchase.
Costs of working with an iBuyer
You can typically find iBuyers' listings directly on their websites or apps. By comparing iBuyer listings to comparable homes in the area listed on other marketplaces (such as Zillow, Realtor.com or Redfin), you can estimate whether their pricing is competitive in your market. If you're working with a real estate agent, they may also be able to offer guidance on fair market values.
When selling to an iBuyer, there are two costs to consider: service fees and the opportunity cost, or the difference between the iBuyer's offer and what you could get by selling on the open market.
The service fees for iBuyers are often between 5% and 6% of the sale price. The fees don't include typical closing costs that the seller pays for a traditional real estate transaction, such as escrow fees and title insurance. iBuyers estimate those closing costs at 1% to 2% of the sale price. The service fees also don't include the costs of any required repairs, which are deducted from your net proceeds.
If you're selling a home the traditional way with a listing agent, you'll typically pay a 5% to 6% real estate agent commission, which is usually split between the listing agent and buyer's agent. You'll also pay closing costs.
You can still use the services of a listing agent when selling your home to an iBuyer. In that case, you'll need to pay your agent's commission as well as the iBuyer's service fee.
Sellers can typically expect to receive lower offers from iBuyers than what they'd get on the open market. When these companies struggle to maintain their books — for example, Opendoor lost $1.35 billion in 2022 — sellers may find their offers to be conservative.
The flip side is that this potentially below-market offer is coming in the form of cash, which some sellers value over higher offers that are financed with a mortgage. However, if this is a priority, bear in mind that cash offers have become fairly common on the open market as well. According to the National Association of Realtors, 25% of buyers had all-cash sales in May 2023.
Is an iBuyer worth the trade-offs?
The answer depends on your needs. In general, iBuyers are geared to people who want to sell their homes quickly, receive cash offers, bypass uncertainty and avoid the hassles of showing the home and negotiating with buyers. If that sounds like you, then it may be worth exploring offers from iBuyers. Meanwhile, the traditional route of selling on the open market may be a better option if you want to get the maximum price.
Get more smart money moves – straight to your inbox
Sign up and we'll send you Nerdy articles about the money topics that matter most to you along with other ways to help you get more from your money.