How Do I Sell My House Fast?
If you need to sell your house fast, any of these options can help speed up the process.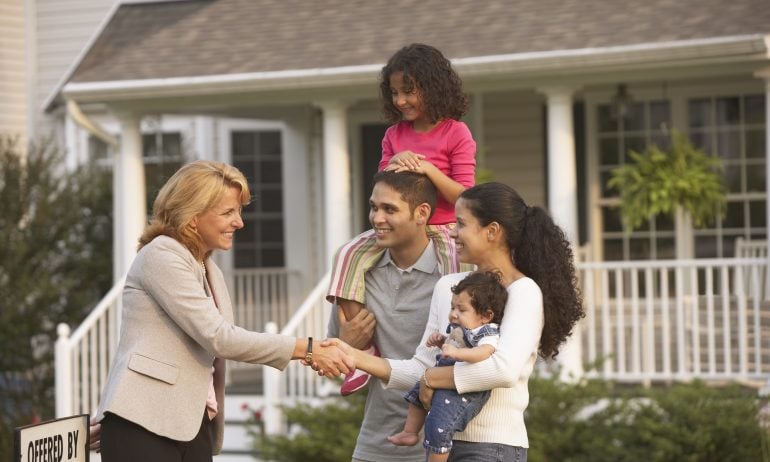 Some or all of the mortgage lenders featured on our site are advertising partners of NerdWallet, but this does not influence our evaluations, lender star ratings or the order in which lenders are listed on the page. Our opinions are our own. Here is a list of our partners.
Even in a hot market where "for sale" signs don't last long, you might need to be sure your house will sell quickly. There are several approaches you can take to sell your house fast; the right one for you may depend less on your exact timeline and more on what you prioritize in addition to speed. Here are four ways to accelerate the home selling process.
An iBuyer is a company that will buy your home directly with a cash offer. The "i" isn't just to sound like an Apple product; it stands for "instant." With most iBuyers, you fill out an online form, upload some photos of your home and receive an offer within days. One big caveat: iBuyers don't operate in all parts of the country, and they only buy certain types of homes. Usually, when you enter your address, an iBuyer site will immediately tell you whether your place is eligible.
iBuyers let you choose your closing date. This can be helpful if you're simultaneously buying and selling, but it also allows you to go for speed. Without a mortgage involved, you may be able to close with an iBuyer in as little as 7 to 10 days. Minimum time to close depends on the iBuyer, your location and details of the home sale. You'll also have to pay a service fee to the iBuyer, which generally ranges from 5% to 12% of the total offer value. The cost of any repairs the iBuyer has to do will also be deducted from the final amount that you receive.
The downside of selling to an iBuyer? Since you're getting just the iBuyer's offer, you don't know how much you might have received for your home on the open market. But if moving as quickly as possible is your priority, you may be willing to trade potentially higher profits in favor of a predictable timeline.
Find a top-notch listing agent
Want to close quickly but also looking to maximize profit from your home sale? A top-shelf listing agent may be your best bet. They'll help accurately price your home, stage scroll-stopping photos, write a killer listing description and be your advocate when it's time to evaluate offers and negotiate.
A sellers' real estate agent could cost you a pretty penny, since real estate agent commissions can vary. You'll generally expect to pay about 6% of the total home sale price in commissions, split between the buyer's agent and your listing agent. However, an experienced agent may cost more (say an 8% commission, with the buyer's agent receiving 3% and the listing agent 5%). It's something you'll want to ask about when you're interviewing potential listing agents.
Mortgage loans from our partners


Selling your home without a listing agent — more commonly known as for sale by owner — might help you make a faster sale. Though selling to a relative or friend is one reason FSBO homes tend to move fast, 2020 data from the National Association of Realtors shows that FSBO homes' median time on the market was just one week, versus three weeks for agent-assisted sales. (For FSBO sales where the seller knew the buyer, the median time was zero.)
The downside of selling your house without an agent? If you don't already have an intended buyer, you've got to find one. Putting out the word to your network could get you a ready buyer, but they might expect to pay a "friends and family" price rather than market value. You'll also take on listing agent tasks like marketing (whether that's a yard sign or an online listing), buyer walk-throughs and negotiating.
And while FSBO homes spent less time on the market in 2020, NAR data shows they also sold for lower prices. The median price for agent-sold homes was $295,000 in 2020, while the median price for FSBO homes was $217,900. Though this may be partially due to differences in the types and locations of homes sold — FSBO sales were more likely to involve manufactured homes and be in rural areas — that $77,100 gap is worth a second thought.
Whether you're working with a listing agent or selling your home on your own, opting for a buyer making a cash offer can also accelerate the closing process. The buyer simply has the money, so there's no need to worry about whether their financing will fall apart or how long mortgage underwriting will take.
In April 2021, the time to close a mortgage averaged 49 days, according to data from ICE Mortgage Technology. Some steps of closing, like the title search, should still happen. But taking buyer financing out of the equation can dramatically drop the time it takes to close a home sale. With a cash offer in hand, you could be ready to close in as little as two weeks.
On the other hand, cash buyers who aren't iBuyers (in other words, regular people) can be pushy. Thinking cash is king, they may also try to lowball you. Then again, if selling your house fast is your bottom line, you may be willing to leave some money on the table for the convenience of a mortgage-free transaction.
More tips to sell your house fast
No matter who you choose to sell to or how you end up selling your house, before it's time to sell you can also take some basic steps that allow you to hit the ground running.
Do a deep cleaning. You don't necessarily need professional home staging; just a thorough cleaning and some decisive decluttering can work wonders. Removing personal items makes it easier for buyers to envision the home as theirs and can also help avert potential discrimination. Cutting back on clutter (even storing a piece of furniture or two in a friend's garage) can help a small home appear larger.

Spruce up the exterior. These days, curb appeal means having a facade that'll make a buyer click on your listing, not just how your home looks from the street. (And since many online listings open with an exterior shot, these are arguably the same thing.) Pressure-washing your siding, trimming and weeding any unruly landscaping, and freshening up decor details can all make a difference. If you're selling to an iBuyer, taking care of small repairs may help reduce what you're charged from their assessment.

Create demand. A "coming soon" period, where your property appears on the Multiple Listing Service but isn't yet shown to buyers, could help you gather offers more quickly when your house officially hits the market. It's not the same thing as a pocket listing, which is when a property is for sale but kept off the MLS. The "coming soon" period generally lasts no more than 30 days — and when it wraps up, you'll hopefully have buyers eager to see your place in person and make an offer.
Mortgage loans from our partners