7 Home Staging Ideas to Get Your House Ready to Sell
Even in a hot real estate market, home staging can have big benefits as you prepare your house for sale.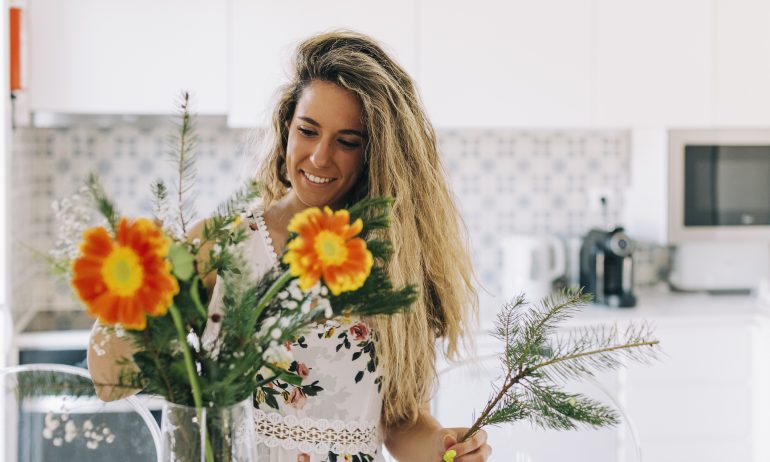 Some or all of the mortgage lenders featured on our site are advertising partners of NerdWallet, but this does not influence our evaluations, lender star ratings or the order in which lenders are listed on the page. Our opinions are our own. Here is a list of our partners.
Buying a home isn't just a major financial decision, it's also a highly emotional one, requiring buyers to visualize what it would really be like to live in a new home. As you prepare to sell your house, home staging is a process that can help potential buyers imagine their own life in the house without distraction.
Getting ready to buy a home? We'll find you a highly rated lender in just a few minutes.
Enter your ZIP code to get started on a personalized lender match
Home staging is the process of getting your house ready to sell by making it as marketable as possible. If you haven't properly "set the stage" before potential buyers view your home, it can be harder for them to see its full potential and imagine how their life would fit into the space. By cleaning, decluttering, styling and simplifying your home — or hiring a professional home stager to do it for you — you can highlight the property's best features and offer a blank slate for buyers to visualize their future.
What does home staging include?
Some sellers choose to hire a professional home stager, while others may ask their real estate agent to help style the home. Alternatively, you can take advantage of best home staging practices yourself by focusing on seven key areas.
Potential buyers will want to see that your home is well taken care of, and a messy space is likely to turn them off. Additionally, too much clutter can suffocate a room and make it feel smaller. Space is one of the best assets that your home has, and you want to be sure to show that off.
Getting rid of any junk that you may have accumulated will allow the buyer to focus on the space itself, without getting overwhelmed by too much stuff throughout the home.
Consider selling your clutter in a yard sale — real or virtual — and put the proceeds toward your closing costs, which are often between 6% and 10% of your home's sale price.
Don't be tempted to simply hide your clutter in the closets, either; many buyers covet storage space, and closets that are full to bursting may give the impression that storage is lacking.
Family portraits, religious iconography and even signs of your pets may give potential buyers the nagging feeling that they are walking through someone else's house, rather than their future home. While it can be nice for the house to feel a little lived in, it's better to give the impression that the current owners could be anybody. This allows potential buyers to imagine their own belongings in the home without thinking too much about the current residents. Some of your belongings could also send signals about your lifestyle or background to potential buyers, and because of their personal biases, impact how many offers you receive or the price of their bids.
Any decorations, flags or other signifiers of the season should be put away as well. Not only are these items a distraction, but they will also immediately date any photographs included when you list the home.
Every buyer wants a clean house. A deep cleaning — including rugs and areas that you may have only rarely touched, like walls and ceilings — will signal that the home is move-in ready and demonstrate that you've taken exceptional care of your home.
Your home may be as colorful as your personality, but potential buyers may not share your tastes. As part of your home staging efforts, you may consider repainting the walls in invitingly warm, neutral colors that any buyer could find attractive. Where necessary, paint touch-ups can also make a room feel more finished.
Although the home inspection will likely uncover any safety issues or serious damage to the home that needs to be repaired, even everyday wear and tear can be cause for concern for potential buyers. Repairing minor imperfections like scuffs, scratches or holes in the wall from hanging decorations can help revive your home and add to its visual appeal.
A well-lit house feels warm and inviting, and it helps potential buyers get a full sense of the size of the space. Natural light is also a great asset to feature, so consider opening your curtains and blinds for photographs and walk-throughs. For darker rooms that don't get as much light, you might think about adding additional lighting for showings.
The first thing that potential buyers see when they pull up to your home is the exterior, so keeping it clean and manicured can make a good first impression. A mowed lawn, pressure-washed outdoor surfaces, clean windows that have no cracks and a driveway that's free of cars, toys and equipment can all contribute to the property's curb appeal. Greenery can also be nice, but be sure to remove any dead plants (both indoor and outdoor) from the property before potential buyers start touring.
Is it worth it to stage a home?
Selling a house is already a complicated and stressful process, so it's only natural to question the importance of "optional" tasks like home staging. However, even relatively minor adjustments to your home's appearance can have a big impact on how many offers you receive — and it may even help you sell your house faster.
Home staging is important to buyers
According to the National Association of Realtors' 2021 Profile of Home Staging, 82% of buyers' agents said that home staging "made it easier for a buyer to visualize the property as a future home." The report found that staging was especially beneficial for areas of the home where the new owners would spend most of their time, such as the living room, main bedroom and kitchen.
Home staging can improve your property's 'screen appeal'
In most cases, online photos are the first impression that potential buyers will have of your home, and smart staging can play a significant role in bringing them offline to tour the home IRL. Forty-one percent of respondents in the NAR report indicated that home staging made buyers more willing to tour a home that they viewed online.
Home staging can help you sell your home faster
Getting ready to buy a home? We'll find you a highly rated lender in just a few minutes.
Enter your ZIP code to get started on a personalized lender match
According to the NAR report, 53% of listing agents reported that home staging decreased the amount of time the home was on the market. This means that if you're looking to sell your house fast, home staging can be well worth the extra time and effort.
Home staging can be profitable
Forty-nine percent of buyers' agents in the NAR report said that staging a home increased the dollar value offered compared with other similar homes on the market that were not staged. Although staging requires an investment of your time, money and energy, skipping it could mean leaving extra money on the table. When buyers' imaginations are limited, they are less likely to spend at the top of their budgets.
Given the many benefits of home staging, it's worth it to consider implementing some of these ideas as you prepare your house for sale. A home that has been decluttered, depersonalized, styled and neutralized can potentially get you more interest from buyers, higher offers and a faster sale — no matter how hot the market already is.
Get more smart money moves – straight to your inbox
Sign up and we'll send you Nerdy articles about the money topics that matter most to you along with other ways to help you get more from your money.