Understanding iBuyers: A New Way to Buy or Sell a Home
Companies known as iBuyers use digital tools to simplify the home buying and selling process.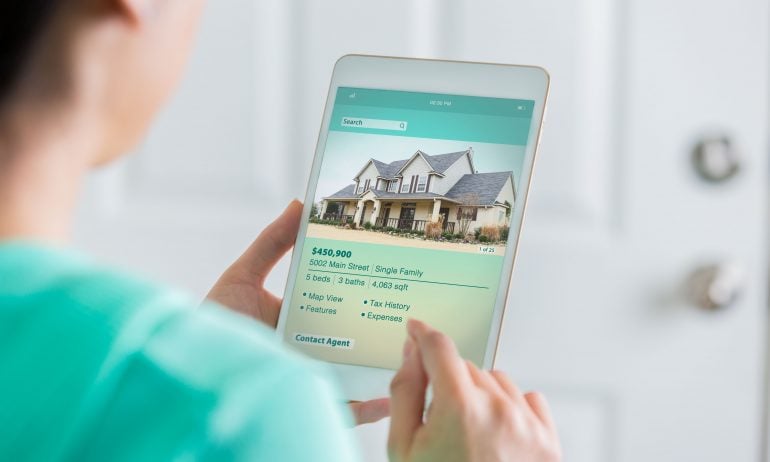 Many or all of the products featured here are from our partners who compensate us. This may influence which products we write about and where and how the product appears on a page. However, this does not influence our evaluations. Our opinions are our own. Here is a list of our partners and here's how we make money.
Nerdy tip:
Uncertainty amid the coronavirus pandemic has prompted the largest iBuyers to pause cash offers on homes and change their selling processes. If you're interested in working with an iBuyer, check the company's website for the most recent updates.
An iBuyer is a real estate company that uses algorithms and technology to buy and resell homes quickly. The "i" is for "instant."
When selling a home to an iBuyer, you may get a cash offer in as little as 24 hours — not technically instant, but lightning-quick compared with the sometimes weeks or months it can take to stage and repeatedly show a home.
You can also buy a home from an iBuyer. The companies' websites or apps let home buyers view available properties, schedule tours and request information to get started. Closing may occur more quickly with an iBuyer because you don't have to accommodate a traditional seller's timeline.
The biggest iBuyers are Opendoor, Zillow Offers and Offerpad, based on their real estate transaction volume from January to October 2019, according to Mike DelPrete, a real estate technology scholar-in-residence at the University of Colorado in Boulder.
Of the leaders, Opendoor was earliest on the scene in 2014. Offerpad followed in 2015, and Zillow Offers launched in April 2018.
Other iBuyers include Knock, Keller Offers from Keller Williams, Orchard (formerly Perch), and RealSure by Realogy and Home Partners of America.
Redfin, a real estate brokerage that has its own instant offer service called RedfinNow, teamed up with Opendoor in Atlanta and Phoenix in July 2019. The companies expanded their partnership to nine more cities in February 2020.
Although iBuyer transactions remain a sliver of the total residential real estate market, the biggest iBuyers made inroads last year.
Offerpad, Opendoor, RedfinNow and Zillow Offers purchased 1% of homes sold in 2019 across more than 200 U.S. metro areas, according to a Redfin analysis. That's almost double the 0.6% of homes iBuyers purchased in 2018.
The top markets were Raleigh, North Carolina, where iBuyers snapped up 7.9% of homes sold in 2019, and Phoenix, Arizona, where iBuyers purchased 5.7% of homes sold, according to Redfin.
NerdWallet Guide to COVID-19
Get answers to questions about your mortgage, travel, finances — and maintaining your peace of mind.
The specifics vary by company, but generally, iBuyers tout their ability to get you through the home selling or buying processes quickly and conveniently. Here's how it worked with the biggest iBuyers before the COVID-19 outbreak:
Selling a home to an iBuyer
To see if an iBuyer will purchase your home, you typically submit basic information about the property, such as the address, age, square footage and features, using the company's website or app. The process takes only a few minutes.
The iBuyer estimates your home's value and, if it wants to proceed, sends you an offer. If you like the offer, the company will do an in-person evaluation and then provide a final offer. Gone are the hassles of staging and sprucing up the home and holding open houses.
The iBuyer typically takes care of necessary repairs, which are accounted for in the final price.
Buying a home from an iBuyer
Before shopping, first figure out how much house you can afford. Then shop mortgage rates among at least a few lenders and get preapproved for a home loan. A mortgage preapproval is a letter from a lender showing how much loan you can qualify for. Some iBuyers have their own lending divisions, but it's important to shop around to get the best deal.
You can browse homes for sale on iBuyer websites, schedule times to visit properties and notify the companies if you're interested in a particular listing.
The homes typically are ready for occupancy because the iBuyers fix them up before listing them. But it's still a good idea to get an independent home inspection.
Generally you'll have the option to make an offer through your own real estate agent or by contacting the company directly, and you can negotiate with the iBuyer on price.
Costs of working with an iBuyer
Typically you won't pay extra to buy a home from an iBuyer. But you will pay extra for the convenience of selling to an iBuyer.
There are two costs to consider: iBuyer fees, and the difference between the iBuyer offer and what you could get by selling through a traditional real estate agent.
The average iBuyer fee charged to a home seller is about 7.5% — that's 1.5% more than the typical commission you'd pay a real estate brokerage, according to a November 2019 study by DelPrete. But the study found the difference was negligible when weighed against the potential cost of waiting for a home to sell. The average "holding cost" for three months is 1% to 2.5% of a home's value, the study notes.
The median difference between an iBuyer's offer and the market value of a home is 1.3%, according to the study, which was based on a review of more than 20,000 iBuyer transactions in 2018 and 2019. That would mean getting $3,500 less from an iBuyer on a home with a market value of $270,000. The study tracked all major iBuyers, but focused on Opendoor and Zillow, which account for 86% of iBuyer volume.
In general, iBuyers are geared to people who want to sell their homes quickly and avoid the uncertain wait to find traditional buyers. The extra cost of working with an iBuyer may be worth it in those cases.
However, the coronavirus outbreak has cast uncertainty on iBuyers themselves, and it's unclear when the largest companies, including Opendoor and Zillow, will resume making cash offers. Check individual iBuyer websites for the latest information.
Frequently asked questions