AccuPOS Review 2021: Pricing, Features, Top Alternatives
AccuPOS is best known for its accounting integration, which closes the gap between your POS and accounting software.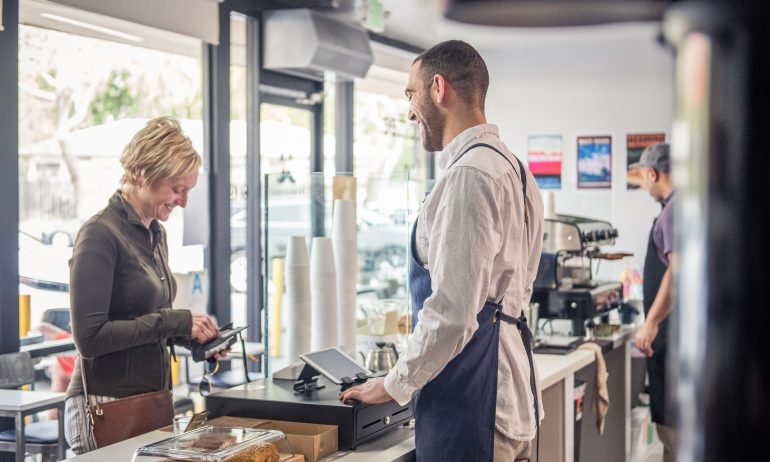 Many or all of the products featured here are from our partners who compensate us. This may influence which products we write about and where and how the product appears on a page. However, this does not influence our evaluations. Our opinions are our own. Here is a list of our partners and here's how we make money.
AccuPOS brands itself as the first POS system designed specifically to integrate with your accounting software (AccuPOS debuted in 1997).
AccuPOS is also a full-fledged POS system that runs on a variety of different devices and is compatible with a range of business types. However, if these features don't appeal to you, explore the market a bit more for something that functions a bit more like a POS and less like a crossover between two different software.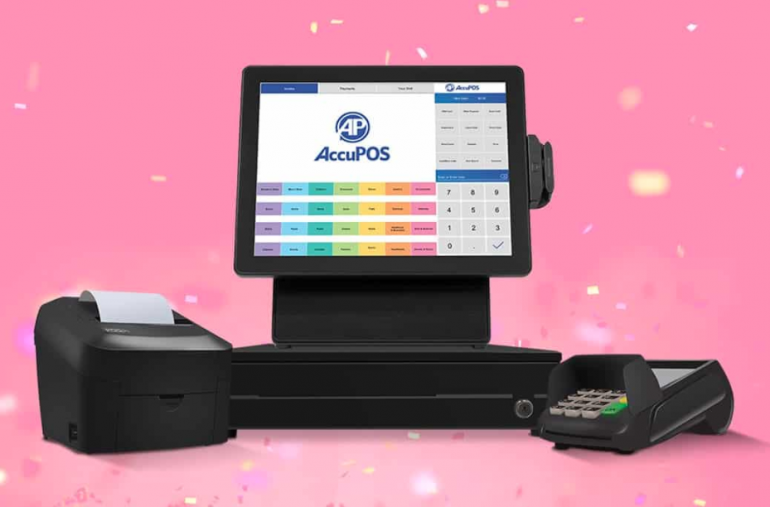 AccuPOS is a purveyor of POS software and hardware for small-business owners. The software functions on Android devices and computers running Windows 7 Pro or higher, but does not currently function on Apple hardware. The software can be both cloud- and web-based, meaning you can store your data on your POS device or have it transferred to your device from an AccuPOS server via the cloud.
AccuPOS designs software that can be used for both retail businesses and food-service businesses — including restaurants, bars and counter service establishments.
Accept payments without worry
See our payment provider recommendations that fit your business.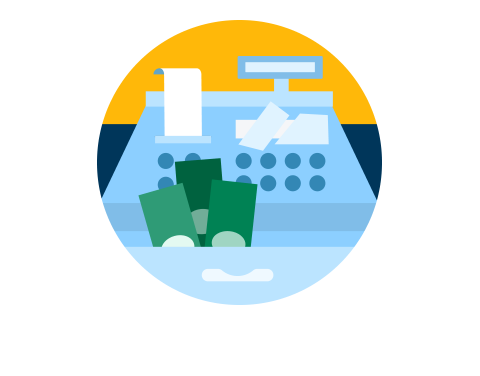 The flagship feature of the AccuPOS system is its accounting integration. It closes the gap between your POS and accounting software by reporting sales details automatically to your accounting software. AccuPOS is currently the only POS system that reports line item details directly to most major accounting software.
Here are the accounting platforms AccuPOS is compatible with:
QuickBooks Pro 2015-2017.

QuickBooks Premier 2015-2017.

QuickBooks Enterprise 2015-2017.

Sage 50 — US Edition 2016-2018.

Sage 50 — Canadian Edition 2016-2018.

Sage 100 ERP 2015, 2016, 2017.

Sage BusinessWorks Accounting version 5 or higher.
When you integrate AccuPOS with Sage or QuickBooks, you can create your inventory catalog in your accounting software. AccuPOS will then sync to your inventory and customer lists and automatically set up your POS. Once integrated, it will report to your accounting software what was sold, for how much, to whom (if you track customers) and adjust the inventory, update sales accounts and post tendering totals to undeposited funds. AccuPOS also generates end-of-shift and reset reports right on your dashboard using information from your accounting software.
The key benefit here is that your POS streamlines your accounting process and eliminates redundancies since the information is automatically transferred from AccuPOS. Inventory is maintained in the same place you process purchase orders and write vendor checks. Overall, AccuPOS can apply the inventory management, customer relationship management and reporting features included in your accounting software to your POS.
Payment processing features
AccuPOS does not offer in-house payment processing. It also doesn't provide much information on its website about compatible payment processors. According to user reviews, Mercury Payment Systems is the company's processing partner, meaning you will have to work with it to acquire a merchant account for your AccuPOS system.
Mercury Payment Systems does not provide specific pricing information about its services. However, Mercury is a subsidiary of Worldpay — one of the largest domestic merchant services providers. Worldpay charges a rate of 2.9% plus 30 cents for both in-store and online transactions. High-volume merchants may qualify for a reduced rate of 2.7% plus 30 cents.
In terms of credit card terminals, AccuPOS sells both mobile magstripe readers and pin pad terminals that can accept magstripe, EMV (chip card) and NFC payment methods. You can also acquire a credit card terminal through Mercury Payment Systems.
AccuPOS is compatible with Android devices and computers running a Windows operating system. There are three different hardware bundles you can purchase through AccuPOS, all of which are bundled with the AccuPOS POS software. Pricing on these hardware bundles is quote-based.
The first option is the Complete Retail Software + Hardware Bundle. This package comes with a branded touch screen POS terminal, cash drawer and receipt printer. The POS terminal also comes with an attached credit card reader that can accept magstripe and EMV payments.
The other two options are mobile POS systems designed to run on either a Microsoft Surface Pro or a Samsung Galaxy Tab. These options cater more to food-service businesses that want to offer tableside service. The Microsoft Surface Pro comes with an integrated receipt printer and pin pad card reader that can accept magstripe, EMV and NFC payments. The Samsung Galaxy Tab also comes with a pin pad card reader as well as a mobile magstripe reader that plugs into your POS terminal.
AccuPOS is also compatible with most hardware peripherals (barcode scanners, receipt printers, cash drawers) if you already have your own. However, you should confirm with AccuPOS before purchasing any third-party hardware
Additional software features
While the accounting integration is at the heart of the AccuPOS product, there are a variety of other functions this software is able to perform. Here are some feature highlights:
AccuShift timekeeping: Create and manage staff schedules, track overtime and automate your timekeeping.

Loyalty program: Offer customers redeemable points on purchases and communicate with them through an email marketing interface.

Gift cards: Order branded gift cards from AccuPOS and manage gift card balances directly from your POS.

Multi-location management: Manage an unlimited number of locations from a single account.

E-receipts: Print receipts or send them to customers via email or text.

Branding tools: Configure your interface, e-receipts and emails with your business's branding.

Integrations: Currently, Sage and QuickBooks are the only two third-party integrations AccuPOS offers.

Mobile app: AccuPOS offers a mobile app for Android devices that includes most of the features that come on the desktop version of AccuPOS. AccuPOS also sells mobile credit card readers so you can accept payments on the go.

Security: AccuPOS is EMV and PCI compliant; PCI compliance is offered at no additional charge to the merchant.

Menu management: Create menus based on time of day and differentiate by category. Menus are linked to inventory to track stock counts (restaurant version only).

Front-of-house management: Send orders to the kitchen, open and close tabs, assign servers to seats and add unlimited modifiers to orders (restaurant version only).

Customer service: AccuPOS offers 24/7 phone support. There is also a page on its website where you can submit a ticket if you are encountering a technical issue. Additionally, it offers a help center and a blog with tips on how to get the most out of your POS system.
How much does AccuPOS cost?
AccuPOS does not provide pricing information on its website, so you'll need to contact it for a quote. According to the customer review website Capterra, pricing for POS hardware and software bundles starts at $795. There is also a $64 monthly charge for unlimited customer support.
If you're someone who likes to keep close track of your finances, AccuPOS offers a lot in the way of accounting features. While other POS systems also integrate with accounting software, its integrations only really make it possible to export sales data. AccuPOS' integration essentially adds all of your accounting software's features to your POS. That is a unique and powerful capability.
According to user reviews, AccuPOS is certainly one of the easier POS systems to learn how to use. The interface is minimalist and intuitive, and color-coded buttons make it easy to spot the appropriate functions. Furthermore, AccuPOS offers a series of webinars to new merchants to train them on how to use the AccuPOS system.
Despite the positives, there are also some areas of concern with AccuPOS. Here are some cons:
While AccuPOS' accounting integration is really good, it comes up a bit short in terms of other features. For instance, we'd like to see a bit more functionality with its restaurant tools. There also aren't any integrations to speak of outside of accounting and no employee-management functions outside of timekeeping. Therefore, mid-size to large businesses might find this software a bit lacking.
Generally a POS provider should offer you options when it comes to payment processing. This way you can shop around for the best rate. The fact that AccuPOS only integrates with Mercury Payment Systems leaves small-business owners with little leverage when negotiating their payment processing rate. Worldpay (of which Mercury is a subsidiary) also isn't known for its affordable payment processing. Tread carefully here.
Here is how customers who use AccuPOS rate the system on major review websites:
G2 Crowd: 4.5 out of 5 stars.

TrustPilot: 4 out of 5 stars.

Capterra: 3.5 out of 5 stars.
In positive reviews, users laud AccuPOS' customer support staff and the software's ease of use. Most negative reviews focus on glitches and bugs within the system that make it operate in unintended ways. For example, one user reported having issues running payments when they updated their sales tax information. Another says they had a very hard time importing their inventory catalog from QuickBooks to AccuPOS.
While AccuPOS may be the right choice for some businesses, it won't be perfect for everyone. If you want a POS system with a slightly different feature set, here some top alternatives to AccuPOS to consider.
The retail version of Square's POS software comes with a nice feature set that has a pricing plan with three options starting at $0 per month. You'll get in-house payment processing; inventory, employee and customer relationship management functions; a reporting suite; a wide range of integrations and access to Square's very popular POS hardware. Payment processing costs are 2.6% plus 10 cents per transaction, and Square sells add-ons for a loyalty program, payroll platform and marketing platform.
For those in need of a restaurant POS system, look at TouchBistro. The main benefit of TouchBistro is that you can bundle your POS hardware and software costs together into a monthly fee. Prices start at $105 per month. For your money you'll get all the tools you need to run your restaurant: order coursing; menu, floor plan, inventory, employee and customer relationship management; delivery and takeout functionality and add-on hardware, including a kitchen display system, self-ordering kiosk and a customer-facing display. TouchBistro also works with a variety of third-party payment processors, allowing you to shop around for a solution that works best for you.
A version of this article was first published on Frontera, a subsidiary of NerdWallet.