Bench Accounting Review 2021: Pricing, Features, Alternatives
This affordable bookkeeping service is best for freelancers and small businesses with relatively simple financials.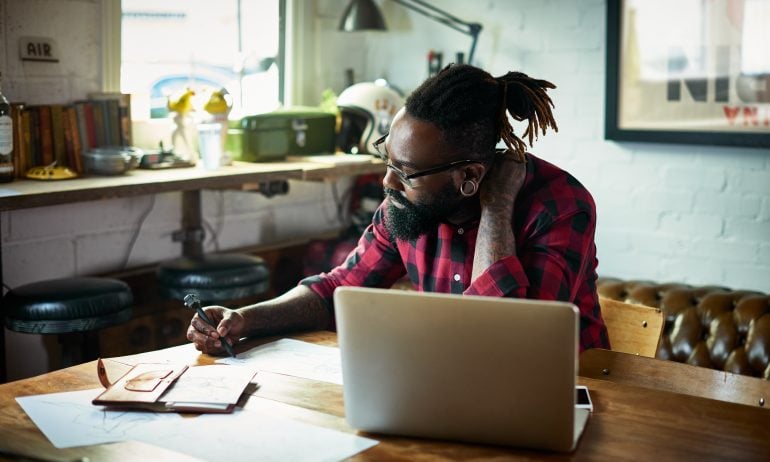 Many or all of the products featured here are from our partners who compensate us. This may influence which products we write about and where and how the product appears on a page. However, this does not influence our evaluations. Our opinions are our own. Here is a list of our partners and here's how we make money.
Bench Accounting is an online service that handles your bookkeeping for you so that you can focus on running your small business. Based in Vancouver, British Columbia, the service gives you access to a Bench bookkeeper, who will categorize your transactions, reconcile your bank accounts and prepare financial statements on your behalf.
In general, Bench Accounting isn't a good fit for businesses that may need to scale or switch providers later on. It limits the number of financial accounts you can have on standard plans and operates on proprietary software that doesn't sync with commonly used accounting software. But it's affordable, compared to similar services, and provides valuable expertise. For freelancers or small businesses with relatively straightforward financials, it's a great time-saving option.
Provides reliable and expert support.

Catch-up bookkeeping available.
Difficult to switch providers.

Tax filing services not included.
How does Bench Accounting work?
Bench Accounting does bookkeeping on a monthly basis. After you sign up for a Bench account, you will connect your financial accounts — this includes bank accounts, credit cards, loans and merchant processors — to your Bench account. Your Bench bookkeeping team — made up of three in-house Bench employees — will categorize all your transactions, reconcile your bank accounts and prepare financial statements for each month within 15 business days.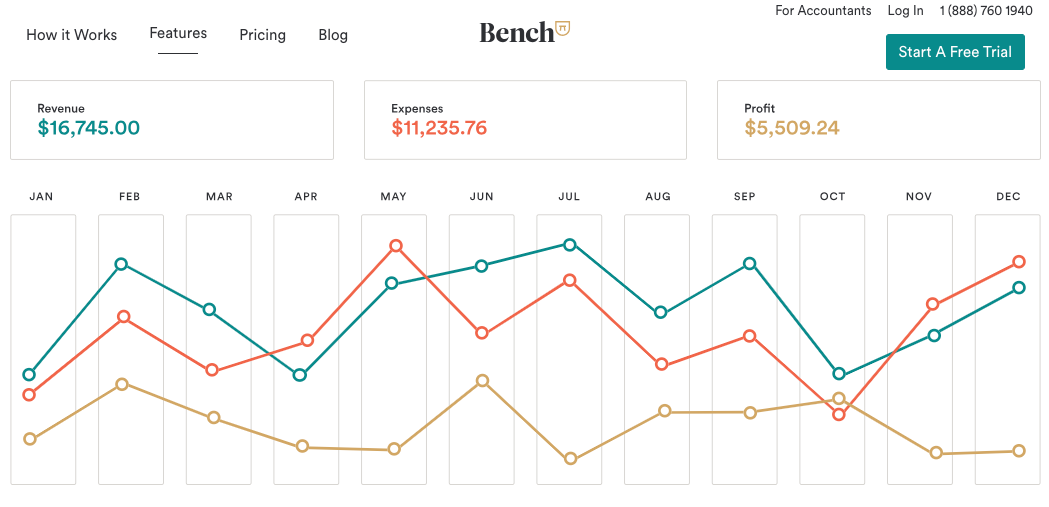 When your bookkeeping is done for the month, you'll receive a message. At that point, you can view your financial statements and account information online. If you have any questions, it's easy to get in touch with your Bench bookkeepers by sending them an in-app message or calling them.
Using Bench Accounting is different from having a subscription to QuickBooks Online or Xero. These applications help you do your own bookkeeping; unlike Bench, they don't include access to a team of dedicated bookkeepers in the basic price.
Bench Accounting features
How much does Bench Accounting cost?
The price of Bench Accounting's bookkeeping services is based on a customer's average monthly expenses. The pricing tiers range from $159 per month to $419 per month for standard plans when billed annually, depending on a business's average monthly expenses. If you opt for monthly billing, the rates are higher.
| | | Monthly cost (when paid annually) |
| --- | --- | --- |
| | | |
| | | |
| | | |
| | | |
| | | |
To calculate your average monthly expenses, add up everything you spend for goods and services each month, plus your cost of goods sold and payroll costs. Don't count the owner's salary in your calculation. All Bench plans include up to 15 financial accounts. If you have more accounts, you'll need to contact Bench for custom pricing. Catch-up bookkeeping is also subject to custom pricing.
Even if you sign up and prepay for a year, you can cancel your account at any time and receive a prorated refund for any months left in the year.
The biggest advantage of Bench is the amount of time it can save you on bookkeeping tasks. After you link up your financial accounts, Bench takes care of the rest.
"I estimate Bench saves me about five hours each month and the year-end financial package alone will probably save me 20 hours prepping for taxes," says Lisa Nicholls, founder of virtual assistant firm Lisa & Co. "Everything is delegated to my dedicated bookkeeping lead and team, so all I have to do is answer questions about transactions whenever they arise."
There's no need to manually send any documents to Bench since your company's financial accounts are linked to your Bench account. The Bench team will complete your bookkeeping within 15 business days, giving them enough time to make any adjustments before the end of the month.
If your bookkeeping team has questions about a particular transaction, they'll send you an in-app message.
Provides reliable and expert support
With Bench Accounting, each business is assigned a bookkeeping team of three bookkeepers, including one senior bookkeeper who reviews monthly financial statements and the year-end financial package. All Bench bookkeepers are employees who receive regular in-house training. While there may be some changes to your team over time, you generally won't have your books handled by different people every month.
Getting in touch with Bench is easy if you have a question. Send a message from your computer or the app anytime, and your bookkeeper will reply within one business day. You can also schedule a time for your bookkeeper to call you at no additional charge. Bookkeepers are available Monday through Friday, 9 a.m. to 5 p.m. PST.
Catch-up Bookkeeping available
For an additional fee, Bench provides overdue bookkeeping services. It can finish a year's worth of bookkeeping in two to four weeks. This could be helpful if you've been behind on your books all year and tax deadlines are approaching.
Compared to other bookkeeping services, Bench is an affordable option. Other bookkeeping services charge a sliding scale based on number of accounts, whereas Bench prices are based on average monthly expenses. Every Bench plan includes up to 15 financial accounts, including bank accounts, credit cards, loans and merchant processors. It's common for competitors to only include a handful of accounts in entry-level plans, so you're getting good value with Bench Accounting.
Difficult to Switch Providers
Bench has a proprietary bookkeeping system, which doesn't sync up with QuickBooks, Xero or other accounting software. This makes it difficult to switch bookkeeping services later. Similarly, if you want to try a tool like QuickBooks or Xero down the line, it could take a lot of time to reformat and import all your financial information from Bench.
"Our accounting firm doesn't recommend using a non-standard, proprietary software for your accounting since it makes it very hard to switch accountants and manage your books when you outgrow the system," says Vanessa Kruze, founder and CEO of accounting firm Kruze Consulting, referring to Bench.
If outgrowing the platform is a concern, consider QuickBooks Online with the QuickBooks Live Bookkeeping service added on instead. This bookkeeping service will connect customers directly with a physical certified bookkeeper to help them with their books. Though it's more costly than Bench Accounting, the QuickBooks platform is more scalable and widely used among accountants, so it could be a better solution for a rapidly growing business.
Tax Filing Services Not Included
Although Bench provides tax support — for example, bookkeepers can coordinate with your existing CPA and can prepare a year-end financial package with tax-ready financial statements for no extra charge — it won't actually file your taxes for you unless you pay for an additional service called Bench Tax. This service costs an additional $99 per month when billed annually.
With Bench Tax, you'll receive access to a licensed Taxfyle expert (trained in the Bench platform) who will handle your tax processes from start to finish, including filings.
Alternatively, consider the online bookkeeping service Xendoo. While it's slightly more expensive than Bench, the cost covers more services. In most packages offered, filing your state and business tax return is included in the price, as is a subscription to Xero.
Is Bench Accounting right for me?
If you have a certain type of business, yes. Bench provides a great time-saving service that's affordable. It's not a good fit for fast-growing businesses that may need to add several accounts or more functionality later. But for small-business owners who expect to have relatively simple financials long-term, it could be well worth the cost.
A version of this article was first published on Fundera, a subsidiary of NerdWallet.
Screenshots courtesy of Bench.co.
Bookkeeping and accounting software

Free (add-ons available).