Big Cartel vs. Shopify: Which Is Right for Your Business?
Big Cartel can be a good option for selling limited products, but Shopify is better for most e-commerce businesses.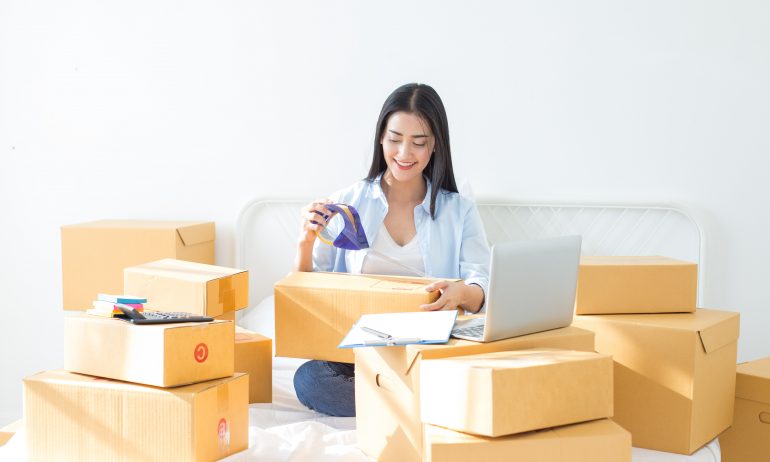 Many or all of the products featured here are from our partners who compensate us. This influences which products we write about and where and how the product appears on a page. However, this does not influence our evaluations. Our opinions are our own. Here is a list of our partners and here's how we make money.
Big Cartel and Shopify are both web-based e-commerce platforms that allow you to create an online store, manage customer orders and run discounts and promotions.
Although the two solutions have similar features, Big Cartel is a good option for independent artists and retailers selling a limited number of products. Big Cartel offers a free plan, simple themes and the essential tools you need to get started selling online.
Shopify, on the other hand, is better suited for a wide variety of e-commerce businesses. Shopify offers four subscription plans and an enterprise-level solution, a robust feature suite, and integrated payment processing with Shopify Payments. And, Shopify tops NerdWallet's list of the best e-commerce website builders for small businesses.
Here's a breakdown of Big Cartel versus Shopify, including how they compare in terms of important e-commerce platform features.
Big Cartel vs. Shopify: Deciding factors
Platinum plan: $9.99 per month.

Diamond plan: $19.99 per month.

Starter plan: $15 per month.*

Basic Shopify plan: $39 per month.

Shopify plan: $105 per month.

Advanced Shopify plan: $399 per month.

Shopify Plus: Quote-based.

*Shopify Starter allows you to add a purchase link to an existing website or online store, but you cannot create an online Shopify store with this plan.

More than 15 free themes. What you see is what you get, or WYSIWYG, theme editor; paid plans can use HTML to edit the code of their store's theme.

More than 80 free and paid themes; paid themes range from $150 to $350. WYSIWYG theme editor; all themes include access to HTML and CSS.

Use Stripe or PayPal to accept customer payments.

To accept payments in person, you must use Stripe or take cash.

Big Cartel doesn't charge transaction fees; you'll only pay the processing fees from Stripe or PayPal.

Choose from over 100 payment gateways to accept customer payments.

Shopify Payments is automatically integrated with Shopify; processing rates vary based on subscription plan.

If you use a third-party provider, Shopify will charge an additional transaction fee.

Fair. Three plan options, but each plan is limited by the number of products you can sell. Top-tier plans don't offer any advanced sales features.

Excellent. Three plans, as well as an enterprise and a lite solution. Higher-level plans offer discounted payment processing, additional users, advanced reporting, among other tools.

Fair. Support available via email, Monday through Friday from 8 a.m. to 6 p.m. ET.

Excellent. Support available 24/7 via email and live chat. Basic Shopify plans and above also offer 24/7 phone support.

Excellent. Approachable for beginners, simple and straightforward interface. Quick and easy to get started and manage your account. Online support center offers helpful resources.

Excellent. User-friendly for all types of business owners. Easy to set up your account and navigate the dashboard. Wide variety of online resources for additional assistance.
Shopify vs. Big Cartel comparison
Sales features: Shopify wins
Both Shopify and Big Cartel include the essential tools you need to create an e-commerce store and start selling online. Big Cartel's plans, however, are pretty limited. With the free Gold plan, you can only add up to five products with one image per product. Although the next level, Platinum, can accommodate 50 products, you're still limited to five images per product. Finally, the top-tier Diamond plan offers 500 products but keeps the images limited to 5 per product.
With Shopify, on the other hand, you can add an unlimited number of products, with up to 250 images, 3D models or videos for each product. You can also add up to 250 tags to each product, create product variants, customize the search engine listing and even add subscription products to your website.
Although Big Cartel offers basic shipping, inventory and discount tools, Shopify offers more advanced capabilities. All Shopify offerings include abandoned cart recovery, the ability to print shipping labels, multi-currency and multi-lingual selling, as well as multiple user accounts. Shopify also offers access to customer management tools and an integrated blog — plus, you can sell across several channels, including social media and online marketplaces.
If affordability is your top priority, Big Cartel has an advantage over Shopify's pricing. Big Cartel offers an entirely free plan — and its highest level plan caps out at $19.99 per month — making it more affordable than even the Basic Shopify plan ($39 per month).
Although Shopify offers a Lite plan for $15 per month, it only allows you to add a buy button to an existing website or online store — you can't create a store using this plan. All of Big Cartel's plans, on the other hand, allow you to create an online store, accept payments from customers and process orders.
Additionally, all of Big Cartel's store themes are free and the company does not charge transaction fees on top of what Stripe or PayPal charge to process payments. With Shopify, less than 25% of the store themes are free, and if you use a payment provider other than Shopify Payments, Shopify will charge a transaction fee of 2%, 1%, 0.5%, or 0.15% (based on your subscription plan) on top of the fees you pay to the third-party provider you choose.
Payment processing: Shopify wins
Although Shopify charges an additional transaction fee for using a third-party provider, you have more options and a more seamless setup (with Shopify Payments) when it comes to payment processing.
Big Cartel only offers two choices: Stripe or PayPal. Since these are third-party providers, you'll have to create a Stripe or PayPal account to start accepting payments, but you can choose to use both processors to allow your customers to have payment options — something Shopify does not offer. To accept payments in person, however, you'll need to use Stripe.
Big Cartel does not charge transaction fees. Instead, you'll only pay the fees your processor charges. For example, Stripe fees start at 2.9% plus 30 cents per transaction for online payments. For PayPal, the costs start at 3.49% plus 49 cents per transaction.
Shopify Payments, on the other hand, is automatically integrated with all Shopify plans. Once you sign up for an account, you can immediately start accepting payments (including PayPal). Pricing for Shopify Payments begins at 2.7% per transaction for in-person payments and 2.9% plus 30 cents per transaction for online payments. Additionally, you can lower your rates by upgrading your subscription plan.
Moreover, Shopify integrates with over 100 payment gateways worldwide, including popular providers such as 2Checkout, Adyen and Authorize.net.
Shopify and Big Cartel are both user-friendly, with platforms that are easily accessible. You can get started using either Shopify or Big Cartel quickly, choosing from one of their pre-designed templates and using a WYSIWYG editor to customize it.
Although Shopify may offer a wider variety of templates and more customization options, the simplicity of Big Cartel's templates is well-suited for business owners who are looking to sell a limited number of items.
Both platforms have straightforward, clean interfaces that are easy to navigate — and when new users sign in, both Shopify and Big Cartel offer guided steps for getting started.
In addition, Big Cartel and Shopify provide comprehensive online support resources, including frequently asked questions, informational articles, video tutorials and developer documentation.