Business Credit Score 101
A business credit score tells lenders how likely you are to repay them in a timely fashion.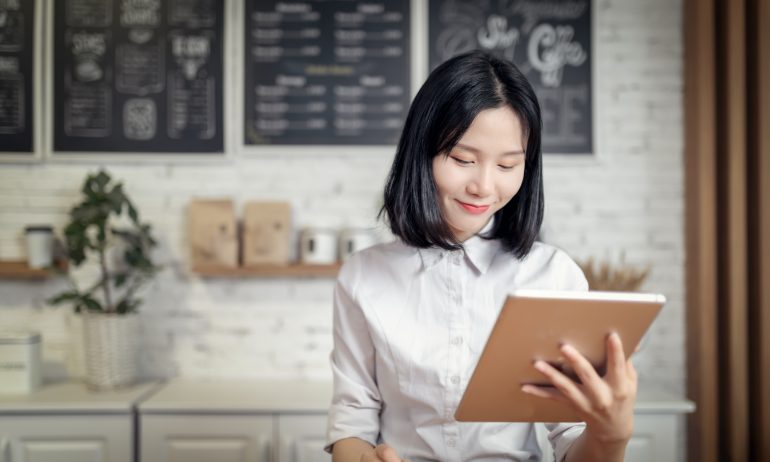 Many or all of the products featured here are from our partners who compensate us. This may influence which products we write about and where and how the product appears on a page. However, this does not influence our evaluations. Our opinions are our own. Here is a list of our partners and here's how we make money.
If you have a business credit card for your company, you probably have business credit scores, too — whether you know it or not. These scores may help you secure better terms the next time you apply for a small-business loan or get an insurance policy for your business.
Here's what you need to know about business credit scores, including where to find them and how to build and protect them.
with Fundera by NerdWallet
What is a business credit score?
A business credit score is similar to a personal credit score, such as your FICO score, which is the most popular credit scoring model.
Just as a FICO score measures your personal creditworthiness, your business credit score is a numeric representation of your company's creditworthiness. The information on your business credit report is used to produce the score, and business lenders use it when they're considering your credit application to predict how likely you are to pay them back in a timely fashion. A higher score means your business has a history of paying bills on time.
Here are a few key differences between personal FICO scores and business credit scores:
Range: Personal FICO scores range from 300 to 850; business credit scores generally range from zero to 100. Making on-time payments to creditors is the best thing you can do to build a good business credit score.
Standardization: Consumer credit bureaus generally use FICO's algorithms to calculate a credit score. Business credit score algorithms don't follow an industry standard and vary from bureau to bureau.
Data: Generally, business credit reports and scores include just the accounts you have under your company's name, not your personal accounts. However, many small-business lenders and credit card issuers still consider your personal credit when extending terms to you.
Access: You have the right to a free personal credit report from each of the three major consumer credit bureaus — TransUnion, Equifax and Experian — once every 12 months, and you can get your personal FICO scores for free from several credit card issuers. Not so for business credit. You'll have to pay to see your company's credit report and score at the three major business credit bureaus, Dun & Bradstreet, Experian and Equifax.
Privacy: Only you and some select parties have the right to see your personal credit reports. But with business credit reports, all information is public, and you can get information on other companies as long as you pay for it.
Need a credit report check-up?
Sign up for an account to have your free credit report and score on-hand, all the time.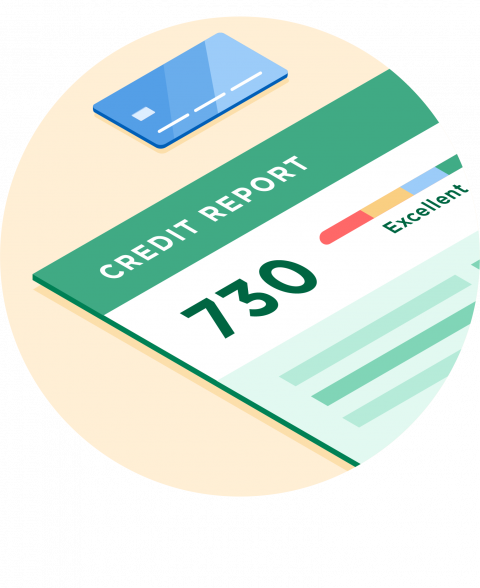 Why do I need a business credit score?
If your business is just getting off the ground, you're probably using your personal credit to do the borrowing. If things are going smoothly, you might be wondering why it's necessary to establish separate credit for your business.
Getting financing may be easier: Establishing a solid business credit score can help increase your chances of landing a small-business loan or line of credit at favorable terms.
Rates on insurance policies could be lower: As your business grows, insuring it could get expensive. A high business credit score may help keep rates lower.
Business and personal finances are separated: Creating a credit profile for your business adds a layer of separation between your business and your personal finances. Keeping your finances separate makes it easier to track business expenses for tax purposes.
Borrowing power increases: Strong business credit can help you get larger amounts of financing.
How is a business credit score calculated?
Each of the three major business credit bureaus, Dun & Bradstreet, Equifax and Experian, has its own method of determining your company's creditworthiness. There are several other business credit reporting agencies, but for the sake of this article, we'll focus on the big ones.
When ordering a business credit report, remember these two things:
Each bureau collects and verifies information differently. Bureaus typically collect payment information from sources such as vendors, banks, data-gathering trade associations and business credit card issuers. This information generally is verified through third parties.

Sometimes the data are incorrect. While all of the business credit bureaus claim to carefully vet their information, you still may find mistakes on your company's report. Generally, you can correct these errors by contacting the bureaus and providing evidence that the information is inaccurate.
Dun & Bradstreet business credit scores
Dun & Bradstreet measures a company's risk using a Paydex score, ranging from zero to 100. This number is based on payment data reported either to the bureau or to data-gathering companies that partner with the bureau. It, along with a "commercial credit score" and a "financial stress score," helps lenders decide whether to extend credit to you and how much. Insurance companies also can use the score to set your premiums, and it can help landlords determine whether to take you on as a business tenant, according to Dun & Bradstreet.
To have a Paydex number, you have to file for a DUNS number through Dun & Bradstreet's website, which is free, and the bureau must have records of your payments with at least four vendors.
To increase your Paydex score, Dun & Bradstreet recommends repaying debts on time or ahead of schedule, and encouraging suppliers and vendors to report positive payment history.
In a D&B credit report, you'll see both your commercial credit score and financial stress score.
The commercial credit score predicts the likelihood of a delinquent payment on bills within the next year. The score ranges from 101 to 670, with a lower score representing a higher probability of a delinquency.
The financial stress score predicts the likelihood of business failure over the next 12 months. Business failure means the unpaid loan is either settled by creditors or the business ceases operations without paying creditors in full. The score ranges from 1,001 to 1,610, with lower numbers giving businesses a higher probability of financial stress.
Equifax business credit scores
Equifax offers three different assessments for businesses on its business credit reports: the payment index, the credit risk score and the business failure score.
Like the Paydex score, Equifax's "payment index," measured on a scale of zero to 100, reflects how many of your company's payments were made on time and represents data from vendors and creditors. It's not designed to predict future behavior, though, says Tonya James, Equifax's vice president of product management. That's what the other two scores are for.
The "business credit risk score" looks at the likelihood of your business becoming severely delinquent on payments. Scores range from 101 to 992, measuring these things:
Available credit limit on revolving credit accounts, such as credit cards

Length of time since oldest financial account opened

Evidence of nonfinancial transactions, such as invoices from a vendor, being delinquent or charged off for two or more billing cycles
The "business failure score" measures the likelihood of your business closing within a 12-month period. It ranges from 1,000 to 1,610, with a lower score indicating a higher probability of business failure. It assesses these things:
The age of your oldest financial account

How much of your credit limits you've been using over the past three months

Whether you've had any delinquent accounts or late payments in the prior 24 months

Evidence of nonfinancial transactions, such as supplier invoices, being delinquent or charged off for two or more billing cycles
For both the credit risk score and the business failure score, a rating of zero indicates bankruptcy.
Experian business credit score
Experian offers a product called a CreditScore report, which includes a business credit score as well as other information, such as payment trends, account histories and public records. Checking this information regularly can help you identify ways you can build your company's credit, says Brian Ward, senior director of integrated marketing at Experian.
Ranging from zero to 100, Experian business credit scores are different from Dun & Bradstreet's Paydex score and Equifax's payment index because they take into account multiple factors, not just payment histories.
Experian calculates your business credit score by collecting credit information from your suppliers and lenders, legal filings from local, county and state courts, and company background information from independent sources such as public records and collection agencies.
It factors in your business credit history, such as balances on outstanding loans and payment habits, whether or not you have any liens, judgments or bankruptcies against your business, and the size and age of your business.
In general, even small businesses that use credit responsibly will be assigned medium-low risk, while well-established businesses with a solid credit history will have an easier time attaining the low-risk rating.
How can I find out my business credit score?
As noted previously, business credit reports and scores aren't free, even if you're the owner of the business. Even so, it's a good idea to check these reports once a year so you know how you compare with other borrowers — especially if you're planning to apply for a small-business loan anytime soon. Here's where you can find them:
6 months of report access

Dun & Bradstreet credit limit recommendation

Industry payment benchmarks

Payment trend and comparison to industry norm
How to protect your credit
The major credit bureau Equifax experienced a massive data breach in 2017, exposing personal information such as birthdates and Social Security numbers of more than 145 million American consumers. The thieves also stole credit card numbers for approximately 209,000 U.S. consumers, according to Equifax.
Small businesses were affected, as well. Some experienced financial losses after the breach and are suing Equifax, according to the National Law Journal. A data breach can make it harder for business owners to obtain financing because most business lenders take the creditworthiness of the business owner into account.
It's important to protect yourself. Business owners can find out if their personal information was exposed by visiting Equifax's website. Click on the link that says "Am I Impacted?" From there, you'll need to provide your last name and the last six digits of your Social Security number to see if you have been affected by the breach.
If you've been affected, the Federal Trade Commission recommends you consider freezing your personal credit with the three major credit bureaus. The FTC says this will make it harder for someone to open a new account in your name.
If you don't want to put a freeze on your credit, you can place a fraud alert on your credit, which tells potential creditors to verify your identity before issuing credit in your name. You'll need to contact one of the three bureaus to do so. Credit freezes usually cost a small fee, but Equifax is offering it for free until Jan. 31, 2018.
Even if you haven't been affected by the breach, it's a good idea to monitor your credit reports regularly for any activity that looks fraudulent. You're entitled to get a free copy of your credit reports every 12 months from each of the three major credit bureaus, at AnnualCreditReport.com.
When monitoring your credit, look for new accounts that you didn't open, credit inquiries that don't match up with your credit applications or balances that don't match your statements.