Gusto vs. Justworks: Which Is Best for Your Business?
While there's overlap, Gusto excels on the payroll side and Justworks offers more robust HR features.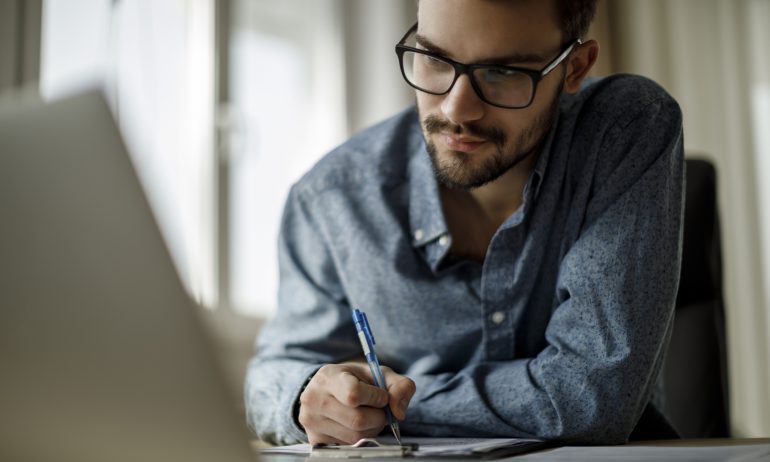 Many or all of the products featured here are from our partners who compensate us. This may influence which products we write about and where and how the product appears on a page. However, this does not influence our evaluations. Our opinions are our own. Here is a list of our partners and here's how we make money.
Working with HR software can make running your business significantly easier by helping you automate your payroll, manage health benefits, file taxes and more. If you're wondering whether Gusto or Justworks might be right for your business, this detailed comparison can help you decide.
Gusto vs. Justworks: An overview
There are a host of different tasks you can manage with a comprehensive HR software solution, from payroll and benefits management to new hire onboarding and tax filing. When comparing Gusto vs. Justworks, you should first determine what exactly you're hoping to get from this software, as well as how much you want to spend.
While both Gusto and Justworks can handle payroll and HR-related tasks, they are two pretty different platforms. Gusto is first and foremost a payroll solution and offers a handful of add-ons to handle some basic HR functions. Justworks, on the other hand, is a PEO (or professional employer organization), meaning they provide comprehensive HR, benefits, payroll, compliance and other administrative services.
Thus, when comparing these two products, it's important to keep this distinction in mind. The below table provides a high-level look at how these products compare.
Comparison of Gusto vs. Justworks
Core, Complete, Concierge

$6/month/employee + $39/month

$12/month/employee + $39/month

$12/month/employee + $149/month

<25 employees: $49 or $99/month/employee

25-99 employees: $44 or $89/month/employee

100-174 employees: $39 or $79/month/employee

Employee access to Gusto Cashout, PTO policies, benefits administration

HR consulting, onboarding features, employee trainings

8 a.m. to 5 p.m. PT Monday through Friday

24/7 by phone, email, slack, SMS, online chat
With this overview in mind, let's take a closer look at the details of these two HR solutions and the plans each of them offers.
Gusto offers three plans for users to choose from, each with a different level of services included. All of the plans from Gusto cover full-service payroll processing, health benefits administration and workers' compensation administration, but the features beyond that vary. Gusto also has a new option for contractor-only employers, who simply pay the $6/employee rate and no base price.
The least expensive plan and the one that covers the least amount of features is the Gusto Core plan. The cost of the Core plan starts with a monthly $39 base price plus an additional $6 per month per employee you want to pay through the system.
This plan is a full-service payroll option. Other features included are:
Employee self-service and profiles

Health benefits administration

Workers' comp administration
This plan is best for companies that, first and foremost, want to handle payroll for their employees. While there are some HR-related features, you won't have a ton of functionality.
One particularly nice feature that comes with all Gusto plans is the Gusto Cashout feature This allows your employees to access their pay early in the event that they need to cover expenses. There are no fees and no interest applied, and the money is taken right from their paycheck.
When you upgrade to the Gusto Complete plan, you'll get everything included with the Gusto Core plan plus more.
The base fee for Gusto Complete plan is still $39 per month, but the monthly per-person fee jumps to $12.
The added features you'll receive with Gusto Complete are:
Employee offers and onboarding

PTO policies and requests.
The highest-level plan from Gusto, which offers the most features, is the Concierge plan. The Concierge plan has a base fee of $149 per month plus an additional $12 per month per person.
In addition to all of the features of the previous two plans, Concierge also provides you with certified HR professionals and an HR resource center to answer any questions you may have.
There are also some add-ons that you can pay for in addition to the features included with the Gusto plan you choose to further expand your employee benefits:
529 College savings: Allow your employees to save for college through the partner Gradadvisor. This is a tax-advantaged savings account for your employees that will cost $6 per employee per month, with an $18 monthly minimum.

401(k): Gusto works with Guidelines to set employees up with a 401(k) savings account. This add-on costs $39 per month and then an additional $8 per month per employee.

Health benefits: Brokers that work with Gusto will help you choose a plan and carrier for health benefits for your employees. There's no administration fee for this but you'll have to pay premiums.

Workers' comp: The Gusto partner AP Intego integrates with your payroll so you can take part in pay-as-you-go workers' comp plans. Like with the health benefits, there's no administration fee, just the premium costs.

HSA: A health savings account can save your employees some significant money. The pre-tax saving account for health expenses will cost $2.50 per month per employee.

Commuter benefits: This is another pre-tax savings account to help your employees save on commuting costs. It'll cost you $4 per month per employee and there's a $20 monthly minimum.

FSA: This flexible spending account is meant to be used for qualified health expenses and dependent care expenses for your employees. Like the commuter benefits, there's a $20 monthly minimum and it costs $4 per month per employee.
Justworks plans and pricing
Justworks differs pretty significantly from Gusto in that they are a PEO. When you decide to use a PEO, you will be opting into a co-employment agreement with the company.
This means that both you and your PEO are technically employers of your employees. This is done so that the PEO can legally share certain employer obligations, such as payroll administration. It's also a way for startups and other small businesses to qualify for cheaper benefits pricing — because your smaller company joins the various other companies that PEO works with, making you look like one, much larger company.
Justworks offers two plans: Basic and Plus, the prices of which will depend on how many employees you have signed up for the service. To reiterate the previous table, here's a quick overview of Justworks' pricing, based on how many employees you have.
Justworks pricing overview
It's also worth noting that, for either plan, you can save 15% if you choose to be billed annually rather than monthly.
The Basic plan from Justworks provides you with comprehensive payroll, benefits, HR and compliance services.
Payroll for salaried and hourly employees

Vendor and contractor payments

Employer payroll tax filings

Unemployment insurance filings

Employment practices liability insurance

Harassment prevention and inclusion training

Online employee onboarding

Calendar, doc center and directory

Accounting software integrations
This plan also comes with access to other features that you can sign up for at an additional cost. The amount you pay will depend on how many employees sign up for these features:
Life and disability insurance

Health and wellness perks
The Plus plan from Justworks comes with everything included in the Basic plan plus, most notably, access to medical, dental and vision insurance. This plan also includes COBRA administration, health advocacy services and One Medical (where available).
With this Gusto vs. Justworks overview in mind, let's see where Gusto stands out.
Gusto specializes in payroll, so if this is your number-one priority and you don't have as much need for other HR functions, this will likely be the plan for you over Justworks. Even Gusto's most basic plan comes with all of the payroll benefits, including tax filings and payments, direct deposit, automates payroll and more.
"I've used Gusto for a few years now and it's awesome. They've made their platform super easy and intuitive, it's a no-brainer," Benjamin K. Walker, founder and CEO of Transcription Outsourcing explains. "It takes less than three minutes to do payroll, that's how easy it is."
Gusto offers integrations for accounting, time tracking, point of sale systems, business operations and more. This is a huge pro for the software and one of the many reasons some customers love it so much.
"It's been an absolute game-changer for our business as it fully integrates with our accounting software, POS system and bank account. Additionally, our accountant has access as needed through her own logins so she can access the reports she needs without waiting on us," Brandon Lilly, owner of The Life of the Party reports.
Justworks also has its benefits for users, especially if you're looking for more robust HR capabilities. The platform's usability and customer support are also big draws.
While Gusto offers a handful of benefits add-ons, they don't come close to offering the same suite of options as Justworks. Justworks is a true all-in-one solution that can handle your business's entire HR-related needs. Plus, unlike other PEOs, they're upfront about their pricing so you know you're getting the same price as any other business using their services.
All of the plans with Justworks come with online onboarding processes that customers absolutely love. There's an online automated dashboard for employees to use, making it easy to set up a direct deposit and choose the health insurance plan they want.
"Justworks has a knowledgeable team that is easily accessible, serving as an extension of our small HR team. Our new hires are able to very quickly understand the system, which streamlines the onboarding process without the need of an admin," Ian Kane, COO and founder of Ternio explains.
Justworks offers customer support 24 hours a day, seven days a week, via five different channels: email, phone, Slack, text message or online chat. This is especially helpful, as you don't want to be waiting around for answers to your or your employees' payroll and benefits questions.
"Justworks is easy to use, the help is fantastic and the support options are top-notch. Whenever I have a question, whether about our payroll invoices or about a specific benefits question, I email my rep or jump on a call to discuss further. They are always eager to help and find solutions to our problems," Kane explains.
Alternatives to Gusto vs. Justworks
If neither Gusto nor Justworks is the right option for your business, there are other alternatives out there for you to consider. Here are two to consider.
Automatic Data Processing, or ADP, is the company behind one of the oldest and most trusted names in HR software. Between their payroll software and PEO offering, they can be a solid alternative to either Gusto or Justworks, depending on what you're looking for.
If payroll is your top priority, ADP Payroll has several plans to fit a variety of businesses. Their PEO function, ADP Totalsource, is fully integrated with their payroll service, so you manage payroll and all of your other benefits, onboarding, tax needs and more. Pricing for all of ADP's offerings are quote-based, though, so you will have to contact them directly to know how much you can expect to pay.
If you're a very small business or you're looking for a fairly inexpensive option then Zoho People might be the place for you to look. Zoho has a forever free option for basic HR functions (up to five users), beyond that plans range from $1.25 to $9 per employee per month.
The least expensive plan, the Essential HR plan, includes all of the basics like employee onboarding, leave tracking and access to the mobile app. If you want time and attendance tracking or shift scheduling you'll need to upgrade to the Professional plan. Zoho People also seamlessly integrates with the other Zoho apps offered by the company so you can sync your payroll or your recruiting with the People app to make your life even easier.
A version of this article was first published on Fundera, a subsidiary of NerdWallet.