Gusto vs. Justworks: Which Is Best for Your Business?
While there's overlap, Gusto excels on the payroll side, and Justworks has more robust HR features, including being a professional employer organization, or PEO.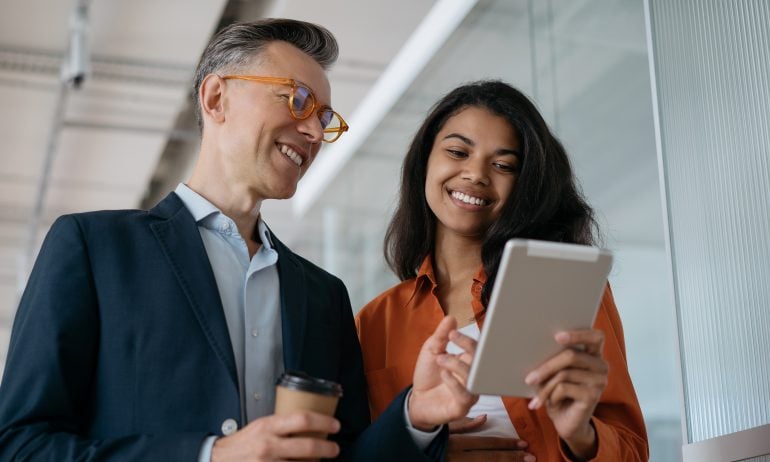 Many or all of the products featured here are from our partners who compensate us. This influences which products we write about and where and how the product appears on a page. However, this does not influence our evaluations. Our opinions are our own. Here is a list of our partners and here's how we make money.
Both Gusto and Justworks can help you automate your payroll, file taxes, manage health benefits and more. Gusto is first and foremost a payroll solution but it offers additional HR features, too. Justworks, on the other hand, is a professional employer organization, or PEO, with comprehensive HR, benefits, payroll and compliance support.
This side-by-side comparison explores the plans, prices, features and benefits offered by each to help you decide which is best for your business.
Simple: $40 base fee; $6/person.

Plus: $80 base fee; $12/person.

Premium: Quote-based pricing.

Contractor: no base fee; $6/person.

Basic: $49/person for <25 employees. $44/person for 25-99 employees. $39/person for 100-174 employees.

Plus: $99/person for <25 employees. $89/person for 25-99 employees. $79/person for 100-174 employees.

Each plan offers quote-based pricing for more than 174 employees.

Workers' comp administration.

Lifetime employee access.

Health benefits administration.

Hiring and onboarding tools.

Access to health benefits.

Certified HR consultants.

Month-to-month with option to cancel at any time.

No minimum term required. Ability to switch between plans with a month's notice.

Phone, email and chat, Monday through Friday, 6 a.m. to 5 p.m. Pacific time.

24/7 by phone, email, chat and SMS support available.
Gusto offers three main plans for users to choose from, each with a different level of services included. You can also select a contractor-only option or create a custom plan by speaking with a sales representative.
Simple is the least-expensive plan at a monthly $40 base price plus an additional $6 per employee. Some of the features offered in this plan included:
Full-service payroll including unlimited payroll runs in all 50 states.

Employee self-service and profiles.

Health benefits administration and online enrollment.

Workers' comp administration with automated billing.

Standard hiring and onboarding tools.

Customer support by phone, email and chat.
This plan is best for companies that, first and foremost, want to handle payroll for their employees. A standout feature that comes with all Gusto plans is Gusto Cashout. It allows your employees to access a portion of their pay early in the event that they need to cover expenses. Although there are some HR-related features included in the Simple plan, you'll need to upgrade for more advanced features like time tracking and PTO requests.
The base price for the Gusto Plus plan increases to $80 per month, and the monthly per-person fee is $12. You get everything in the Gusto Simple plan plus these features:
Customizable permissions.

Premium hiring and onboarding tools.

Time management tools including automated payroll sync.

Employee directory and surveys.
This plan has features for businesses with more advanced payroll, hiring and team management needs. It offers tools such as time tracking, project tracking, PTO requests and org charts. In addition, performance reviews are also included in the plan, which can help you motivate and retain employees.
Premium is the highest-level plan from Gusto with quote-based pricing. The Premium plan has all of the features of the previous two plans, plus these features:
Certified HR professionals.

Priority phone support through a direct line.
This plan can provide a business with more personalized assistance, including advice from certified HR professionals on company policies, employee relations, compliance matters and workplace issues.
To further expand your employee benefits, the following features can be added to a Gusto plan, at an additional cost:
529 college savings: This tax-advantaged savings account allows your employees to save for college through Gradadvisor at a cost of $6 per employee per month, with an $18 monthly minimum.

401(k): Gusto works with Guidelines to set employees up with a 401(k) plan. This add-on costs $49 per month plus an additional $8 per month per employee.

Health benefits: Brokers that work with Gusto will help you choose a plan and carrier for health benefits for your employees. There's no administration fee for this, but you'll have to pay premiums.

Workers' comp: Gusto partner AP Intego integrates with your payroll so you can take part in pay-as-you-go workers' comp plans. There's no administration fee, just the premium costs.

Pretax savings and spending accounts: With an annual fee of $200, you can offer your employees health savings accounts, flexible spending accounts and commuter spending accounts that cost $2.50 to $4 per employee per month.
Justworks plans and features
Justworks is a PEO, which means you'll be opting into a co-employment agreement with the company. Both you and your PEO are technically employers of your employees. This is done so that the PEO can legally share certain employer obligations, such as payroll administration. It also allows startups and other small businesses to join other companies in the PEO and use their combined buying power to get better health insurance rates and options.
Justworks offers two plans: Basic and Plus, with prices based on the number of employees signed up for the service.
The cost for Justworks Basic varies depending on how many employees are enrolled in the plan. If you have fewer than 25 employees, the monthly cost is $49 per employee. For 25 to 99 employees, you'll pay $44 per employee, and for 100 to 174 employees, the cost is $39 per employee. Quote-based pricing is offered for 175 employees and above. The plan includes the following features:
Payroll for salaried and hourly employees.

Off-cycle, vendor, contractor and bonus payments.

Employer payroll tax filings and forms.

Workers' comp, 401(k) retirement plans, life insurance and other benefits.

Online employee onboarding, training and benefits enrollment.

Support from certified HR consultants.

HR tools, reporting features and additional resources.
Justworks Plus costs $99 per employee per month for fewer than 25 employees, $89 per employee for 25 to 99 employees, and $79 per employee for 100 to 174 employees. Again, quote-based pricing applies for more than 174 employees. It comes with everything included in the Basic plan plus the following:
Health advocacy services.

One Medicare, where available.

Access to medical, dental and vision insurance.

Health savings account and flexible spending account access.
With a starting price of $40 a month plus $6 per person, Gusto offers far less expensive options to small businesses that may not be able to pay $39 to $49 per person to use Justworks.
Gusto specializes in payroll, so if this is your top priority and you don't have a need for other HR functions, this will likely be the plan for you over Justworks. Even Gusto's most basic plan comes with all of the payroll benefits, including tax filings and payments, direct deposit, automated payroll and more.
Gusto offers a large variety of third-party integrations, including accounting, time tracking, point of sale systems and business operations. This is a huge pro for this payroll provider and one of the advantages it has over Justworks.
While Gusto offers a number of benefits add-ons, they can't match the offerings available through the Justworks PEO. Based on your location, this PEO could give you and your employees access to health insurance plans and coverage that are typically only available to larger businesses. Some of the carriers that work directly with Justworks include Aetna, MetLife and One Medical.
All of the plans with Justworks come with a dedicated onboarding manager. In addition to helping you activate your new account, they will help you close your previous payroll account and set up employees and benefits. There's also an online automated dashboard for employees to use, making it easy to choose health insurance plans and set up training.
Unlike Gusto, Justworks offers customer support 24 hours a day, seven days a week, through five channels: email, phone, Slack, text message or online chat. This is especially helpful when you don't want to wait for answers to your or your employees' payroll and benefits questions.
A version of this article was first published on Fundera, a subsidiary of NerdWallet.