Harvest Review 2022: Cost, Features, Top Alternatives
See how well Harvest executes its services and if it's a good option to help your business run more efficiently.
Many or all of the products featured here are from our partners who compensate us. This may influence which products we write about and where and how the product appears on a page. However, this does not influence our evaluations. Our opinions are our own. Here is a list of our partners and here's how we make money.
Harvest software is designed to help small-business owners better manage their time and finances. With features including time tracking, expense management, invoicing, team management and scheduling tools, it's a great choice for freelancers and very small businesses. Larger enterprises, however might require a more multifaceted software option like QuickBooks.
Harvest is a cloud-based time tracking and billing software, meaning your data is stored on Harvest's servers and transferred to your device via the cloud. Harvest can run on any internet-enabled device and also has a mobile app for both iOS and Android devices.
Harvest's product is designed primarily for project- and service-based businesses, as well as businesses that charge by the hour. Examples may include manufacturers, personal trainers, makeup artists, photographers, web designers, wedding planners and landscapers.
Furthermore, Harvest is ideal for small businesses that would rather not hire designated staff members to oversee time tracking and invoicing responsibilities — whether for cost or size limitations. A significant segment of Harvest's user-base is made up of freelancers.
Harvest's core capabilities center around time and expense tracking, as well as invoicing and team management. It's important to note that Harvest is constantly adding new features to its software, which are offered to customers at no additional charge. Currently, here is what Harvest can do:

Harvest's Time Tracking interface allows you to enter new tasks into a daily timesheet and press a button to start tracking the time it takes for you to work on that specific task. When you finish working on the task, Harvest will calculate the cost based upon the rate you enter. You can also add notes to each task to explain exactly what you worked on.
There is also a weekly timesheet that adds up the hours worked on different tasks each day and creates an invoice based on the total hours worked for the week. If you have the Harvest app, you can also take pictures of receipts, upload them and add them to expense reports.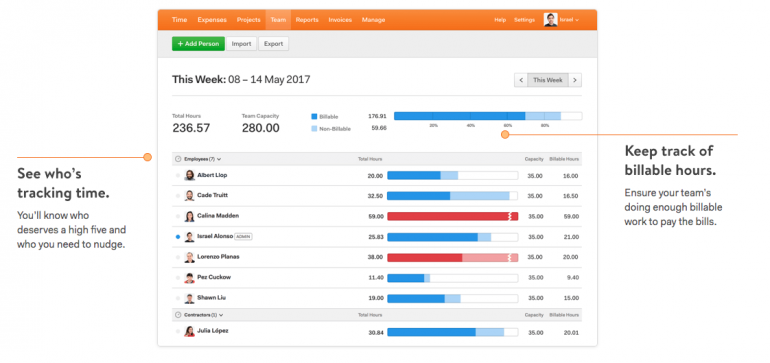 Team managers can use Harvest to oversee the hours worked by their employees. The Team interface displays all the members of your team, their available work capacity (in hours) and the number of billable hours they've already worked for the week. It also allows you to set custom rates for each employee and differentiate between full-time employees and independent contractors.
The top portion of the Team interface will display the total hours worked by your entire organization and the billable hours accrued. Harvest also has a feature to track burnout amongst employees and will notify you when hours worked exceed employee capacity.
Other features of the team-management interface include the ability to evaluate tasks based on what is billable versus what is not billable to see if your employees are investing their time in the right things. You can also view hours worked by time of day and task. Additionally, you can send team members reminders to submit their timesheets and approve all timesheets. Team managers can set custom permissions to determine what functions team members have access to.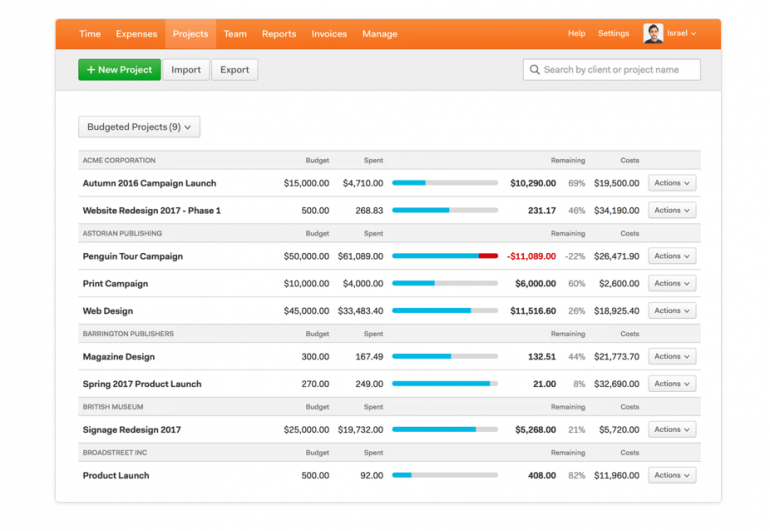 Harvest's Projects function turns timesheet data into visual reports to help you make decisions and ensure your projects run smoothly. From the Projects dashboard you can see how much time you've tracked for a project and how close you are to your budget. You can also view hours, budgets, billable amounts, costs and uninvoiced totals and break down all your data by person or task.
Other features include the ability to set hourly and fee-based budgets to track your project's progress. Harvest also sends you automatic reminders when you're about to reach your budget and Harvest lets you pinpoint the areas that are eating into your budget the most.
The Projects dashboard also lets you see how much you need to invoice for each project based on the agreed-upon rate and how much each project brings in compared to cost. You can then create an invoice for the unbilled amount directly from the Projects dashboard.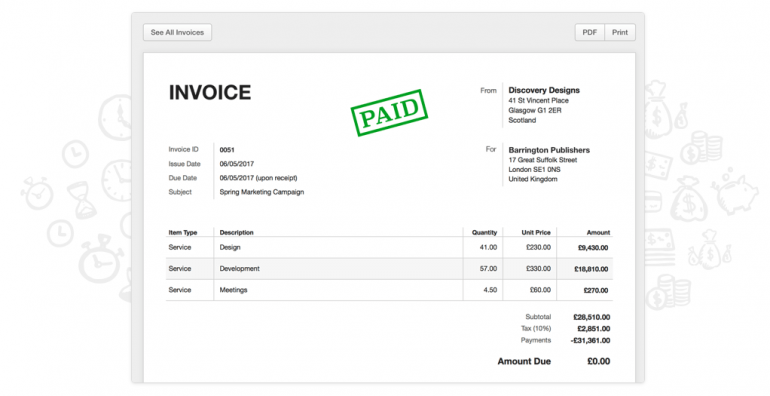 Harvest Invoice allows you to turn timesheets into digital invoices that can be emailed directly to clients for free. Each Harvest invoice features a breakdown of the billable hours worked on different tasks. Harvest accepts over 180 different types of currency and integrates with Stripe and PayPal, allowing clients to pay your invoices in a matter of clicks. You can also send reminders to clients for outstanding invoices.
The Harvest Invoice dashboard also creates a graph that gives you an overview of your revenue for the year and the filters let you report on a particular client or timeframe.
Harvest doesn't come with a built-in scheduling feature but integrates with another paid app created by Harvest called Forecast. Pricing for Forecast starts at $24 per month.
Harvest integrates with over 100 different apps, including project-management apps like Basecamp and Trello; customer-support apps like Atlassian Jira and Zendesk; communication apps like Slack and many more. While Harvest is not an accounting software, you can utilize the Harvest accounting integrations and seamlessly export your expenses and invoices from Harvest to an accounting or finance app like QuickBooks, Xero and FundBox. Furthermore, Harvest works with Zapier, which allows them to integrate with over 1,000 additional apps. To see a full list of integrations visit the Harvest app marketplace.
Additionally, Harvest boasts a browser extension for Google Chrome and Safari and also provides users with a free widget that they can add to any third-party app with a few lines of code. For the more technically inclined, Harvest has an API that allows you to customize how you integrate Harvest with third-party tools.
Harvest offers phone support during regular business hours and the option to submit queries online to the Harvest support team. The Harvest support team will typically respond to these queries within a matter of hours. For more immediate assistance, Harvest has a thorough Help Center on its website with guides on how to use all of Harvest's tools. There are also webinars, a blog and a resources page with general tips on how to manage time, price projects and more.
Harvest offers three different pricing plans. There is a free plan that provides access to the software for one user and the ability to manage two projects at a time. The Solo plan costs $12 per month and is also designed for one user, but with the ability to manage an unlimited number of projects at once. Finally, there is the Team plan, which costs $12 per person per month and provides account access for an unlimited number of employees. All accounts come with the following features:
Time and expense tracking.

Unlimited invoices and estimates.

Integrations with 100+ apps.

Apps for iOS, Android and Mac.
Harvest offers a 10% discount for customers willing to pay yearly instead of each month. Businesses with more than 50 employees and nonprofits and educational institutions are eligible for a 15% discount when paying yearly. Harvest also offers all users a 30-day free trial, which is a great way to try out the software before committing.
Harvest offers a number of distinct benefits:
Even for small businesses, the cost to use Harvest is pretty insignificant. In theory, Harvest could more than pay for itself by identifying inefficiencies in your business and helping you resolve them. Furthermore, if you're a freelancer with only a couple of consistent clients, you can utilize Harvest's free option and still get the full range of features.
With Harvest, you can extend the software's functionality to satisfy your business's needs. This is made possible through its wide range of integrations, as well as its developer tools. This helps make Harvest a much more practical solution for business owners, as it can fit right into your business's other processes, rather than functioning as a standalone tool.
While there are plenty of benefits to using Harvest, there are also some drawbacks:
Integrations aside, Harvest is somewhat limited in its core capabilities. For comparison's sake, QuickBooks can perform many of the functions available with Harvest, but also comes with a (very advanced) accounting tool built in. While QuickBooks is also more expensive than Harvest, some business owners might just prefer to use one software to manage their finances, rather than using two and integrating them together.
On the topic of functionality, business owners also complained about the absence of specific features within Harvest. Examples include the inability to apply a payment schedule or integrate your business bank account, a lack of options within the proposal feature and no location tracking feature.
Customers have great things to say about Harvest, but every small business's needs are different and Harvest might not be the best solution for you. If that's the case, consider these alternatives:
One of the most popular and well-reviewed accounting software brands on the market, QuickBooks Online is a great Harvest alternative to consider. If you sign up for the Simple Start plan ($20/month) you'll be able to track income and expenses, send invoices, download bank and credit card transactions, print checks and more. The Essentials plan costs $40 per month and comes with time-tracking features like bill scheduling and recurring invoices. Overall, QuickBooks Online is a more expensive option than Harvest, but comes with many of the same features, plus accounting tools.
If you're looking for a slightly different feature set at a low cost, consider Wave Payroll. While this software is primarily used for running payroll, it comes with a handful of other useful features, including an accounting interface, the ability to send invoices, a receipt scanner for tracking expenses and a payment processor for accepting digital payments. For all of these tools, Wave charges a $35 monthly base fee, plus $4 per employee you run payroll for.
A version of this aritcle was first published on Fundera, a subsidiary of NerdWallet.