How to Create a Business Budget for Your Small Business
Putting together a budget can help your business achieve its financial goals and prepare for seasonal shifts.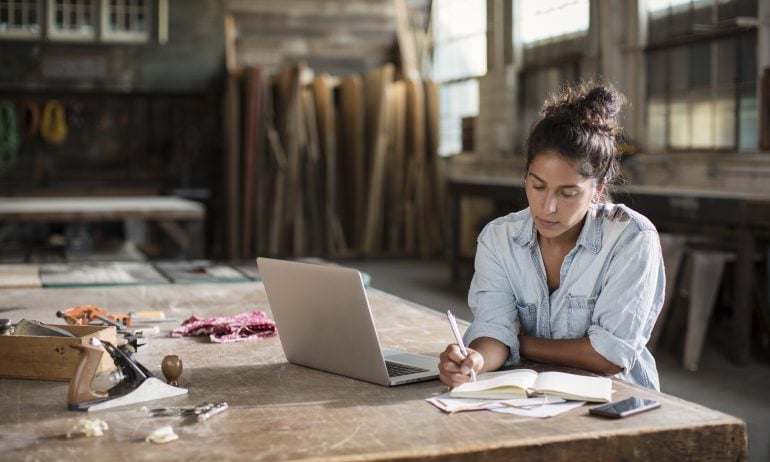 Many or all of the products featured here are from our partners who compensate us. This influences which products we write about and where and how the product appears on a page. However, this does not influence our evaluations. Our opinions are our own. Here is a list of our partners and here's how we make money.
A business budget estimates future revenue and expenses in detail, so that you can see whether you're on track to meet financial expectations for the month, quarter or year. Think of your budget as a point of comparison — you run your actual numbers against it to determine if you're over or under budget.
From there, you can make informed business decisions and pivot accordingly. For example, maybe you find that your expenses are over budget for the quarter, so you may hold off on a large equipment purchase.
Here's a step-by-step guide for creating a business budget, along with why budgets are crucial to running a successful business.
How does a business budget work?
Budgeting uses past months' numbers to help you make financially conservative projections for the future and wiser business decisions for the present. If you've had a few bad months and predict another slow one, you can prepare to minimize expenses where possible. If business has been booming and you're bringing in new customers, maybe you invest in buying more inventory to satisfy increased demand.
Creating a business budget from scratch can feel tedious, but you might already have access to tools that can help simplify the process. Your small-business accounting software is a good place to start, since it houses your business's financial data and may offer basic budgeting reports.
To create a budget in QuickBooks Online, for example, you break down your estimated income and expenses across each area of your business. Then, the software calculates figures like gross profit, net operating income and net income for you.
You can then compare actual versus projected figures side by side by running a Budget vs. Actuals report. Businesses that need more in-depth features, like cash flow forecasting or the ability to use different projection methods, might subscribe to business budgeting software in addition to accounting software.
If your small business doesn't have access to these features or has simple financials, you can download free small-business budget templates to manually create and track your budget. Regardless of which option you choose, your business will likely benefit from hiring an accountant to help manage your budget, course-correct when the business gets off track, and make sure taxes are being paid correctly.
Why is a business budget important?
A business budget encourages you to look beyond next week and next month to next year, or even the next five years.
Creating a budget can help your business do the following:
Establish a financial plan that helps your business reach its goals. 

Point out leftover funds that you can reinvest.

Predict slow months and keep you out of debt.

Estimate what it will take to become profitable.

Provide a window into the future so you can prepare accordingly.
Creating a business budget will make operating your business easier and more efficient. A business budget can also help ensure you're spending money in the right places and at the right time to stay out of debt.
How to create a business budget in 6 steps
The longer you've been in business, the more data you'll have to inform your forward-looking budget. If you run a startup, however, you'll want to do extensive research into typical costs for businesses in your industry, so that you have working estimates for revenue and expenses.
From there, here's how to put together your business budget:
One of the first steps in any budgeting exercise is to look at your existing business and find all of your revenue sources. Add all those income sources together to determine how much money comes into your business monthly. It's important to do this for multiple months and preferably for at least the previous 12 months, provided you have that much data available.
Notice how your business's monthly income changes over time and try to look for seasonal patterns. Your business might experience a slump after the holidays, for example, or during the summer months. Understanding these seasonal changes will help you prepare for the leaner months and give you time to build a financial cushion.
Then, you can use those historic numbers and trends to make revenue projections for future months. Make sure to calculate for revenue, not profit. Your revenue is the money generated by sales before expenses are deducted. Profit is what remains after expenses are deducted.
The second step for creating a business budget involves adding up all of your historic fixed costs and using them to reliably predict future ones. Fixed costs are those that stay the same no matter how much income your business is generating. They might occur daily, weekly, monthly or yearly, so make sure to get as much data as you can.
Examples of fixed costs within your business might include:
Once you've identified your business's fixed costs, you'll subtract those from your income and move to the next step.
3. Subtract variable expenses
As you compile your fixed costs, you might notice other expenses that aren't as consistent. Unlike fixed costs, variable expenses change alongside your business's output or production. Look at how they've fluctuated over time in your business, and use that information to estimate future variable costs. These expenses get subtracted from your income, too.
Some examples of variable expenses are:
Utility costs that change depending on business activity.
During lean months, you'll probably want to lower your business's variable expenses. During profitable months when there's extra income, however, you may increase your spending on variable expenses for the long-term benefit of your business.
4. Set aside a contingency fund for unexpected costs
When you're creating a business budget, make sure you put aside extra cash and plan for contingencies.
Although you might be tempted to spend surplus income on variable expenses, it's smart to establish an emergency fund instead, if possible. That way, you'll be ready when equipment breaks down and needs replacing, or if you have to quickly replace inventory that's damaged unexpectedly.
Add up all of your projected revenue and expenses for each month. Then, subtract expenses from revenue. You may also see the resulting number referred to as net income. If you end up with a positive number, you can expect to make a profit. If not, that's a loss — and that can be OK, too. Small businesses aren't necessarily profitable every month, let alone every year. This is especially true when your business is just starting out. Compare your projected profits to past profits to confirm whether they're realistic.
6. Finalize your business budget
Are the resulting profits enough to work with, or is your business overspending? This is your opportunity to set spending and earning goals for each month, quarter and year. These goals should be realistic and achievable. If they don't line up with your projections, make sure to establish a strategy for making up the difference.
As time goes on, regularly compare your actual numbers to your budget to determine whether your business is meeting those goals, and course correct if necessary.
Frequently asked questions
What is a business budget?
What does a business budget include?
Best Accounting Software for Small Businesses
Product

Starting at

Promotion

Learn more

QuickBooks Online

$30/month

 

Additional pricing tiers (per month): $60, $90, $200.

50% off

 

for first three months or free 30-day trial.

Xero

$15/month

 

Additional pricing tiers (per month): $42, $78.

30-day free trial

 

or monthly discount (terms vary).

Zoho Books

$0

 

Additional pricing tiers (per month): $20, $50, $70, $150, $275.

14-day free trial