What Is Inventory and How Does It Work?
Inventory involves the goods and products a company markets. Understanding inventory is key to running a business.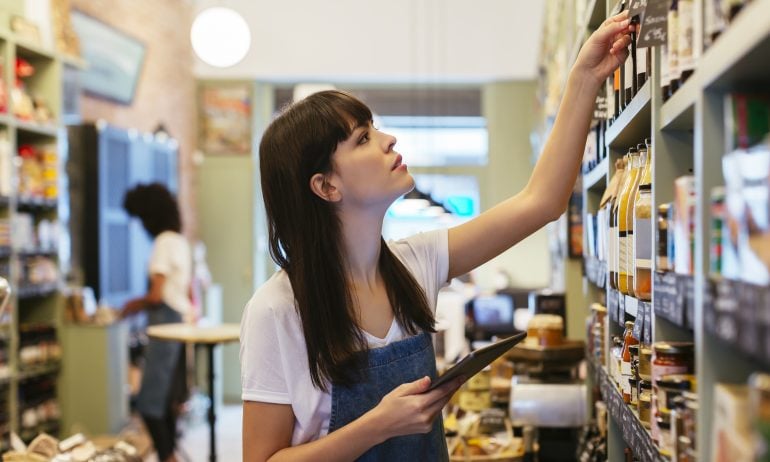 Many or all of the products featured here are from our partners who compensate us. This influences which products we write about and where and how the product appears on a page. However, this does not influence our evaluations. Our opinions are our own. Here is a list of our partners and here's how we make money.
Inventory refers to both the goods and products a business sells, as well as any raw materials that the business uses to make those products. Inventory is also a company's asset, because that business is aiming to profit from whatever it spent on that inventory.
Types of inventory include:
These are the materials used to build the product that a business sells. For example, if a company sells T-shirts, its raw material inventory would include the thread, cotton and sewing machines needed to make the shirts. If a business sells candles, its raw inventory would include wax, wicks, scented oils and glass vessels.
For companies that produce or make their own products, work in progress inventory refers to products that are still in the process of being made. Work in progress inventory, also known as work in process inventory, includes products at several stages of the production cycle. For the company that sells candles, both candles currently being made and candles that have been made — but still need to be checked for quality before they can be sold — are work in progress inventory.
These are pretty much what they sound like. Finished goods are products that are ready to be sold. For the candle company, a finished good is a candle that's ready to be stocked on store shelves. For the T-shirt company, a finished good is a T-shirt ready to be sold.
MRO stands for "maintenance, repair and operations," so this inventory refers to everything needed to produce the goods that become a finished product. For the T-shirt company, the company's T-shirt presses, sewing machines and dye factories would all be considered MRO inventory.
This refers to inventory that's in between two locations in the supply chain. An example of pipeline inventory is a T-shirt that's in transit between a factory and a distribution center, or a candle that's in between a distribution center and a retailer.
Some industries may use types not defined here. Certain businesses — such as restaurants, for example — have inventory that includes raw materials like milk and bread that can't sit on the shelves forever. Other businesses, such as companies that sell T-shirts or candles, have inventory that includes their finished products and all the goods it takes to make those products. And some items or materials may fit into more than one category.
Service business inventory
Service businesses sell mostly intangible goods rather than physical products, so their inventory looks a little different.
For example, a graphic designer might consider their computer part of their inventory, since it's essential to the service they sell. Food service businesses like restaurants or catering companies would include things like tables, chairs and napkins as part of their inventory.. Many service businesses also keep perishable inventory, such as meat, bread and other items that lose their value over time until they eventually become worthless. There are many different kinds of service businesses, so their inventories will vary.
Depending on the size of your business and your budget, you can use one of several inventory tracking methods. Of course, there's the old pen-and-paper method, in which business owners manually track the sale and production of items, as well as the goods it takes to produce those items.
But a common way that businesses track inventory is by using SKUs — or stock-keeping units — which commonly appear as an alphanumeric code above a product's bar code and are tracked by a point-of-sale system. POS systems facilitate transactions between businesses and customers, and they allow a business to sell its goods. Most of today's POS systems also include an inventory management tool that can generate an SKU for each item and adjust a product's inventory by tracking sales.
Inventory management strategies
First, tracking inventory is one of the most important parts of running a successful business. Without proper inventory management, businesses run the risk of unforeseen product shortages, overproducing products and otherwise eating into their profits.
Aside from potentially spending more on inventory than needed, there are also tax implications to mismanaging inventory. When filing taxes, small-business owners typically must use accrual accounting, which tracks revenues based on recorded transactions, to determine the value of their inventory. If a business owner accidentally records more transactions than they executed, they could end up paying more in small-business taxes than they need to.
If you can afford it, using a POS system, software as a service or cloud-based option is a smarter inventory management strategy. Eventually, most people will make an error or two by tracking inventory manually.
Another popular inventory strategy is always keeping just-in-time inventory, in which inventory (including raw materials, components or finished goods) is replenished as it is sold.
There's also buffer stock, or safety stock, that's essentially surplus inventory a company keeps on hand so that — in theory — it will never be completely without a certain item.
Point-of-sale systems for inventory management
In addition to helping businesses track inventory, many of the POS systems listed below can help boost revenue by implementing customer loyalty programs, assisting with accounting and tracking employee hours.
Square is one of the most popular POS systems for small businesses. It can automatically generate SKUs and track inventory based on sales. Square offers systems designed specifically for restaurant, retail and appointment-focused businesses, and a standard POS system to address the needs of other types of small businesses.
Mostly used by food service businesses, Toast can generate inventory reports and highlight low-performing items. It can also digitally map your inventory layout to match your business's kitchen.
Lightspeed offers one of the best inventory management products among POS systems. Users have access to a detailed inventory management system that tracks product availability across multiple locations and can set automatic reorder points so you don't run out.
Shopify, a popular POS system for online businesses, allows users to view their current inventory, automatically adjust inventory levels and receive alerts when it's time to order more of a certain product.
QuickBooks Desktop Point of Sale
This system — which can sync sales, payments, inventory and customer data to a business's QuickBooks Desktop account — allows users to monitor sales and track inventory changes. QuickBooks Desktop Point of Sale also automatically updates inventory based on sales.