Paycom Review 2022: Pricing, Payroll and HR Features, User Reviews
Our Paycom review covers all aspects of this payroll and HR software — including features, pricing and more.
Many or all of the products featured here are from our partners who compensate us. This influences which products we write about and where and how the product appears on a page. However, this does not influence our evaluations. Our opinions are our own. Here is a list of our partners and here's how we make money.
Paycom is a cloud-based payroll service that essentially acts as a full-service human capital management, or HCM, system — offering access to payroll and HR services in a single software. Time and labor management, HR management, talent acquisition and talent management are the broader HR features included in the platform. Paycom's employee-driven data system automates many payroll and HR tasks and includes a self-service app that allows employees to manage their data and do their own payroll.
If you run a large organization and need an all-in-one solution that can be completely customized to your business, Paycom may very well work for you. However, if you need a straightforward payroll or HR platform to manage the essential tasks for a smaller team, you may want to explore an alternative solution.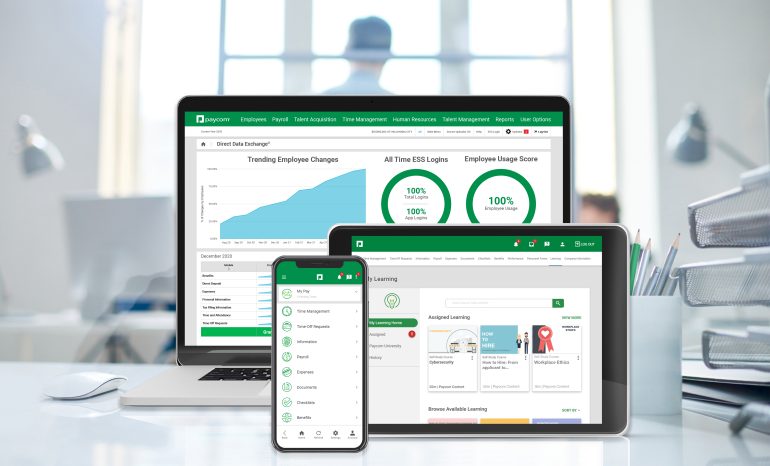 Single, all-inclusive software plan available.

Paycom offers instant data flow across multiple systems with features that include:

Automated payroll processing.

Time and attendance tools.

Employee management options.

Automated hiring and onboarding.

Self-service app available for Android and iOS devices.

Offers a few add-ons like Affordable Care Act (ACA) assistance, but doesn't integrate with other software such as expense, accounting or time-tracking apps.

Customer phone support Monday through Friday, 7 a.m. to 7 p.m. Central time. Employee training offered through Paycom Learning.
Time and labor management
Paycom doesn't include pricing information on its website for its payroll and HR software. Instead, you can request a demo and then work with Paycom's sales team to determine what the cost of the software will be for your business.
Generally, when it comes to quote-based payroll software, much of the cost will depend on the size of your business and the number of employees on your payroll. Typically, payroll providers charge a monthly base fee, plus a monthly per-employee fee. You might also see additional fees for setup and certain tax forms, as well as for particular tools or services within the platform.
Online Paycom payroll reviews are generally positive. Reviewers highlight the scope of functionality within the Paycom system, especially as a payroll and HR software. Additionally, many users praise Paycom's customer service.
Although there aren't many wholly negative reviews, some users found drawbacks to the system. A few users felt some processes were more difficult and time-consuming than expected, while others voiced concerns about the number of updates, not being notified before an update, and about the quality of updates.
Advanced software features
Paycom is a highly automated, detailed and advanced software solution. This platform truly is full-service, allowing you to manage the most specific parts of payroll, HR and broader HCM within a single solution.
While many payroll services provide the tools you need to automate your payroll and HR tasks, Paycom takes this optimization to the next level — in many cases, handling important and complex processes on your behalf.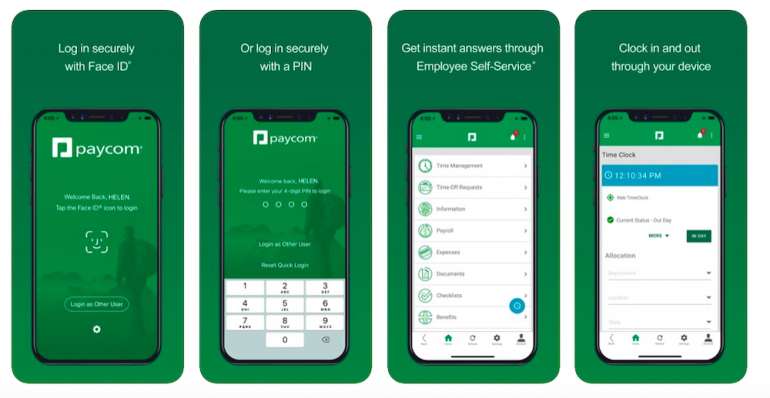 A particularly noteworthy aspect of Paycom's functionality is the employee self-service app. This app contains all the necessary features of the software, allowing employees to manage their time, benefits, documents and training, and even find the right person within the company to answer their questions. This not only empowers employees, but it improves the accuracy of data and also eliminates tedious payroll and HR tasks.
Lacks pricing transparency
Paycom doesn't provide pricing information on its website — making it difficult to determine whether it's a viable solution for your business without talking to its sales team. Additionally, because you'll only know the pricing Paycom offers your business, you may be paying more than other businesses for the same service. With quote-based pricing, Paycom makes it hard for you to adequately compare its service to other providers that do list pricing information.
Better suited for larger businesses
Paycom's all-in-one package with advanced features and automation may be more than many small businesses need. If you're a smaller business looking to optimize your payroll and HR, you may find Paycom overwhelming and confusing, especially if the tools you do need are buried amongst a variety of those you don't.
If your business doesn't need all of the functionality that's included in Paycom, you might look into Gusto Payroll, another web-based payroll service that also has HR features.
Get 25% off the Plus plan for a limited time
Gusto starts at $40 per month, plus $6 per person per month, and is available in three plan levels: Simple, Plus and Premium. Gusto also offers a contractor-only option at $6 per person with no base fee.
In addition to full-service payroll capabilities, Gusto plans include automated payroll features, employee self-service onboarding, new hire reporting, and health insurance administration. With the higher-level plans, Gusto also provides advanced onboarding tools, time tracking, surveys and more.
For a Paycom alternative with a greater focus on HR capabilities, you might consider Zenefits. This user-friendly, web-based solution offers core HR features, like automated onboarding, directory and organizational charts, document management, time off tracking, scheduling and more. Zenefits offers three plan levels, each with an increasing number of capabilities. With the higher-level Zenefits plans, you'll receive access to compensation and performance management tools, as well as employee well-being features.
Zenefits' lowest-tier plan, Essentials, starts at $8 per month per employee. If you want to add payroll capabilities to your Zenefits software, you can do so for an additional $6 per month per employee.
A version of this article was first published on Fundera, a subsidiary of NerdWallet