Best POS Systems for Food Trucks
The right point-of-sale system will not only process orders and payments, but can help you run your business.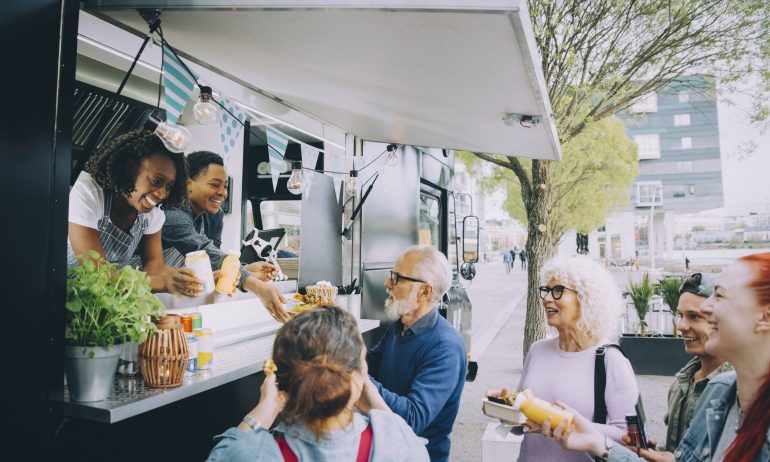 Many or all of the products featured here are from our partners who compensate us. This may influence which products we write about and where and how the product appears on a page. However, this does not influence our evaluations. Our opinions are our own. Here is a list of our partners and here's how we make money.
If you own and operate a food truck, you know that your business is different from many others out there. As a quick-service business that's constantly on the go, you have to consider flexibility, mobility and cost when it comes to the tools your food truck uses — including your merchant services.
If you're looking for food truck POS systems with in-depth functionality and can afford the higher monthly service fee, you might consider TouchBistro. On the other hand, if you'd first and foremost prefer affordability and multiple mobile options, you might consider Square or Clover.
Find the right payment provider to meet your unique business needs.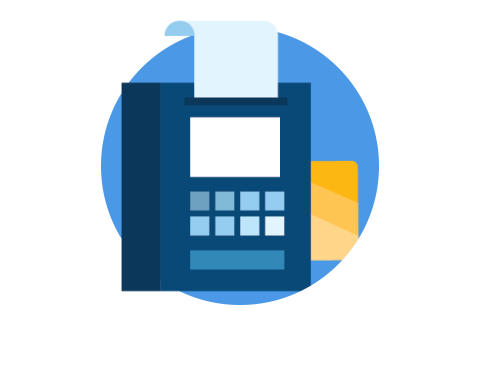 Although the right food truck POS for your business will ultimately depend on your specific needs, any of these four options may be able to serve you well.
Best food truck POS system for overall functionality
As a point-of-sale system created by people from the restaurant industry, TouchBistro offers robust functionality for all kinds of food-service businesses, including food trucks. With its variety of features, flexible system and signature software-hardware bundle plans, TouchBistro can without a doubt be a great solution for food trucks of all shapes and sizes.
With easy-to-use and expansive software, TouchBistro is a food truck POS system that can provide the reliability, speed and capabilities you need. The TouchBistro software operates on a local network, meaning it doesn't need the internet to run. However, the system uses the cloud for reporting, allowing you to access your data anywhere, regardless of location. Other features include:
Ordering: The TouchBistro software allows you to take orders from inside your food truck or outside while customers are waiting in line. You can easily add, edit and search order items; maximize sales with automatic upsell modifiers; reorder with one tap and cash customers out with quick register buttons that predict likely tender amounts.

Payment processing: TouchBistro offers its own payment processing service through Chase, as well as direct integration options from top providers like Square and Worldpay. Additionally, TouchBistro allows you to accept the full range of payments — online as well as offline — including card-not-present transactions, digital wallets and gift cards.

Menu: With TouchBistro, you can create and manage multiple menus with categories, modifiers, color-coding and time or seasonal specificity. You also have the ability to customize your items down to the ingredients, descriptions and cooking instructions.

Staff: TouchBistro includes built-in features for your employees to easily use the system and for you to manage their roles and time. You can customize your food truck POS with unlimited user roles, designating their wages, discounts, handedness and login PIN or code. You can also track all of your employee activity, monitor their hours and performance and enable clocking-in and out functionality.

Customer Relationship Management: This food truck POS system provides the ability to create customer accounts, manage balances for individuals or groups and bill outstanding balances to an existing account. TouchBistro offers a paid add-on, TouchBistro Loyalty, that allows you to develop and manage your own loyalty program.

Inventory: With an on-the-go business that has limited space, inventory is particularly important. TouchBistro allows you to track your ingredient inventory based on all menu items as well as by recipe. This food truck POS system will give you the ability to customize your inventory countdown notifications as well as designate any out-of-stock menu items as such automatically.

Reporting and analytics: TouchBistro allows you to access your sales data anywhere — whether you're in your food truck or at home on the computer. The system includes over 50 detailed reports, as well as automatic end-of-day reports and in-shift snapshot reports personalized to each staff member.

Support: TouchBistro offers 24/7/365 customer support via phone or email, remote troubleshooting, automatic daily data backups and self-service resources on its website.
TouchBistro requires an iPad to run its software, which is used as your portable POS terminal. TouchBistro is also compatible with multiple routers, wireless and ethernet printers, cash drawers and iPad stands. If you use TouchBistro's own payment solution, it'll provide you with a credit card terminal; otherwise, you'll have to get a terminal from the payment provider you choose.
Additionally, TouchBistro gives you the ability to turn your iPad hardware into a self-ordering kiosk for customers and to enable a customer-facing display. TouchBistro also offers a kitchen display system that can be run on an iPad to manage your orders and tickets.
For this feature-rich food truck POS system, you'll pay $69 per month for one software license (billed annually), as well as the cost of any hardware you choose. Although you can purchase an iPad separately or use one you already own, TouchBistro offers hardware-software bundles to lessen the burden of paying a substantial amount outright for hardware.
If you want a hardware-software bundle with one license, you'll pay $105 per month, once again billed annually. For a food truck POS, you might not need more than one license, but if you do want to utilize more than one terminal, you can choose from additional plan options, including those for two licenses, three to five licenses and six or more licenses.
Finally, the cost to accept credit card payments with TouchBistro will vary based on your provider. TouchBistro does not specify its rates on its website — it only states that it offers "transparent payment pricing with no hidden fees or long-term contracts."
Best mobile POS system for food trucks
The Clover POS system was built to accommodate a variety of businesses, not just those in the food services. However, with two software options, impressive mobile hardware choices and solid features, you may find that Clover is the best POS system for your food truck.
Clover offers different plans for different types of businesses, including restaurants.
The Quick-service restaurant plans start at $44.95 per month and allow you to:
Split checks and manage tips.

Integrate with an online store.

Access reports like real-time sales tracking.

Managing employee shifts.

Process payments with a flat rate of 2.3% plus 10 cents per transaction.
Compared to TouchBistro, the Clover POS software may be simpler; however, it still offers the capabilities you need to start your food truck and manage daily operations.
Clover is unique in the way its payment processing works. Clover's credit card terminals are included in its hardware options. When you purchase hardware directly from Clover, you can apply for a merchant account and receive credit card processing through First Data. However, you can also find a Clover reseller, like Bank of America Merchant Services, and buy your Clover POS and payment processing capabilities from them.
Clover has four POS hardware options, all of which are specific to Clover and include credit card terminals.
Clover Go: Clover Go is a mobile card reader that connects to an iOS or Android device. If you use this hardware option, you'll run your software through the Clover app on your device, making it a particularly affordable and portable option.

Clover Flex: The Clover Flex is a handheld POS device that allows you to take orders and process payments via touch screen. Although you must purchase this device in addition to your Clover software, this hardware provides you with impressive mobility.

Clover Mini: The Clover Mini is a countertop tablet device. Like the Flex and Go, you can perform all of your food truck POS functions using the Mini; however, this terminal, while compact, is not particularly mobile.

Clover Station: The Clover Station is most like your traditional countertop POS terminal. With a larger tablet touchscreen and more processing power, this system also includes a cash drawer and receipt printer but is meant to be stationary.
One of the benefits of Clover is that with its variety of software and hardware options, you have more flexibility in the cost of your food truck POS system.
In terms of software, the Register Lite plan costs $9.95 per month, whereas the Register plan costs $39.95 per month. For hardware, the Clover Go costs $69, the Flex costs $499, the Mini starts at $749 and the Station starts at $1,349. With each of these systems, your credit card terminal is included; however, any other peripherals or accessories that you need must be purchased separately.
The cost of payment processing when you use Clover will depend on your merchant account provider; however, Clover advertises rates as low as 2.7% + $0.10 for in-person transactions with the Lite plan and 2.3% + $0.10 for in-person transactions with the Register plan.
Best free POS system for food trucks
Perhaps one of the most well-known POS providers on the market is Square. Square POS offers an intuitive, simple system with a variety of mobile hardware options. Plus, Square is the only food truck POS on our list that offers free software.
Square POS is a free POS software that can be accessed as an app on both iOS and Android devices. With the Square POS system for your food truck, you'll receive the following capabilities:
Orders: Square allows you to customize your POS to your business, adding all of your items and easily taking and processing customer orders. You can let your customers choose suggested or custom tip options, as well as digital or print receipts. Additionally, you can keep tabs open, split tabs by cards, add discounts and process refunds.

Payments: With Square POS, Square serves as your payment processor. You can accept credit and debit cards, cash, checks and gift cards — both online and offline.

Inventory: Square POS allows you to manage and track your inventory from anywhere. You can edit items, update quantities, receive low stock alerts and import or export inventory items.

Dashboard: The Square Dashboard gives you the ability to manage your back-office operations in one place, with tools for invoicing, inventory, managing customer profiles and viewing sales data.

Team management: This food truck POS system allows you to set employee permissions, track employee time and optimize labor costs and staffing with employee reports and analytics.

Directory: With the Square Directory, you can add customer profiles with contact information, notes and purchase history, save credit cards on file and send custom digital receipts.

Analytics: Square POS provides real-time analytics and sales reporting — giving you the ability to track sales, discounts and refunds, compare total sales based on timeframes and see what customers spend and how frequently they return.

Square tools: In addition to the third-party integration options Square offers in its marketplace, you can also buy add-on tools directly from Square. You can purchase add-ons for employee management, Square payroll, marketing and loyalty.

Support: Square provides customer service assistance via phone or email, as well as through its support center which includes help articles, video walkthroughs and FAQs.
Square's free POS software can be run on any iOS or Android device using the Square POS app. Therefore, if you already have the terminal you want to use, whether iPad or Android smartphone, you'll only need to purchase a credit card terminal and any other peripherals you require.
All Square POS accounts come with a free mobile card reader, which can be plugged into your device enabling you to take swiped payments. In addition to this credit card device, Square also offers:
Square Reader: This credit card terminal accepts contactless and chip payments and can connect to your device wirelessly, making it a great mobile option.

Square Terminal: This is an all-in-one payment device with a touchscreen display that allows you to accept all kinds of payments, as well as print receipts.

Square Register: This terminal allows you to accept all payment types and includes a full customer display. Square Register connects to your main POS terminal but must be plugged into a power source at all times.

Square Stand: The Square Stand works with iPads to accept all payment types.
Moreover, the Square Shop offers POS hardware kits and accessories, including printers, cash drawers, chargers and stands.
Square POS is a free software — with no monthly fees. The company also makes a restaurant-specific version of its POS system that comes in two versions: one that is free and another with advanced features that costs $60 per month. When you take a payment using a Square Reader or Square Stand, you'll pay 2.6% plus 10 cents per transaction.
In terms of hardware, you'll need to purchase a tablet or smartphone to use as your main POS terminal if you don't already have one. Additionally, if you want to use a card reader other than the free mobile card reader you receive with your account, you'll have to purchase this from Square, as well. The contactless reader works with dipped and tapped cards and costs $49, the portable Square Terminal costs $299, the Square Stand costs $169 and the Square Register costs $799.
The cost of peripherals to use with Square will range depending on what you need. You can, however, buy compatible accessories directly from Square or look for a third-party seller.
POS systems for food trucks: Features to consider
You should know what to look for when trying to find the right food truck POS for your business. Like all point-of-sale systems, your food truck POS system will consist of a combination of software and hardware, and the provider you choose will dictate your software features and hardware options.
As an on-the-go, fast-paced business, you'll want to look for a food truck POS system that's affordable, flexible and easy to use. Additionally, although you may find that any type of POS system can serve your food truck, it's probably best to consider systems that offer capabilities specific to your type of business.
As you go through the search process for a POS system for food trucks, look for the following:
Payment processing: The food truck POS system you choose will determine how you can accept payments from customers — an integral piece of your business operations. Most POS systems for food trucks (or any POS system for that matter) should give you the ability to accept multiple payment methods including credit and debit cards, cash, digital payments, gift cards and more.
Consider what kind of credit card processing options your food truck POS system offers. Some POS systems include in-house processing, while others offer integration options with third-party processors.
Menu and inventory management: Since you'll be using your food truck POS to input and process customer orders, you'll need the system you choose to have menu management capabilities. Your POS system should allow you to input and customize your menu — accommodating different item types, categories, modifications and other useful options.
In the same vein, your food truck POS system should also be able to track and manage your inventory and notify you when items are out of stock.
Customer orders: Another element that's at the core of any POS system for food trucks is how the system allows you to take and process customer orders. You'll want your POS system to be able to take orders quickly and easily, communicate with any peripheral devices (like receipt or ticket printers) and allow for modifications, split payments, taxes, gratuity, promotions and discounts, etc.
Mobility: As a quick-service business on the move, you'll need a mobile food truck POS system. You'll want to ensure that your system can move with you, is flexible and easily accessible and can take orders on the go. The best mobile POS systems for food trucks will include an offline mode — where you can take orders and accept payments without an internet connection, as well as multiple mobile hardware options, like tablets and smartphones.
In addition, consider how a food truck POS system handles peripheral connections — can you connect to a Bluetooth printer, for example — as well as how and where you have access to your POS account.
Additional sales tools: Although you may not need these tools to complete your basic business operations, the best POS systems for food trucks will include features to facilitate your success, including but not limited to capabilities for employee management, customer relationship management and loyalty programs, analytics and reporting and third-party or internal integration options.
Customer support: Running a food-service business isn't always easy, so the best POS system for food trucks will offer you customer support in a variety of ways. Most POS systems offer self-service resources such as tutorials, FAQs and community forums on their website, as well as direct support via email, phone or live chat. Moreover, some POS systems provide hands-on assistance with setup and training.
Hardware options: You'll need hardware to operate your point-of-sale system — but POS hardware can be the part of your system that requires the most upfront investment. Plus, for an on-the-go food truck business, it's even more important that your POS hardware is portable and can function within a small and fast-moving environment.
In looking at different POS systems for food trucks, therefore, you'll want to determine what kind of mobile hardware is offered, like tablets, smartphones or hand-held devices; where you can purchase the hardware; if you can use hardware you already own; what types of peripherals are compatible with the core terminals and, of course, overall cost.
A version of this article was first published on Fundera, a subsidiary of NerdWallet.