How to Process Credit Card Payments in QuickBooks Online
Setting up your QuickBooks credit card payments account is easy. Here's how it works and how you can use it.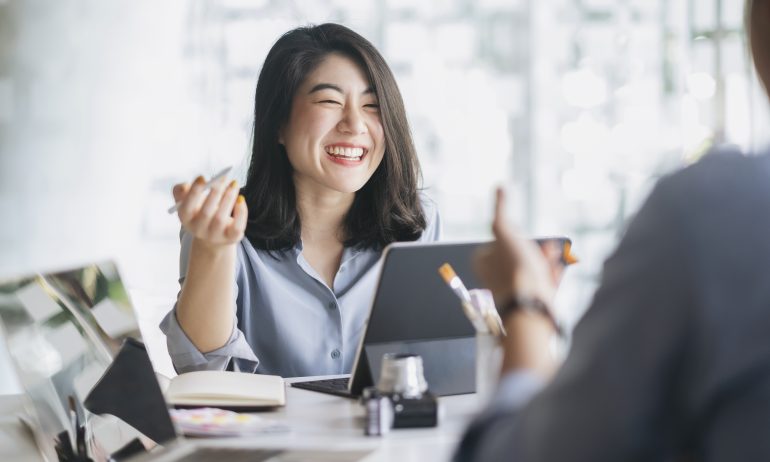 Many or all of the products featured here are from our partners who compensate us. This influences which products we write about and where and how the product appears on a page. However, this does not influence our evaluations. Our opinions are our own. Here is a list of our partners and here's how we make money.
Once you've got your QuickBooks Online subscription set up, the next important step is to set up your QuickBooks credit card payments account. Accepting credit card payments makes it easier for your customers or clients to pay you, as well as reducing the time you spend recording payment transactions.
Setting up your QuickBooks credit card payments account is easy. Here's all you need to know.
Setting up QuickBooks credit card payments
To create a new Credit Card Payments account in QuickBooks Online, click the gear icon in the top right corner and then choose "Account and Settings":
From there, click the "Payments" tab on the left navigation bar:
Then you'll see details about rates (note: if your customers choose bank transfers, your QuickBooks Credit Card Payments fee is nothing).
Now, enter the information about your business:
And the owner/principal of your business:
Last, enter your business bank information:
You'll be notified quickly if you are approved, and QuickBooks Credit Card Payments will be available to use within about 24 hours.
If you're not approved, you can call support to inquire about the reasons. Please be aware that it may not necessarily be credit-related; it could be that your business is an industry that isn't on their approved list (i.e., medical marijuana).
Find the right payment provider to meet your unique business needs.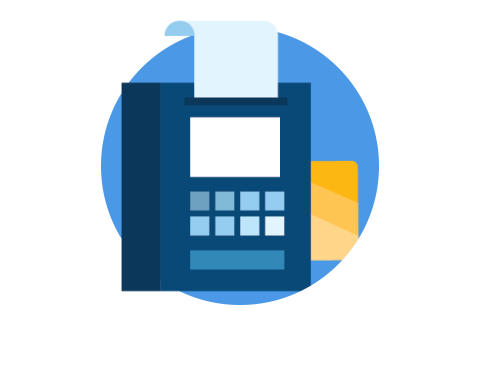 Managing your QuickBooks credit card payments account
Once your account is approved, you can verify the connection and make changes to how transactions are handled by going back to the gear icon, choosing Account and Settings and again clicking the Payments tab.
You can then choose the bank account in your QuickBooks Online chart of accounts that you'd like to have deposits post, as well the expense account for merchant fees.
If you need to see a history of transactions or change your QuickBooks Credit Card Payments settings, you can click the "Manage Account" button.
Clicking that button will open a new page (merchantcenter.intuit.com). From here, you can review all of the QuickBooks Credit Card Payments transaction history, manage mobile-only users, set alert preferences, access help and resources and change the bank account if needed.
Now that your QuickBooks Credit Card Payments are all set and ready to go, you can start creating transactions — and getting paid!
Let's take a look at sending invoices — both what happens on your end, as well as your customers'.
First, set a preference to make sure your customers will view the invoice via the Online Invoice portal. To do this, click that gear icon, go to Account and Settings and then choose the Sales tab.
Here, click on the section titled "Online delivery" and make sure that the check box next to "Attach invoice as PDF" is not checked. You don't want to attach the invoice because you'll want to get the recipient to view it in the invoice portal, where they have the option to pay.
Now you're ready to send an invoice. The easiest way to create an invoice is to click on the Quick Create button in the top right corner and choose Invoices. (Quick Create is the QuickBooks term for that spinning plus sign.)
Once you get the invoice form open, just fill it out as you normally would — make sure you select which types of online payment options you'll accept — and then click "Save and send" in the bottom right corner.
The next screen lets you make any changes to the subject line and body of the email before you send it. You can also change your mind about the payment options or add them, in case you forgot when you created the invoice.
When everything looks good, hit the "Send and close" button.
As long as your customer pays online, you're done. I'll show you what I mean below.
Customer online invoice portal
After you send that invoice, your customer will get an email (without the invoice attached as a PDF) that includes a button they'll click to view their invoice. As long as they don't delete this email, they'll be able to go back and view the invoice any time they choose.
Once they click the "View Invoice," they'll be taken to the Online Invoice Portal — and this is where the magic of QuickBooks Credit Card Payments really happens. From the Online Invoice Portal, the customer can print, save the invoice as a PDF and pay it.
Once they click the "Pay Now" button, the customer chooses the payment method and enters the information. They also have the option of creating an account to save their payment info to use the next time they receive an invoice from a QuickBooks Online user.
You can see in the screenshot below, the customer has chosen to use a credit card to pay. Once they've chose the amount to pay (it can be less than or equal to the balance due on the invoice but not over), they'll be asked to enter the name on the card, card number, expiration date, CVV code and billing ZIP code.
After they click the "Send payment" button, they'll see a confirmation on their screen and the Online Invoice Portal will show a paid status.
They'll also receive an email with the payment confirmation, which includes a link to the invoice in the Online Invoice Portal.
QuickBooks Online marked as paid
Earlier, I told that you that once the invoice is sent, if you're using QuickBooks Credit Card Payments, your job is done. QuickBooks Online does all the rest of the work for you.
After your customer pays, you'll also receive an email notifying you that you've been paid — and when you open the invoice in QuickBooks Online, you'll see it now has a paid status with a link to the payment in QBO.
When you click the link from the invoice, you'll see the receive payment screen; this will show you the date, amount and that the transaction has been processed via QuickBooks Credit Card Payments.
Once the deposit hits your bank, QuickBooks Credit Card Payments enters the deposit for you.
In the screenshot below, you can see the audit history for the deposit, showing that QuickBooks Credit Card Payments worked its magic and posted the deposit for you.
Even better, if the customer pays with a credit card, QuickBooks Credit Card Payments also magically enters the transaction for the merchant fee!
Accept payments without worry
See our payment provider recommendations that fit your business.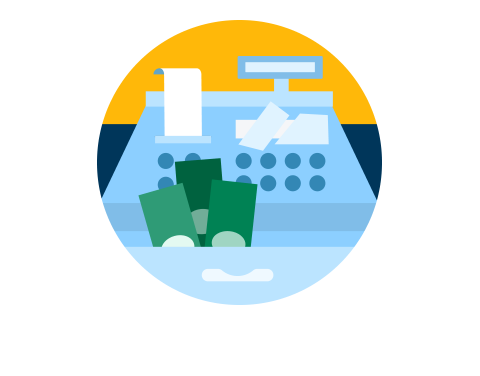 Storing payment information in QuickBooks Online
In addition to creating invoices and sending them to customers, you can have your customers complete a payment authorization form and store their bank or credit card information. QuickBooks Online and QuickBooks Credit Card Payments are PCI compliant, and once you enter the payment details, all but the last four digits are masked.
The screenshot below shows an American Express card, but you can store Visa, MasterCard, Discover or bank routing/account numbers, depending on the client's preference. You cannot store more than one card or account.
To create a sales receipt, just click the Quick Create button (scroll up a bit and check out that sweet GIF again, if you want), then choose Sales Receipt. Complete the form as you normally would, and choose the type of payment method you've just added.
The best part, about using QuickBooks Credit Card Payments is that if you have an accounting tool for recurring sales, you can choose to turn a sales receipt into a recurring transaction. This means that QBO will automatically create a new sales receipt at whatever interval you set.
And if you have the payment information stored, it also charges the card or drafts the bank and emails the customer and you a copy, all at the same magical time.
If you're not doing recurring sales, you can still store the card. So whenever the customer is ready, they can let you know that it's OK to receive a payment using the payment method on file. In this case, you'd click on your Quick Create, choose Receive Payment and enter the appropriate information.
A version of this article was first published on Fundera, a subsidiary of NerdWallet.