Reorder Point Formula: How Your Business Can Use It
The reorder point formula helps your business identify when a product is low on stock.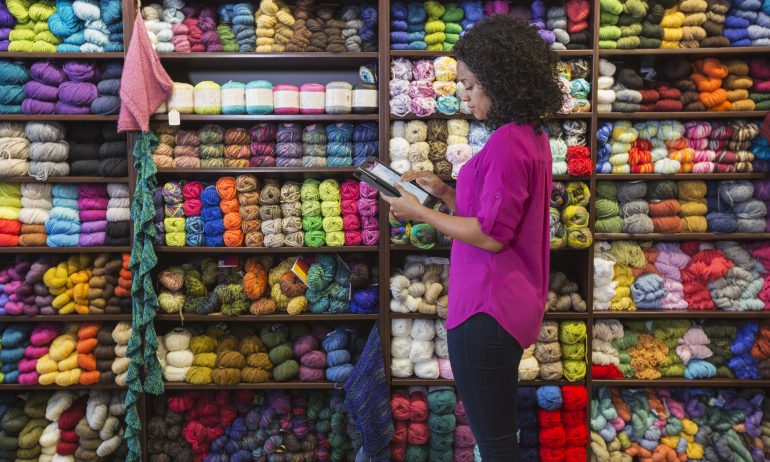 Many or all of the products featured here are from our partners who compensate us. This may influence which products we write about and where and how the product appears on a page. However, this does not influence our evaluations. Our opinions are our own. Here is a list of our partners and here's how we make money.
Small businesses can use the reorder point formula to calculate when items need to be replenished before their inventory levels hit zero. Using this inventory management tool can help avoid an unwanted out-of-stock message for your customers, which can often be disruptive to their shopping experience.
The reorder point is the inventory threshold that indicates when a business needs to order more units of a product to avoid running out of stock. Once the number of items left hits the reorder point, that's a sign to place another order with your supplier. (Products can be items sold directly to consumers or those sold indirectly, such as ingredients used in a restaurant's food.)
Once the reorder point is met, some point-of-sale systems will alert you that the item is low on stock, and automatically fill a purchase order form for that item.
Why do businesses calculate reorder points?
There are several benefits to using the reorder point formula, such as saving on inventory costs and improving customer satisfaction. The formula allows businesses to have enough inventory to meet customer demand and ensure orders are received in a timely manner. It also helps businesses avoid having too much inventory on hand, which can result in extra storage costs that cut into profit margins.
How do you calculate the reorder point?
There's a simple formula that businesses can use to determine the reorder point for a product, taking into account customer demand and vendor delivery times.
Reorder point = Lead time demand + Safety stock
Lead time demand is the number of products you expect to sell between placing an order for more inventory and receiving that order. To calculate this number, you will need to determine your average daily sales or usage rate for the product, as well as the supplier's lead time to deliver it. Bear in mind that supply chains have been disrupted by the pandemic and your supplier lead times may be affected.
Lead time demand = Average daily sales or usage x Average supplier lead time
For example, if you own a furniture store, you may want to calculate lead time demand for mattresses. Let's say these are your numbers:
Average daily sales: three mattresses Average supplier lead time: three days
Those numbers would put your lead time demand at nine units. However, supply and demand can fluctuate, and outside factors can impact lead time. To account for this, the reorder point typically includes safety stock as a buffer.
Safety stock = [Maximum daily sales or usage x Maximum supplier lead time] - [Average daily sales or usage x Average supplier lead time]
Maximum daily sales: five mattresses Maximum supplier lead time: five days
That would put your safety stock at 16, bringing your reorder point for mattresses to 25. In this scenario, you would want to place an order once your mattress inventory hits the reorder point.
The safety stock calculation may not work for all businesses due to a variety of factors, such as seasonal demand trends and storage capacity. Feel free to adjust this number based on your business needs.
One thing to note: The reorder point tells you when you should place a new order, not necessarily how many items you should order. To determine that, you would want to use another calculation, the economic order quantity formula, which takes into account additional factors, such as inventory holding costs and order costs.
Which POS systems allow you to set reorder points for inventory?
Each point-of-sale, or POS, system uses reorder points in a different way. For example, some will calculate reorder points for you automatically, while others use the reorder points you enter to help automate the reordering process.
Here are some POS systems that allow you to set reorder points, and what they allow you to do:
How it works: Lightspeed's Retail POS allows you to set a reorder point and a desired number of units you want in stock for each of your products. When your inventory level reaches the reorder point, the platform can auto-populate your purchase order form using the desired number of units.
Minimum cost: Pricing for software starts at $69 a month when billed annually.
How it works: QuickBooks Desktop Point of Sale offers inventory tracking capabilities, including setting reorder points to receive alerts when items need to be reordered. It is also possible to generate auto-filled purchase orders for those low-stock items.
Minimum cost: Users can purchase the POS Basic software for a one-time fee of $1,200, which allows them to set reorder points. However, to generate purchase orders, users need, at a minimum, to be on the Pro tier, which costs $1,700. Promotional pricing may be available.
How it works: When you subscribe to Shopify POS Pro, you have access to Stocky, an inventory management app. It will automatically calculate reorder points for your products, but it does not take into account safety stock. Users can also set their own reorder points.
Minimum cost: The Pro subscription is an add-on to an existing Shopify plan and costs an additional monthly charge of $89 per location. A small business with one location on the basic Shopify plan ($29 a month) would pay $118 a month.
How it works: You can set reorder points and reorder amounts on Vend, which will help the platform determine when an item is considered to be low on stock. Once this occurs, you can choose to automatically populate a purchase order form for the item.