SBA Loan Down Payment: How Much Is Needed?
Many SBA loans require a borrower to invest their own money, but there are exceptions for microloans, lines of credit, export loans and disaster loans.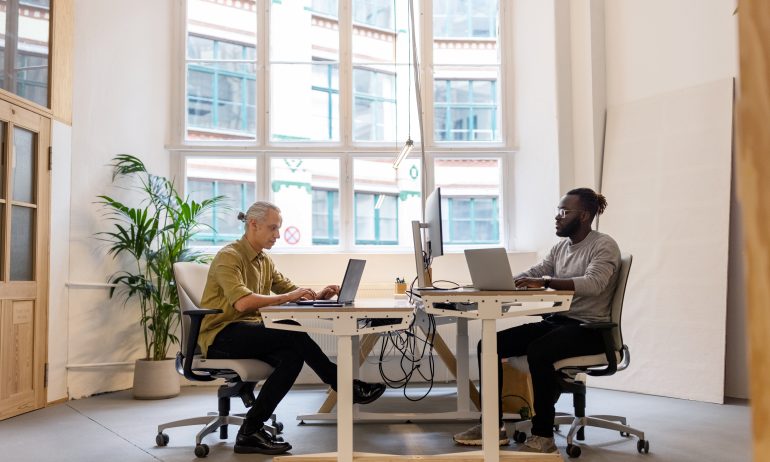 Many or all of the products featured here are from our partners who compensate us. This influences which products we write about and where and how the product appears on a page. However, this does not influence our evaluations. Our opinions are our own. Here is a list of our partners and here's how we make money.
Some, but not all, SBA loans require a down payment or an investment of money from the borrower at the start of the loan term — typically figured as a percentage of the total loan amount. A down payment can be an indication to the SBA and the lender that you are willing to invest your own money in your business and intend to repay your loan according to the terms of the agreement.
with Fundera by NerdWallet
SBA loan down payment requirements
| | | |
| --- | --- | --- |
| | | |
| | | |
| | | |
| | | |
| | $500,000 or $5 million, depending on the specific loan program. | |
| | | |
*Down payment requirements and other loan terms can vary by lender.
SBA 7(a) loan down payment
SBA 7(a) loans can be used for working capital, to refinance debt, to start a business or to buy another business, real estate or equipment. Some subcategories of SBA 7(a) loans can have borrower investment, or down payment, requirements:
SBA standard 7(a): This loan type can require at least a 10% down payment when the loan is used to buy a business. In other situations, the requirement for a down payment can be left up to the lender. Standard SBA 7(a) loans offer amounts up to $5 million.

SBA Express loans: The decision on whether to require a down payment on an SBA Express loan is left to the lender. However, if the lender requires a down payment on non-SBA commercial loans, it must also require it for SBA loans. This type of SBA 7(a) loan typically has a faster loan approval time, but it's capped at a $500,000 maximum loan amount.
There are a few specialized 7(a) loan programs that will be covered below that typically don't have down payment requirements.
SBA CDC/504 loan down payment
SBA CDC/504 loans typically require a down payment of at least 10% from the borrower. The SBA partners with Certified Development Companies to offer these loans, which are specifically for the purchase, renovation or building of commercial real estate or purchase of heavy equipment. Loan amounts can reach up to $5.5 million.
This loan combines two types of lenders and a down payment to fully fund the loan.
Up to 50% of the loan will come from a traditional bank, credit union or other lender.

Another 40% will come from the CDC or Certified Development Company.

The final 10% of the loan is typically funded through an owner down payment.
To be eligible for an SBA 504 loan, a business needs to operate as a for-profit business in the U.S. or its territories, have a tangible net worth of less than $15 million and an average net income of less than $5 million after taxes for the past two years.
SBA loans with no down payment requirement
There are some loan programs available through the SBA, including some specialized 7(a) loans, where you may be able to avoid a down payment requirement. This is typically because the amount of money being provided is relatively small or because the loan programs are designed for very specific purposes.
For businesses looking for a small amount of funding, an SBA microloan may be a good choice. SBA microloans are offered up to $50,000 and are available to for-profit businesses and certain nonprofit child care centers.
SBA microloans are available to rebuild, repair or expand your small business and the funds can be used for things such as working capital, inventory, supplies, furniture, equipment and machinery. However, the loan proceeds can't be used to purchase real estate or pay off existing debt.
Generally, you must have some type of collateral to be eligible for an SBA microloan, but each lender will have its own lending and credit requirements. You can apply for an SBA microloan at specific nonprofit community-based organizations that the SBA has designated as intermediary lenders for the program.
The SBA CAPLines program, a subcategory of 7(a) loans, offers lines of credit to small businesses to meet their cyclical or short-term working capital needs. These SBA lines of credit can be as high as $5 million.
To be eligible for SBA CAPLines, your business must meet the standard SBA Loan 7(a) requirements. There may be some additional requirements depending on the specific CAPLines product that you're applying for.
SBA export loans, another type of 7(a) loan, are designed to help small businesses expand their exports, engage in international transactions and enter new foreign markets.
To be eligible for an SBA export loan, your business must be involved in exporting goods or services to foreign countries or need to modernize your operation to compete with foreign companies.
An SBA disaster loan can be used by a business to recover from a declared disaster or the loss of a crucial employee. There are three types of SBA disaster loans, none of which require a down payment.
When is a down payment required for an SBA loan?
Down payment requirements can depend on the loan program and the use of funds. For example, the SBA sets a minimum down payment of 10% for a standard 7(a) loan when it's used to buy a business. However, this isn't always the case. In the Express loan program, the SBA lets the lender determine if a borrower needs to make a down payment — as long as the requirement would be consistent with the lender's processing of non-SBA loans, too.
In general, the SBA likes to see borrowers invest their own money when they are starting or buying a business or when they're buying real estate, equipment or some other asset. On the other hand, a down payment is less likely needed for lines of credit that will be used for working capital or for disaster loans which are designed to help a business recover.
Why do SBA loans require down payments?
The SBA and its partner lenders both know that when small-business owners invest their own money and time into a business venture, they are more likely to follow through with the full repayment of the loan.
Also, because of the partial guarantee arrangement, both the SBA and the intermediary lender have something significant to lose if a borrower fails to repay. Before taking this risk, both the SBA and its intermediaries want to know that a borrower has something to lose as well.
Frequently asked questions
How do you get a down payment for an SBA loan?
Can you get an SBA loan with no money down?
Is it hard to get approved for an SBA loan?
A version of this article originally appeared on Fundera, a subsidiary of NerdWallet.