How to Send and Receive Text Messages on a Flight
In some cases, you don't even have to pay for Wi-Fi to be able to text onboard.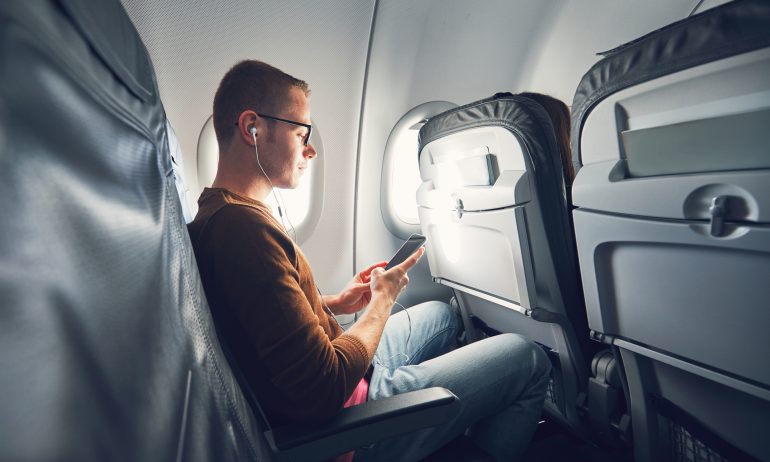 Many or all of the products featured here are from our partners who compensate us. This influences which products we write about and where and how the product appears on a page. However, this does not influence our evaluations. Our opinions are our own. Here is a list of our partners and here's how we make money.
Air travel used to mean hours of complete peace from the outside world. No phones ringing, no urgent texts to respond to, no email emergencies to deal with. For better or for worse, it's now fairly easy to be able to text and use Wi-Fi on airplanes. And these days, many airlines offer the ability to text for free.
Among the airlines that let you text for free, the list includes JetBlue Airways, Southwest Airlines, Delta Air Lines and Alaska Airlines. These carriers allow texting either through free inflight Wi-Fi or with the use of text messaging services.
Here's your guide to send and receive text messages on a plane, broken down by the biggest airlines.
Standard SMS messaging typically won't work in the air since you'll need a cellular network connection. But as long as there's Wi-Fi available on a flight, you'll have some way to communicate with people on the ground.
To text while flying, you'll need to use a messaging app like WhatsApp, Apple iMessage, WeChat or Facebook Messenger. These "Over The Top" applications don't require a cellular network connection and instead send messages through the internet. Of course, that means your phone may need to be connected to the internet (which may require you to pay for in-flight Wi-Fi).
On the bright side, many airlines now enable texting on certain apps, even without a paid Wi-Fi connection.
If your airline allows free texting through a text messaging app like WeChat or WhatsApp, make sure you've downloaded that app to your phone before taking off. Otherwise, you'll have to connect to Wi-Fi in order to download the app, which will likely cost extra.
Major airlines with free texting and free Wi-Fi
For travelers who need to stay connected to all the apps and websites at all times, JetBlue is tops. JetBlue offers free, high-speed Wi-Fi at every seat, on every plane. You're not just limited to messaging apps — you've got the entire internet at your fingertips. The airline delightfully calls it "Fly-Fi."
Nok Air's Boeing 737s flights include free Wi-Fi. Though, flights on Nok Air's Q400 NextGen aircraft aren't Wi-Fi equipped. Nok Air, which is a low-cost airline in Thailand, operates flights to destinations throughout Asia including China, Japan and Southeast Asia.
Most Norwegian Air flights offer free Wi-Fi, allowing you to browse the web, send email and deliver texts through messaging apps. For an additional fee, you can purchase more robust Wi-Fi, allowing for faster web browsing and the ability to stream shows and music from services like Netflix, YouTube and Spotify.
Australia-based Qantas offers free Wi-Fi on most domestic flights, allowing for not just free networking, but also free streaming of TV shows or music. To connect, select the "Qantas free Inflight Wi-Fi" network and enter wifi.qantas.com in your browser. You'll have to input a few personal details before connecting.
Major airlines with free texting through messaging apps
These airlines don't necessarily offer free Wi-Fi access, but you can still text from the sky at no charge.
Alaska Airlines offers free messaging through iMessage, Facebook Messenger and WhatsApp on flights that also offer in-flight internet. You can send words and emojis, but sending photos, videos or SMS messages isn't supported.
To send texts for free while flying with Alaska, connect to either "gogoinflight" or the "Alaska_WiFi" network, upon which you'll be redirected to Alaska's Wi-Fi portal. Here, choose the "free texting" option. You can also access that page by manually typing in AlaskaWiFi.com while connected to the airplane's Wi-Fi. Wi-Fi costs start at $8.
Free messaging through iMessage, Facebook Messenger and WhatsApp is available on all Wi-Fi enabled Delta flights. While you can send words and emojis, you won't be able to send photos, videos or SMS messages.
To send messages for free on Delta, connect to DeltaWiFi, then you'll be redirected to Delta's Wi-Fi portal where you can choose "Free Messaging." You can also access that page by manually typing in wifi.delta.com while connected to DeltaWiFi.
If you need to send messages through different apps than those three or want full internet access, you can purchase Wi-Fi at varying costs depending on your flight.
Southwest has offered free in-flight text messaging since late 2018, and allows the use of two messaging apps, iMessage and WhatsApp, free of charge.
To send messages through other apps, you'll have to purchase Wi-Fi service, which typically costs $8 per flight, per device.
To connect to Southwest's internet, select "SouthwestWiFi" from your WiFi network list, upon which you'll be automatically redirected (though you may need to manually type it in) to www.southwestwifi.com. Simply complete the connection process for either purchased Wi-Fi or complimentary texting.
Major airlines where sending text messages costs money
There's no free texting on American Airlines, though you'll be able to send messages through Wi-Fi-based texting apps if you purchase in-flight internet. This service is available on most flights and starts at $10, depending on the flight.
If you fly often, American Airlines offers its Wi-Fi Subscription Plan, which costs $49.95 a month for one device or $59.95 for two.
There's no free texting on United Airlines, though you'll be able to send messages through Wi-Fi-based texting apps if you purchase in-flight internet, which is available on most aircraft starting at $8 for MileagePlus members and $10 for non-members on domestic and short-haul international routes.
If you fly frequently, consider purchasing a Wi-Fi subscription, which starts at $49 monthly or $539 annually.
Major airlines where you won't be able to text or use the internet
There's no way for passengers to send messages while in the air on Frontier Airlines. Hopefully, you brought a book, as there's no Wi-Fi, TV, movies or other in-flight entertainment while flying with this budget airline. Frontier says that by not offering those types of services, it can "pass the cost-savings on to our customers and offer the lowest fares possible."
Hawaiian Airlines flights don't offer Wi-Fi onboard. Unlike Frontier, however, there is at least free, in-flight entertainment on most flights to pass the time.
How to get free Wi-Fi while flying
So you want to send text messages over Wi-Fi, but your airline doesn't enable free texting. Or, perhaps you are able to text through a messaging app, but you still have to pay for Wi-Fi.
These midflight frustrations have led some to find other ways to access free Wi-Fi while flying, like with their credit cards. Many credit cards offer free in-flight Wi-Fi as a benefit to cardholders as does T-Mobile.
U.S. Bank FlexPerks Reserve Visa Signature, U.S. Altitude Reserve Visa Infinite and Crystal® Visa Infinite® Credit Card
Being a cardholder for any of the above credit cards gives you 12 complimentary Gogo inflight Wi-Fi passes per year. Just know that you'll have to register your account ahead of time to use this perk.
Southwest® Rapid Rewards® Performance Business Credit Card
Use your Southwest® Rapid Rewards® Performance Business Credit Card to pay for Wi-Fi on your next Southwest flight and you'll receive a statement credit. You can claim 365 $8 credits (that's how much Southwest Wi-Fi costs) per year.
Internet access is also free on Southwest for A-List Preferred members, which is the highest level of Southwest elite status.
T-Mobile customers: Free in-flight text messaging and Wi-Fi on Gogo-enabled flights
If you have a cell phone plan through T-Mobile and you're flying on an airline that uses Gogo as its internet provider, you'll have free in-flight texting — and potentially free Wi-Fi, too.
Here's what you can expect, depending on your T-Mobile plan:
One hour of in-flight Wi-Fi.
T-Mobile Magenta Plus plan:
Unlimited in-flight Wi-Fi.
The service is available on flights to, from and within the U.S. Among the airlines that use Gogo internet (which means free texting for T-Mobile customers) are Alaska, Delta and American.
Texting availability can be hit or miss depending on your airline, and you may have to pay a fee for internet access to get it. Know your options before you take off and make sure you have the right app downloaded on your phone to text while flying.
---
How to maximize your rewards
Get more smart money moves – straight to your inbox
Sign up and we'll send you Nerdy articles about the money topics that matter most to you along with other ways to help you get more from your money.