Hyatt's New Off-Peak and Peak Pricing: What You Need to Know
The new pricing model will tie points redemption rates to cash prices based on seasonal peaks and valleys.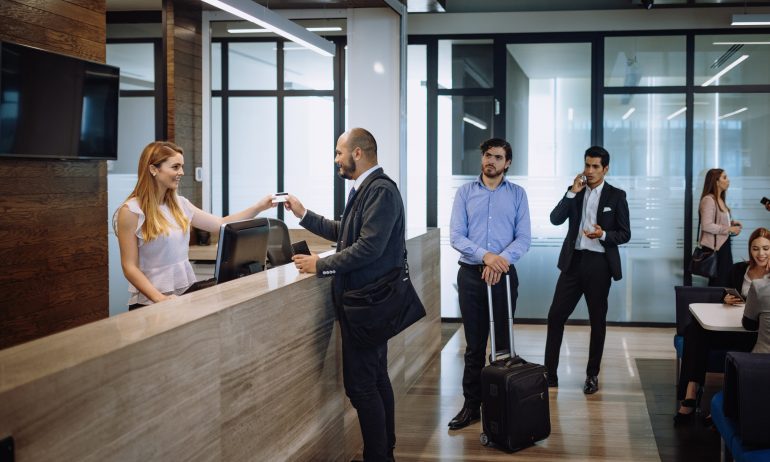 Many or all of the products featured here are from our partners who compensate us. This influences which products we write about and where and how the product appears on a page. However, this does not influence our evaluations. Our opinions are our own. Here is a list of our partners and here's how we make money.
During the weekend of the wildly popular Coachella Valley Music and Arts Festival, the Hyatt Palm Springs is one of the hottest hotels you can possibly get your hands on. But during a random summer weekend — the hotel is, well, just hot.
Winter is peak tourism season in the southern California desert, but unbearable summer heat means Palm Springs, California is probably not where you want to spend the Fourth of July. It's for situations like this that the World of Hyatt loyalty program launched peak and off-peak pricing for customers who redeem hotel rooms on points.
Factors like weather and major events can drive cash rates up or down. So, to better accommodate seasonal demand and more closely align points redemption rates with cash rates, Hyatt has slightly complicated its award chart.
Old: Single category Hyatt pricing
Up until now, Hyatt assigned a single category to a hotel between 1-8, where Category 1s are typically low-cost, no-frills hotels and Category 8s are lavish resorts. To better match supply and demand, Hyatt is now further breaking down those 8 categories, giving each of them three subcategories: Off-peak, standard and peak redemption.
That means the Hyatt Palm Springs will cost peak prices on busy days, such as around Coachella time. But if you can brave the heat and travel during an off-peak day, like in the summer, you'll save some points.
New: Hyatt peak and off-peak pricing
If you book a room on a standard night, nothing changes. A Category 4 room that used to cost 15,000 points still costs 15,000 points. That said, you might end up paying more or less if you book during a peak or off-peak night.
Here's how many points you'll now need to book a room at a Hyatt hotel:
Hyatt's peak and off-peak pricing also applies to:
Fancier rooms, like suites and club-level rooms.

Rooms booked through a combination of points and cash.

Hyatt's all-inclusive resorts and Miraval resorts.
Visit Hyatt's site for a full list of updated redemption rates for every type of Hyatt property.
Difference between peak and off-peak
The definition of peak versus off-peak can vary by hotel. While you can generally expect that major travel holidays, like Thanksgiving and Christmas, will entail a peak-rate at most hotels, that's not necessarily always the case.
Even regions can see extreme variability. That Hyatt Palm Springs in southern California might cost an off-peak rate the same night that the Hyatt House At Anaheim Resort/Convention Center near Disneyland is at its peak rate. Check with each individual hotel to determine what constitutes a peak versus off-peak night.
If you already made a Hyatt room reservation before these changes
Hyatt has a plan in place for bookings that have already been made before the changes go live.
If you booked a room for a night that has now decreased to off-peak, Hyatt will automatically refund the point difference.

If you booked a room for a night that has now increased to peak, you're in luck, as Hyatt won't charge you any extra points despite the increased rate.
Now that your current and upcoming bookings are squared away, let's look at the pros and cons of this recent move.
The perks of Hyatt's off-peak and peak pricing
There are some considerable upsides for Hyatt loyalists with this new pricing structure in place.
After a deep-dive points value analysis, NerdWallet has determined that the value of Hyatt points is 2.3 cents each. That figure is a baseline value, drawn from hundreds of real-world data points to come to a rough estimate of what a Hyatt point is worth. For example, a room that would cost 20,000 Hyatt points to book that would cost $460 per night out-of-pocket fits our estimate exactly (20,000 points x 2.3 cents).
But if the cash rate on that 20,000-point room drops down to, say, $200 per night, then suddenly your points are worth just 1 cent each ($200 / 20,000 points), which looks like a low-value deal. On the contrary, cash rates that shoot up to $1,000 per night make your points worth 5 cents each — a super slick deal ($1,000 / 20,000 points).
Theoretically, peak and off-peak pricing can eliminate that factor. Take the Mandalay Bay Resort and Casino in Las Vegas, a Category 5 hotel, where standard rates are 20,000 points. During weeknights, it's not difficult to find rooms that cost less than $70 nightly. Booking that as a reward night would make your points worth a pitiful 0.35 cents each (20,000 points / $70). As a reminder, we're aiming for at least 2.3 cents each to meet our goal value per point.
But on weekends or during major conferences — like the massive Consumer Electronics Show — prices skyrocket. For instance, room rates for the 2022 CES conference are already well above $600, so if you opt to book a stay with points, you're looking at an impressive points-redemption rate of 3 cents each ($600 / 20,000 points).
While the new peak and off-peak pricing will likely never get your redemptions to exactly the 2.3 cents mark we value Hyatt points at, it should theoretically reduce situations where one night your points are worth 3 cents and another night they're worth just 0.3 cents.
The Category 5 Mandalay Bay is one of the Hyatt properties most likely to see pricing become more fair due to the new peak pricing, given that nightly room rates at the swanky Vegas hotel swing wildly from less than $100 to well above $600.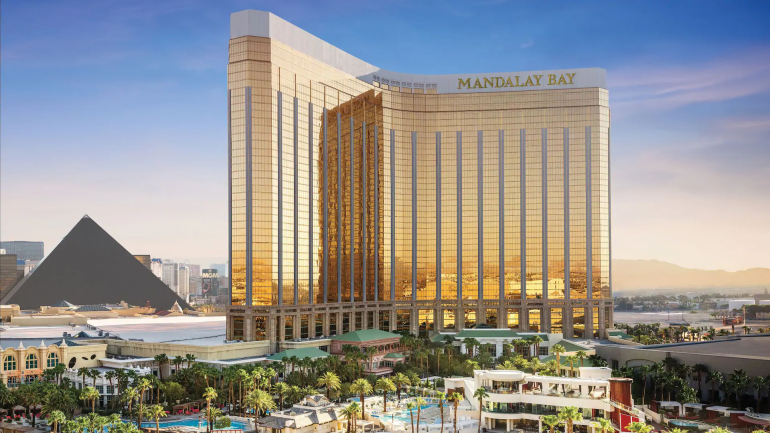 You're rewarded for traveling during off-season
Off-season travel is regarded by many as better for both the local tourism economies and the physical environments. If travel were more evenly spaced out throughout the year, businesses wouldn't have to hire, train and then let go workers to align with seasonal demands. Sensitive habitats wouldn't get inundated with hundreds of hikers in one day while hosting just less than dozen hikers on another.
But what incentive do you have to travel during off-season, if your hotel reward redemption rate is the same either way? You might as well make the annual visit to Grandma's on Christmas Day rather than Christmas in July if the Hyatt Place down the street costs the same every night of the year.
Peak and off-peak pricing might help create a little less headache for the travel industry, while rewarding you with lower points rates if you travel during slow seasons.
It's less complicated than other dynamic pricing models
Hyatt's off-peak and peak pricing model strikes a balance between clear award charts and redemption prices that better match cash rates. With some other hotel loyalty programs, the cost to book a room with points is never disclosed until you actually select the exact hotel and night to book. That can make it frustrating to know how many points you actually need to book the trip you want.
Say you've got a four-night Colorado ski trip planned to the Category 6 Hyatt Residence Club Breckenridge, Main Street Station. You'll need 100,000 points to book during standard nights (based on the room type and the Category). But if you've only got 90,000 points and you're set on skiing, you could move your trip to an off-peak night and still make it happen — as it will only run you 84,000 points.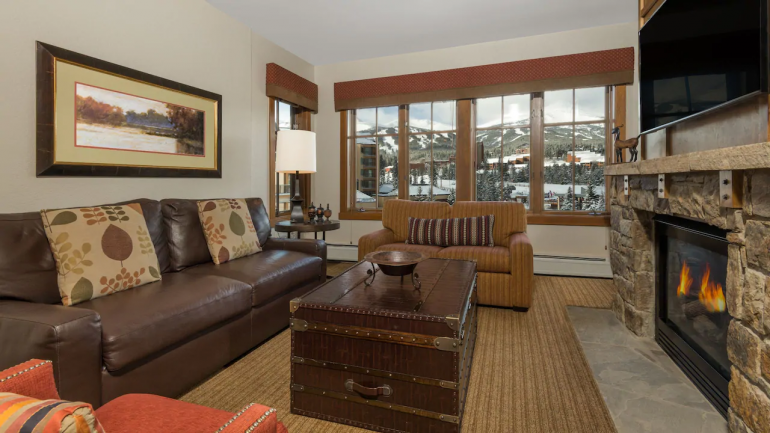 With other hotel loyalty programs, you might have to manually search through every night to find ones with low enough points rates that you can afford.
The downsides of this new pricing structure
The road ahead isn't all glitter and points-savings.
It adds one more layer of complication
While Hyatt's pricing structure is less complicated than dynamic pricing, where rates are more likely to unpredictably vary, it's still complicated.
With the old model, you always knew that the Category 5 Hyatt Regency San Francisco — the hotel you stay at multiple times annually for work — always cost 20,000 points per night. But now, you may be in for a surprise when one of those trips aligns with peak nights and it's suddenly more expensive. Your usual three-night stay, the one that previously cost 60,000 points reliably, may now cost you an extra 9,000 points for that same stay.
When accounting for how many points you need for a trip, you have to pay attention to both the hotel you're staying at and the days you're staying there.
You lose some ability to take advantage of steals during peak season
If you're someone who does travel during peak seasons (that's most people), then Hyatt's loyalty program has become a lot less valuable relative to other hotel loyalty programs.
In past years, it almost always made sense to redeem World of Hyatt points for hotels near Times Square during New Year's Eve. IHG and Hilton rates may rise to accommodate everyone who wants to watch the ball drop, but Hyatt rates were always standard, even during the holidays.
No surprises here, but from now on, World of Hyatt members should expect to pay peak prices to stay at most Hyatt properties during the holidays.
Hyatt's All-Inclusive award chart
Hyatt utilizes a separate award chart for its all-inclusive properties; rather than numbers, these categories are broken down into letters A-F. Here's a closer look:
| | Points required for off-peak night | Points required for standard night | Points required for peak night |
| --- | --- | --- | --- |
| | | | |
| | | | |
| | | | |
| | | | |
| | | | |
| | | | |
Hyatt recently added six new all-inclusive properties to its portfolio in Mexico: Secrets Playa Mujeres Golf & Spa Resort, Secrets The Vine Cancun, Dreams Natura Resort & Spa, Dreams Sapphire Resort & Spa, Dreams Playa Mujeres Golf & Spa Resort and Zoëtry Paraiso de la Bonita Riviera Maya.
Final thoughts on Hyatt's peak and off-peak pricing
The World of Hyatt program's new peak and off-peak pricing allows point rates to better align with cash rates. Still, it keeps pricing predictable, allowing you to know exactly how many points a hotel room will cost, depending on the day.
Your opportunity to find outsized-value redemptions might be slightly reduced, but now, you won't overpay for traveling during slow seasons, either. Life's full of tradeoffs, and the new World of Hyatt pricing structure is certainly a reasonable one.
Frequently asked questions
What is the minimum amount of points needed to book a Hyatt hotel during off-peak times?
How does Hyatt's new pricing structure work with free night certificates?
---
How to maximize your rewards
Hyatt Cards from our Partners
World of Hyatt Credit Card
Rewards rate
1x-9x
Earn up to 9 points total per $1 spent at Hyatt- 4 Bonus Points per $1 when you use your card at Hyatt hotels & 5 Base Points per $1 you can earn as a World of Hyatt member. Earn 2 Bonus Points per $1 spent at restaurants, on airlines tickets purchased directly from the airlines, on local transit and commuting and on fitness club and gym memberships.
Points
---
Intro offer
30,000
Earn 30,000 Bonus Points after you spend $3,000 on purchases in your first 3 months from account opening. Plus, up to 30,000 More Bonus Points by earning 2 Bonus Points total per $1 spent in the first 6 months from account opening on purchases that normally earn 1 Bonus Point, on up to $15,000 spent.
Points
World of Hyatt Business Credit Card
Rewards rate
1x-9x
Earn 9 points total per $1 spent at Hyatt - 4 Bonus Points per $1 when you use your card at Hyatt hotels & 5 Base Points per $1 from Hyatt as a World of Hyatt member. Earn 2 Bonus Points per $1 spent in your top three spend categories each quarter through 12/31/24, then your top two categories each quarter. Earn 2 Bonus Points per $1 spent on fitness club and gym memberships and 1 Bonus Point per $1 spent on all other purchases.
Points
---
Intro offer
60,000
60,000 Bonus Points after you spend $5,000 on purchases in your first 3 months from account opening.
Points
See more hyatt cards
Get more smart money moves – straight to your inbox
Sign up and we'll send you Nerdy articles about the money topics that matter most to you along with other ways to help you get more from your money.