Are Mattress Runs Worth It?
A mattress run requires spending money on a hotel stay to earn elite status, usually as part of a promotion.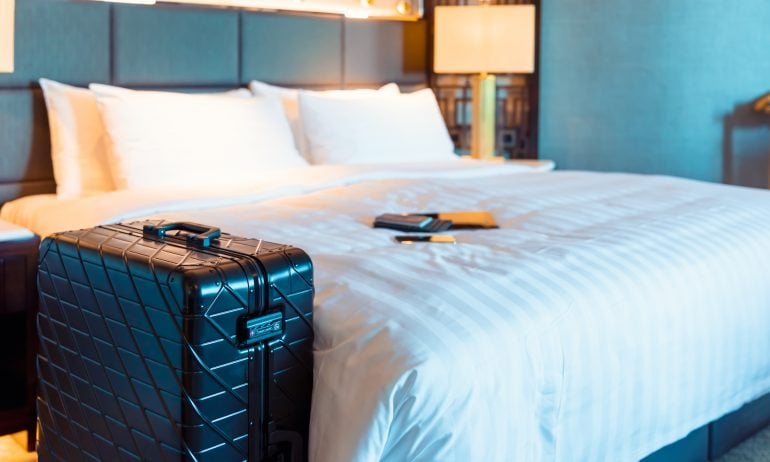 Many or all of the products featured here are from our partners who compensate us. This influences which products we write about and where and how the product appears on a page. However, this does not influence our evaluations. Our opinions are our own. Here is a list of our partners and here's how we make money.
Mattress runs, the process of booking a cheap stay at a hotel in order to earn elite status, have long been a staple of the savvy traveler looking to earn elite status. Travelers who value the perks of such status can take advantage of benefits like room upgrades, free breakfast, early check-in and late check-out and complimentary internet.
Over the years, requirements for elite status have changed, which begs the question: Are mattress runs still worth completing?
Let's take a look at how to do a mattress run and whether it's a good option for you.
Why do travelers do mattress runs?
Hotels have a variety of ways someone can earn hotel status, which include stays completed, nights stayed or base points earned. These numbers typically reset at the end of each calendar year.
Some travelers will book a stay for a night at a hotel room, whether or not they actually plan to sleep in the room. The idea is that the price of the hotel booking will cost less than the future value of the benefits the newly minted elite member will receive later.
The point of a mattress run is to complete a stay, earn elite night credits and improve your elite status level at a specific hotel chain. It can be done at all major hotel chains, such as Marriott, Hyatt, IHG and Hilton, though it doesn't always make sense to mattress run when you have other options.
When should you do a mattress run?
There are situations when completing a mattress run could be a good idea. If you and your family have a big vacation coming up, such as a week-long stay in Paris, it may be worth booking a cheaper hotel in your hometown before your trip to earn status (this assumes your current status level is near the threshold for the next level). This could potentially unlock valuable benefits like free breakfast and executive lounge access, and may ultimately save you money on your vacation.
Another situation in which it may make sense is in the case of, say, a big anniversary. Certain hotel chains, such as Hyatt and Marriott, offer their elite members the benefit of guaranteed suite upgrade certificates. These certificates can be worth thousands of dollars when used properly, and can turn a good vacation into an unforgettable experience.
But if you're not planning on spending much time in your room or taking advantage of hotel amenities, being an elite member isn't going to mean much. The same is true if you don't have any cheap hotel options nearby that'll help you earn status. Spending $100+/night to earn elite status that will grant you free breakfast is never a good idea.
Ways to maximize your mattress runs
If you're going to go ahead with a mattress run, there are ways to make the most of your stays so that you spend as little money as possible.
Get credit cards with free elite night credits
Plenty of hotels chains have co-branded credit cards, but only two of these, Marriott and Hyatt, will give you elite night credits for simply holding their card.
The World of Hyatt Credit Card gives its holders five elite night credits towards status each year. It also awards cardholders an additional two elite night credits for every $5,000 spent on the card.
Marriott has multiple credit cards, each of which will give you 15 elite night credits towards status, including:
Be aware, however, that you can't easily stack these by owning multiple cards — you'll receive the total elite night credits provided no matter how many consumer cards you have. The exception to this is if you hold both a business and consumer version of Marriott's cards. In this case, you'll be able to max out at a total of 40 elite night credits each year.
Stack promotions to earn extra elite night credits
Hotel chains will sometimes run limited-time promotions that offer double elite night credits during your stays. This means, for example, that a five-night stay will earn you 10 nights toward elite status. This can effectively halve the cost of your mattress run, though these promotions are not always available and have specific end dates.
Hyatt, Marriott and Hilton have all run a promotion like this previously.
Pick low-cost rooms for the cheapest mattress runs
This may seem like a no-brainer, but because the point of your mattress run is to earn elite status, you're going to want to spend as little money out of pocket as possible. This means you'll want to avoid high-end luxury brands at your chosen hotel chain, such as Marriott's St. Regis, Hilton's Waldorf Astoria and Hyatt's Park Hyatt.
Instead, focus on properties that can be cheaper, such as Courtyards for Marriott, Hampton Inn for Hilton and Hyatt Place for Hyatt.
Mattress running alternatives
If making a mattress run isn't a viable option for you, don't fret. There are other avenues toward hotel elite status, and they don't involve hotel stays at all: credit cards.
A number of different credit cards will grant you elite status with different hotels, and all you have to do is pay your annual fees.
Mattress running can be worth it in the right situations, but it doesn't always make sense. If there are no options around you for cheap hotels, it may be a better idea to use an alternative method, such as holding certain credit cards, in order to achieve the elite status you desire.
You'll also want to check your current status situation to ensure you're within striking distance of that next elite tier.
---
How to maximize your rewards
Get more smart money moves – straight to your inbox
Sign up and we'll send you Nerdy articles about the money topics that matter most to you along with other ways to help you get more from your money.