8 Reasons Southwest Is Still a Top Airline
Even as other U.S. airlines dump change fees, Southwest still reigns in flexibility and affordability.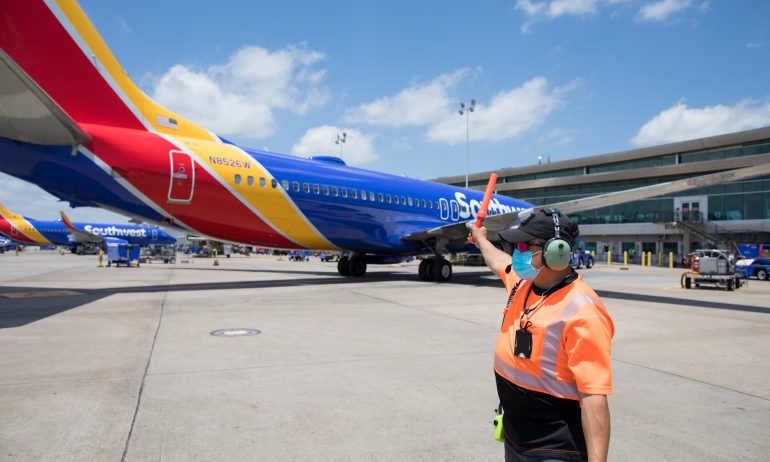 Many or all of the products featured here are from our partners who compensate us. This may influence which products we write about and where and how the product appears on a page. However, this does not influence our evaluations. Our opinions are our own. Here is a list of our partners and here's how we make money.
Southwest Airlines is a perennial favorite for commitment-phobes. Known for its flexible ticket policy, Southwest doesn't charge change fees — even though change fees on other airlines can cost north of $100 (sometimes even costing more than the initial ticket you booked).
But this summer, the three major U.S. airlines — American Airlines, Delta Air Lines and United Airlines — dropped their change fees on many flights. Yet even now that Southwest is no longer unique in its no-change-fee policy, it still is distinct for oodles of other reasons. And even when it comes to the change policy itself, the fine print tucked into the Big 3's policies have some pretty significant caveats that you won't find in Southwest's stipulations.
Here are eight reasons why Southwest still stands out, plus a breakdown of why Southwest's change policy still reigns supreme.
1. Southwest's change fee policy is still the best
For starters, Southwest's change fee policy still beats out that of other major airlines. Here's what you need to know about changing your ticket on Southwest:
The ability to make changes on Southwest applies to all fare classes on all flights.

If your new ticket is more expensive, you'll have to pay the difference.

If your new ticket is cheaper, you receive the difference as a refund or as a travel credit, depending on the fare class.
Here's how Southwest's policy compares to the new change policies of American, Delta and United:
Do you get a refund for the difference if changing to a cheaper flight?

What flights are excluded from the permanent change policy*?

Are tickets purchased with points/miles included in the change policy?

Most international flights, and basic economy fares

Most international flights, and basic economy fares.

Flights booked with miles (unless you have Diamond or Platinum Medallion status).

Yes (though some fare classes are refunded as a voucher)

Most international flights, and basic economy fares
While most competitors exclude many international flights and basic economy fares, Southwest's change policy encompasses all fares. And if you want to hop on a different, cheaper flight, it's not just allowed — you'll even be compensated for the fare difference.
Even though the policies from the Big 3 are a newfound win for customers, Southwest has always had the best change policy — and that hasn't changed.
2. If ticket prices drop, Southwest lets you rebook for the lower price
You might be tempted to delay booking your next flight in hopes that fares drop. With Southwest, there's no need for such a scheme. If ticket prices drop after you've booked, you can get that money back.
If you booked in Southwest's Business Select or Anytime fares (which are fully refundable), just cancel your flight and rebook the same — albeit now, cheaper — flight.
If you booked a Wanna Get Away fare, tickets aren't fully refundable, but they come pretty close. You can still cancel and rebook, and you'll receive the cost from your canceled flight in the form of Travel Funds — Southwest's version of a store credit. Those can be applied to future travel for up to 12 months. You can easily re-use that credit on the new cheaper flight and pocket the savings in a Travel Fund for later use.
3. No hidden fees or nickel-and-diming
On the bleak end of nickel-and-diming, Spirit will charge you $10 to print your boarding pass at the airport. Even the higher-end airlines still tack on fees: Both Delta and American charge Main Cabin flyers $30 to check their first bag and $40 for the second on domestic flights. On Southwest, your first two checked bags fly for free.
And then look at the fare classes. The Big 3 might seduce you with ultra-low ticket prices, but there's a good chance those fares are for basic economy. Basic economy typically means fees for extras, like the ability to choose your seat or even bring a carry-on bag. What's more, the Big 3 all exclude basic economy fares from their new no-change-fees policy.
With Southwest, you can book their cheapest fare class (called Wanna Get Away) and still check two bags for free while taking advantage of the ability to change or cancel your flight (as long as you're fine getting the difference in Travel Funds).
4. A unique boarding process
Whether Southwest's boarding process is truly better is a little controversial, but there is one thing most people can agree on: It's unconventional.
Southwest doesn't assign seats. Instead, everyone is free to choose the seat they'd like upon boarding. What is assigned is boarding order: You'll get a specific combination of letter (A-C) and number (1-60+) that determines your place in line. Your Southwest boarding order assignment is based on when you check in, which you can do online up to 24 hours before your flight. (If you're an A-List member or purchased EarlyBird Check-In, you'll automatically be assigned a boarding slot 36 hours before the flight).
Despite occasional chaos at the gate as folks find their spot, it's organized once onboard. Say you're partial to window seats, and the person in row 9's aisle seat is taking their sweet time rummaging through their carry-on. No need to wait for them — just grab the window seat in row 10. If you like being the first off the plane, snag a seat near the front. If you want to reduce the odds of someone sitting next to you, consider a seat near the rear. The choice is yours.
Here's how Southwest's upgraded boarding works:
If available, Southwest may sell access to guaranteed boarding positions A1-A15 at the counter on the day of your flight for $30-$50, depending on the flight. Just purchase an upgraded boarding from the ticket counter or gate and charge it to your Southwest Rapid Rewards® Priority Credit Card, and you'll receive a statement credit within eight weeks. You can also get a guaranteed boarding position of A1-A15 by purchasing a Business Select fare.
5. The Companion Pass: An unmatched perk
If you're a frequent flyer and like the idea of traveling with a friend, then Southwest offers a benefit you'd be hard-pressed to find elsewhere: The Companion Pass.
Southwest's Companion Pass lets a person of your choice fly for (almost) free for the rest of the year in which you earn the pass, as well as the following year.
If you have a Companion Pass and purchase a fare in cash or points for yourself, you'll be given the option to book a seat for them too. All you pay is the taxes and fees. Plus, if you can't decide on just one BFF, the decision on who to pick is not as immutable as you might think. You can change your designated companion up to three times a year.
How to earn a Southwest Companion Pass
You can't buy a Southwest Companion Pass; you have to earn it. To receive one, you have to either earn 125,000 qualifying points or fly 100 qualifying one-way flights in a calendar year. Unless you're flying Southwest about twice a week, the latter can be tough to achieve.
Likewise, you can earn the points by flying a whole lot. Or you can get a big point boost if you're approved for a Southwest credit card. Currently, Southwest is offering new customers of its credit cards some nice welcome bonuses that can get you well on your way to Companion Pass status.
As for earning the remaining points, alternative means include swiping your Southwest credit card, shopping or dining with Southwest's online retailers or restaurant partners, or by booking a hotel or renting a car through one of Southwest's travel partners.
6. Free entertainment onboard
Download the Southwest app and you'll have access to free movies and on-demand content onboard. Even without the app, you'll have entertainment including free messaging through iMessage and WhatsApp, free live TV and free music.
7. Middle seats blocked + new COVID-19 safety measures
Southwest has had an especially consumer-friendly response since COVID-19 disrupted travel. The airline ranked highly in our own analysis of which airlines have handled COVID-19 the best, due in large part to its always-flexible change policy.
But Southwest also quickly instituted new policies, including a strict mask requirement and new procedures to clean tray tables before every flight. Plus, Southwest is temporarily cutting back on selling flights to capacity, instead capping the number of tickets sold per flight to leave middle seats open through Nov. 30, 2020.
8. Southwest is still more affordable
All that, and Southwest still tends to be cheaper than the Big 3 airlines.
We looked at more than 100 airfares for flights between more than a dozen major U.S. airports, across a range of booking periods (about two weeks out, six months out and for travel during the holidays).
We found that Southwest's Wanna Get Away fares were, on average, cheaper than main cabin airfares on American, Delta and United in every scenario except one: American Airlines Main Cabin seats were about 1.5% cheaper than Southwest fares during the holiday season.
American Airlines still came out just 0.06% more expensive than Southwest overall, but Southwest was 10% cheaper than United and an even more striking 26% cheaper than Delta.
For travelers who value flexibility to change their flights, flying with Southwest had been a no-brainer given its generous change policy. But now that the Big 3 have joined the ranks of airlines that no longer charge change fees on many of their flights, it raised the question of whether Southwest could stand out as a superior airline.
Turns out, it's not difficult to justify. From boarding procedures to free checked bags to a change fee policy that's still better than what you'll find among the competition, the reasons to love Southwest have been — and continue to be — abundant.
---
How to Maximize Your Rewards