Why You Shouldn't Book Last-Minute Travel Deals
The myth of last-minute travel deals is busted. Planning ahead will actually save you money and reduce stress.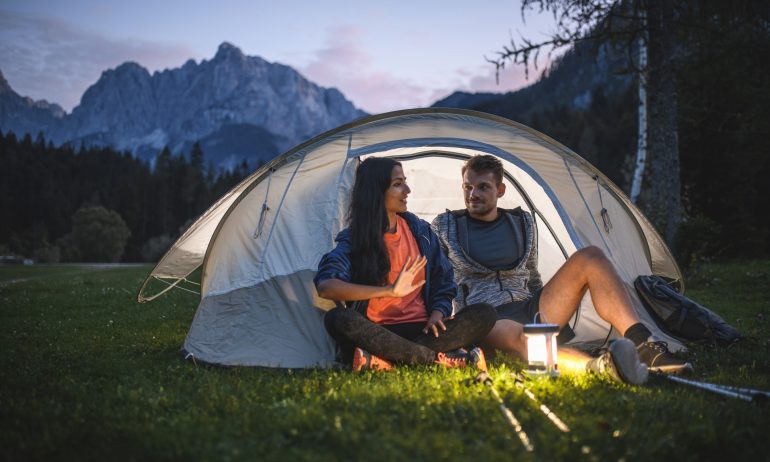 Many or all of the products featured here are from our partners who compensate us. This influences which products we write about and where and how the product appears on a page. However, this does not influence our evaluations. Our opinions are our own. Here is a list of our partners and here's how we make money.
Walt Disney World reopened during the pandemic, but reservations are now mandatory. Similarly, thanks to a Nevada state law, dining at a restaurant in Las Vegas now requires reservations — no walk-ins are allowed.
This is not just a phenomenon at places notorious for mobs of people. Even some of the most socially distant vacation destinations have pivoted to reservations-only models. For example, Signal Mountain and Lizard Creek campgrounds inside Grand Teton National Park require reservations as of January 2021.
Here's how these added layers of required pre-planning could affect last-minute travel bookers.
The problem: Many people don't like making reservations
As more tourist destinations pivot to a reservations-only model, more tourists are booking last-minute travel.
Property management platform Guesty says that in December 2020, 14% of its rentals — which are listed on sites like Airbnb and HomeAway — were reserved on the same day as check-in (up from 11% in December 2019).
It's easy to see why travelers wouldn't want to book in advance, especially as sudden (and often strict) travel bans or quarantine requirements make travel unpredictable. These days, you might not even be sure whether the local taqueria will still be open for Taco Tuesday next week.
But the travel industry is drastically transforming in 2021, and what was true last year might be very much the opposite this year and beyond. We've seen the demise of breakfast buffets. We've seen the rise of the travel agent. And now, here's another one to add to the list of changes: the end of last-minute travel.
4 travel reservation myths — debunked
Here are some common myths about making travel bookings in advance, backed up by compelling reasons why you shouldn't let them keep you from planning ahead.
Myth 1: You won't get your money back if you book in advance
Reality: Cancellation policies are quickly becoming more consumer-friendly
If you're fine changing your reservation to another day, policies are even better. United stirred the pot when it announced in August 2020 that it would eliminate change fees on most domestic fares. Within days, competitors including Delta Air Lines and American Airlines followed United's lead with similar policy changes.
For travelers deciding between two comparable cruise ships, suddenly the waterslide no longer serves as the deal breaker — the money-back guarantee becomes more important. As companies look to remain competitive, expect more consumer-friendly cancellation policies, allowing you to book in advance.
Myth 2: Last-minute travel deals are always cheaper
Reality: Discounts for pre-planned travel are plentiful too — and often better
Last-minute bookings aren't the only source of eye-popping deals. Some of the best deals hit early in the pandemic and applied to travel years out. For example, the Renaissance Aruba Resort & Casino sold vouchers with a 25% bonus value and were good for travel before June 2022. Alas, you had to purchase them by June 2020.
But while you missed that particular "sale" boat, there are still deals to be had, especially now that businesses have gone nearly a year without their usual revenue and are desperate for cash.
For example, polar cruise company Quark Expeditions is discounting Antarctic cruises that embark as late as 2023 up to 35% off. But to get the full discount, you must book and pay in full by March 31, 2021. Even if you book now but don't pay in full until the standard deadline (typically 120 days before departure), you'll save a good-but-not-great 20%.
Myth 3: Making reservations is difficult and stressful
Reality: Not having a reservation is even more stressful
Here's something even more stressful than managing reservations: leaving your vacation up to chance because you don't have one. That's what prompted Grand Teton National Park to implement its new system.
"Park visitors have needed to be here before 8 a.m. to safely feel they had a chance to secure a site," says Jason Ryan, general manager at Signal Mountain Lodge. "Any visitors arriving after that were forced to scramble for alternate camping outside of Grand Teton National Park." This has led to a new reservations-only system to ensure travelers know if, and when, they'll have access to the park.
Even if reservations aren't required, capacity restrictions can make advance booking all but mandatory. Reservations provide peace of mind that you'll actually experience the attractions you traveled so far to see, and you won't end up eating fast food because no restaurant could seat you.
Myth 4: Reservations are a waste
Reality: Reservations improve operations for the greater good
While it is true that reservation systems do come at a cost to businesses (did you know OpenTable charges restaurants up to $1 per reservation?), the costs aren't necessarily a net negative. A study by Bill Gregorash, a chef and professor of hospitality and tourism at Confederation College, found that guests with reservations spent, on average, more than those who didn't have one.
What's more, with the advanced knowledge of how many visitors to expect, operations become more efficient and sustainable, creating a better experience for you, the customer.
Restaurants can better estimate how many meals they need, saving them from throwing out food that no one ordered. When theme parks are fully booked, Disney can run extra roller coaster cars and roll in extra churro carts to cut queue times — or at least staff extra characters to boost spirits of guests irked by long waits. On lightly attended days, perhaps Goofy can stay home.
For all the troubles that reservations bring, the coronavirus illuminated why the pros outweigh the cons. For companies that have long sought to pull the trigger on required reservations, the coronavirus finally gave them cause. Reservations are here to stay, whether you like it or not.
"The reservations system concept has been floating around for years," Ryan says of his operations at Grand Teton National Park. "The demand of 2020 required we move away from the first-come, first-serve system."
And as 2021 inspires a new golden age of travel, reservations will be imperative as you compete with tons of travelers also itching to get out.
"Years ago, park visitors could risk making last-minute plans and often luck out, but the reality is the demand for camping in the national parks no longer makes that a possibility," Ryan says. "Today, I see no benefits to not making a reservation."
---
How to maximize your rewards
Get more smart money moves – straight to your inbox
Sign up and we'll send you Nerdy articles about the money topics that matter most to you along with other ways to help you get more from your money.