Your Guide to Earning and Redeeming Hilton Free Night Certificates
You can earn an annual free night certificate (or sometimes two) through a Hilton credit card.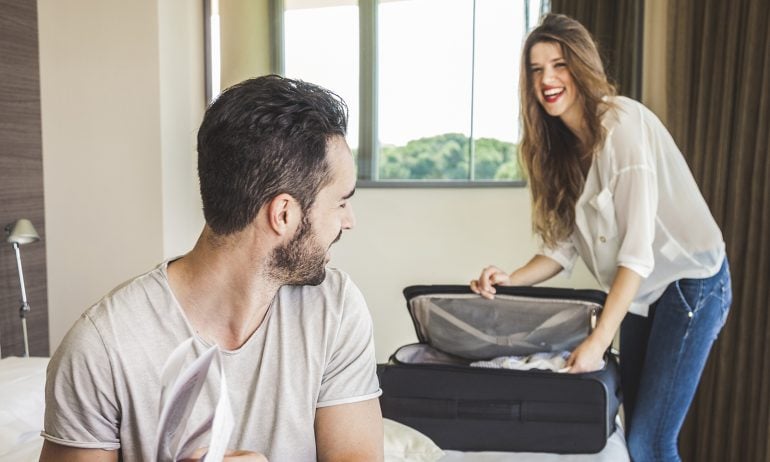 Many or all of the products featured here are from our partners who compensate us. This may influence which products we write about and where and how the product appears on a page. However, this does not influence our evaluations. Our opinions are our own. Here is a list of our partners and here's how we make money.
The Hilton free weekend night certificate is exactly what it sounds like: a voucher you can use for a free one-night stay at a Hilton property. And it's easily one of the best perks offered on the Hilton Honors American Express Aspire Card. Terms apply.
There are few restrictions around what properties you can redeem your certificate at and what days you can redeem them. As long as a standard room is available for a weekend night at most of Hilton's 6,400-plus hotels, you can use your certificate to book it.
You can get yourself a free night at a hotel you could only dream of staying in. Relax in the hilltop spa at the Conrad Bora Bora Nui, or relish the barefoot elegance of the Boca Beach Club, A Waldorf Astoria Resort — both are properties where room rates easily exceed $1,000 per night. Alas, those rooms don't have to be a dream if you hold one of these Hilton certificates.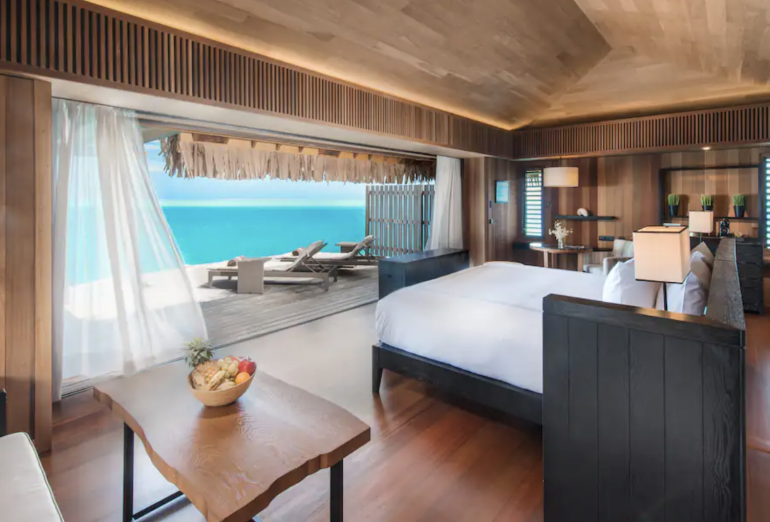 Hilton free weekend night certificate benefits
You can stay almost anywhere
The Hilton free weekend night certificate is one of the best deals in travel — and here's why: You can use it at nearly any Hilton hotel — no matter how high the cash rate is.
Bora Bora, Boca Raton, Bali. Wherever you want to go, you can stay there for free on a weekend night as long as there's an eligible Hilton hotel there and there are rooms available. The exclusion list contains only a few dozen hotels out of the many thousands in the Hilton portfolio.
It's potentially much more valuable than the free night certificates offered to customers of other hotel brands, which often issue free night certificates good only at mid- or lower-tier hotels.
For the frugal traveler who doesn't usually spend money on fancy hotels, the Hilton free night certificate affords an opportunity to splurge — without actually paying anything. Treat yourself to a fancy room, even if you normally wouldn't.
And for travelers who stay at high-end Hiltons anyway, you save a chunk of money on rooms you're paying for already.
Resort fees and taxes are covered, too
Sometimes you think you got a good deal on a hotel room, only to find it's nearly twice as much as you thought once you factor in taxes and those ugly resort fees.
Luckily, this certificate applies to the room rate and tax. Hilton also doesn't charge resort fees on reward stays for members (which you are if you have one of these certificates).
Some challenges with the Hilton weekend night certificate
There's still a catch — to some extent — as redeeming your free night certificate can be fairly annoying. Here are the biggest challenges of the Hilton free night certificates that you should know about:
You have to redeem it over the phone
This is the part where Hilton is still in the Dark Ages; you can't redeem your certificate for an online booking. You need to call on the phone and talk to a real customer service rep. For the phone-averse, that's a hurdle. For everyone else who prefers booking online, its mildly annoying.
To redeem, call 800-HHONORS and provide the certificate ID to the customer service representative to make your booking.
Hilton doesn't list your reward certificates on your account
Again, that would be just too convenient. Your free night certificates are sent in an email to you with a unique booking ID. Don't lose the email, because it'll be tough to access that ID number again. Your certificates aren't listed on your online account, which makes it tough to check when it expires and to know how many you have.
While you can pool Hilton points to help your friends rack up free stays faster, this is one benefit you can't share. Hilton reward certificates are not transferable and may be used only by the individual named on the reward.
It might be tough to find availability
Usually, weekend night certificates can be used only on a weekend night, which Hilton defines as a Friday, Saturday or Sunday night. Hilton has removed that limitation in the midst of COVID-19, though it may come back.
And finally, hotel reward nights apply to standard rooms only. Sometimes the standard room is sold out, but the average traveler might not even notice as they book the High Floor room that's $20 more. Even if it's a slight price difference, you won't be able to use the certificate to book hotels where the standard room is sold out. Book well in advance to avoid that happening to you.
When do the Hilton free weekend night certificates expire?
All Hilton free night certificate stays typically have to be used and completed within one year from the date they were issued — you couldn't hold onto a card for three years and stock up for a free, long-weekend getaway.
In normal years, the exact expiration date that you need to complete your stay is listed on your email certificate.
But because the pandemic put a pause on travel for many people, most major hotels have adjusted expiration dates (in consumers' favor!) on elite status, hotel points and other awards like free night certificates awards. And Hilton has been particularly generous in the way it extended Hilton free night certificate expiration dates in light of the COVID-19 pandemic:
Certificates issued before May 1, 2020 (which were set to expire Aug. 31, 2021) are now valid until Jan. 3, 2022.

Certificates issued between May 1, 2020 and Dec. 31, 2020 are valid for 24 months from the date they were issued.

Certificates issued between Jan. 1, 2021 and Dec. 31, 2021 will expire on Dec. 31, 2022.

Certificates can be used on any night of the week (not just weekends).
These certificates were great before, but with the added flexibility, they are now even better.
How to earn a Hilton free weekend night certificate
You typically earn Hilton free weekend night certificates through holding certain Hilton-branded credit cards.
There are four Hilton-branded credit cards out there, all of which are offered through American Express. Three of the four have an annual fee — and in exchange, one of the card benefits is the ability to earn a free night certificate.
| | | Opportunity to earn a second free night certificate each calendar year | |
| --- | --- | --- | --- |
| Hilton Honors American Express Card ($0 annual fee) | | | |
| Hilton Honors American Express Surpass® Card ($95 annual fee) | Earn a free weekend night reward after you spend $15,000 on eligible purchases on your card in a calendar year. | | |
| The Hilton Honors American Express Business Card ($95 annual fee) | Earn a free weekend night reward after you spend $15,000 on eligible purchases on your card in a calendar year. | Earn a second weekend night reward after you spend an additional $45,000 on eligible purchases on your card in the same calendar year. | |
| Hilton Honors American Express Aspire Card ($450 annual fee) | Receive one weekend night reward with your card and every year after renewal. | Earn a second reward night after you spend $60,000 on purchases on your card in a calendar year. | |
The best ways to maximize your Hilton free night award
The free night certificate is pretty flexible. Really, the only requirement is that it must be used on a standard room award that hasn't already been booked out. In most cases, it can only be used on weekends (defined as a Friday, Saturday or Sunday night), though Hilton has eased that restriction since COVID-19.
Stack it on top of your fifth night free benefit for two nights free
You can use your Hilton free night award in tandem with another perk: fifth night free when you book a five-night stay on points.
Any Hilton elite (starting at Silver status) gets a fifth free night on award stays. Since each of the Hilton cards that allow you to earn a free night certificate come with Gold or Diamond status, you are automatically able to benefit from this perk.
So, if you tack on the free night certificate, you'll end up with a six-night trip, of which only four nights are paid with points.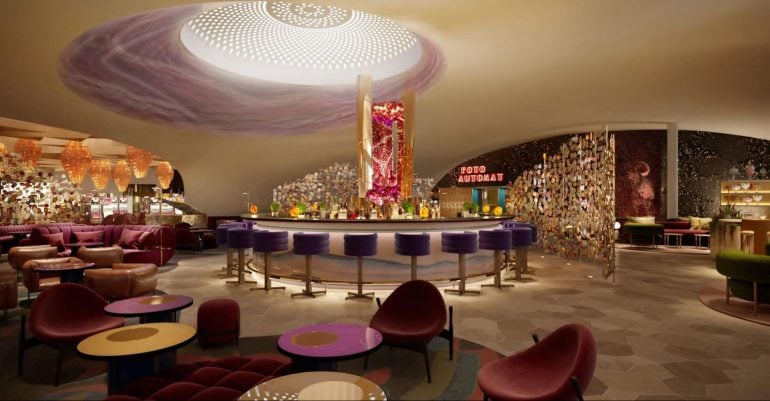 Save it for locations where weekends are pricier than weeknights
In some cities, weekends are cheaper than weekdays, and vice versa. Weeknights tend to be pricier in cities that cater to business travelers, while weekends are pricier in cities that draw long-weekenders.
If you're planning a road trip around the Southwestern U.S., the frugal traveler might time their stop in Vegas on a weekday to save money — even if weekends are more fun.  Now that you have the certificate, you can use it on a weekend at the newly reopened Virgin Hotels Las Vegas, which is part of the Curio Collection by Hilton, and you technically get more value out of the certificate (given that weekend nights are almost always pricier than weeknights).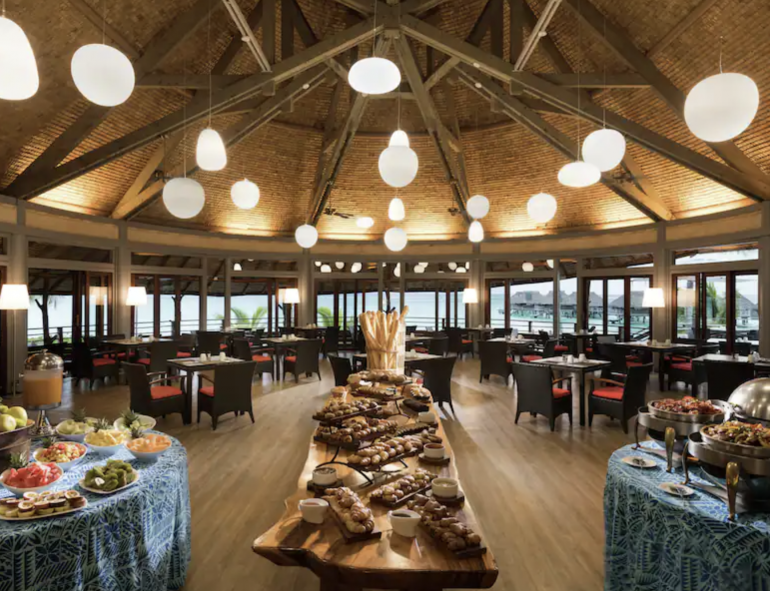 Pair it with other
Hilton Honors American Express Aspire Card
benefits
The Hilton Honors American Express Aspire Card comes with a giant list of benefits. And often the higher-end the hotel, the better those benefits turn out to be. Those include perks like a $250 resort statement credit, complimentary breakfast and executive lounge access, where available. Terms apply.
At some of Hilton's lower-cost hotels, breakfast is free for all customers anyway. But at the high-end hotels, breakfast can be expensive. But when you have a Hilton Honors American Express Aspire Card, you have a free night stay and free breakfast.
For example, the Hilton Moorea Lagoon Resort and Spa serves a sumptuous breakfast buffet, but food in the island's resort areas is generally quite expensive. The hotel buffet is no exception (unless, of course, you can use your Diamond status).
And if you're staying at a Hilton resort, you could also take a chunk out of a two-night stay by using your free night certificate for the first night, and the $250 resort credit to pay part of the cash rate on the second night. Or, if you're staying just one night, put the credit toward a dinner at the hotel restaurant or a spa treatment.
Treat yourself to a night at an uber-luxurious hotel
Whether you redeem it at the casual Homewood Suites by Hilton or the classy Conrad Hotels & Resorts — it's still the same certificate. You'll likely get way more value out of the latter.
Here are three of the most luxurious Hilton hotels out there, and their prices as of April 2021, for stays over the July 4, 2021, weekend: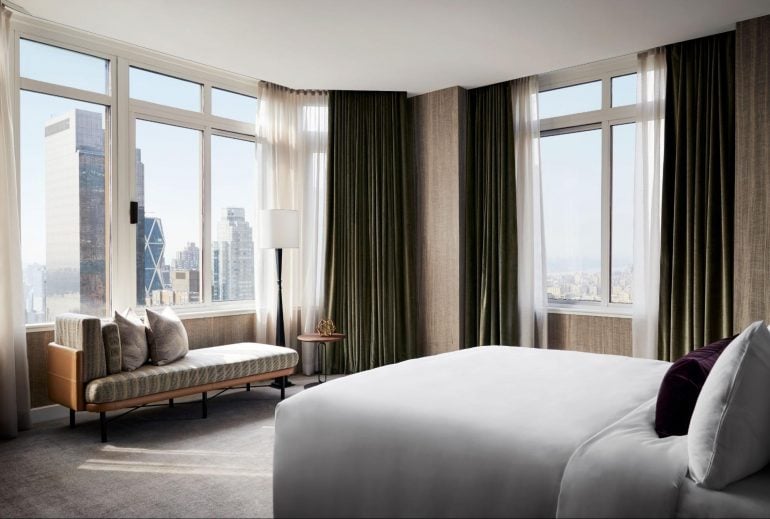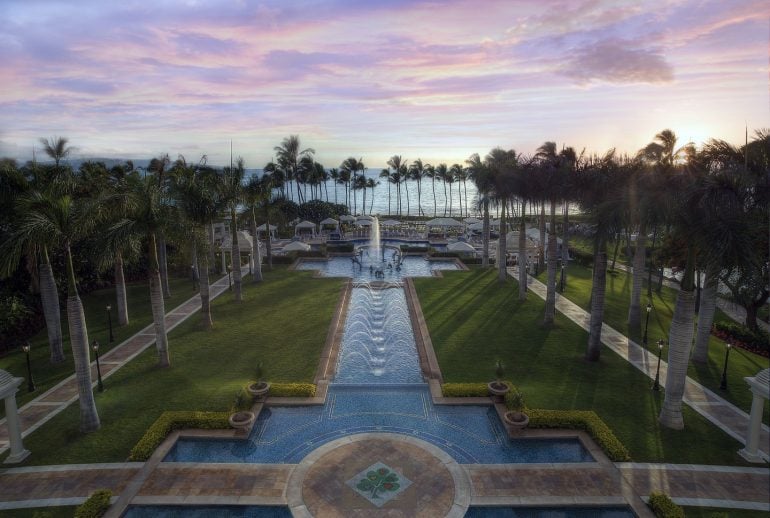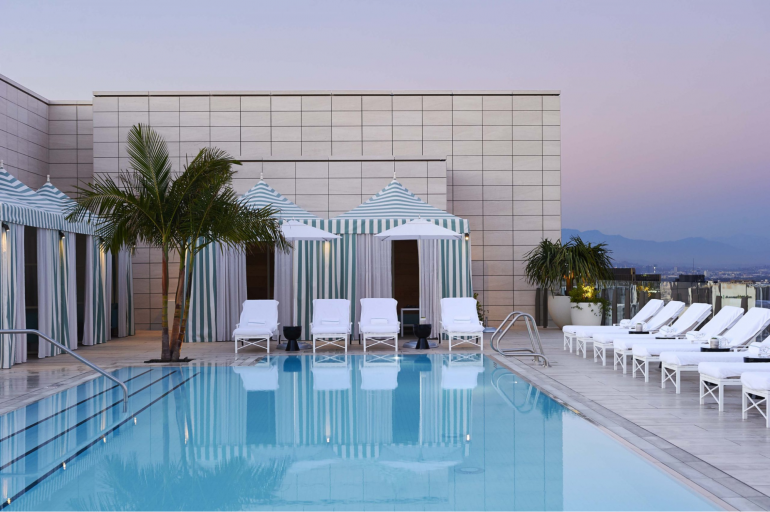 Using your Hilton free night certificate
Your Hilton free night certificate is a brilliant way to be able to stay at hotels that you might otherwise not have been able to afford. Treat yourself with a stay at a fancy hotel. Or, for the more prudent travelers, you might find it just as valuable to redeem at the local Hilton Garden Inn the night of your friend's wedding to help take the sting out of an otherwise costly trip.
Don't hoard it in hopes that you'll find the most optimal redemption — it could end up expiring before you get a chance to use it. But if you have a hotel in mind that's out of your budget, you've got yourself a golden opportunity to spend the night with your free night certificate from Hilton.
All information about the Hilton Honors American Express Aspire Card has been collected independently by NerdWallet. The Hilton Honors American Express Aspire Card is no longer available through NerdWallet.
---
How to maximize your rewards
Get more smart money moves – straight to your inbox
Sign up and we'll send you Nerdy articles about the money topics that matter most to you along with other ways to help you get more from your money.