Best of
5 Tips for Finding the Best FHA Mortgage Lenders
At NerdWallet, we strive to help you make financial decisions with confidence. To do this, many or all of the products featured here are from our partners. However, this doesn't influence our evaluations. Our opinions are our own.
All FHA mortgage lenders are not created equal. Here's how to find the best FHA loan lender for you and your particular circumstances.
Summary of 5 Tips for Finding the Best FHA Mortgage Lenders
| Lender | Best For | Minimum Credit Score | Minimum Down Payment | Learn More |
| --- | --- | --- | --- | --- |
| Rocket Mortgage | FHA mortgage lenders with the best online experience | 620 | 3% | |
| Guild Mortgage | FHA mortgage lenders with the best online experience | 620 | 3% | Read review |
| New American Funding | FHA mortgage lenders for borrowers with nontraditional credit | 620 | 3% | Read review |
| PNC | FHA mortgage lenders for borrowers with nontraditional credit | 620 | 3% | Read review |
| Citibank | FHA mortgage lenders for first-time home buyers | N/A | 3% | Read review |
| Flagstar | FHA mortgage lenders for first-time home buyers | 620 | 3% | Read review |
Rocket Mortgage: NMLS#3030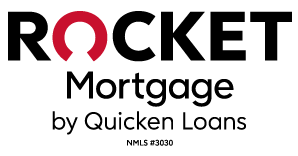 Guild Mortgage: NMLS#3274
New American Funding: NMLS#6606
Citibank: NMLS#412915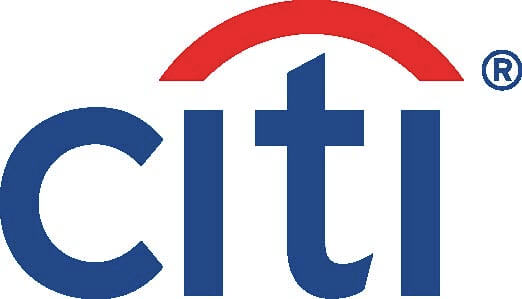 Flagstar: NMLS#417490

How to look for an FHA mortgage lender
Qualifying details, interest rates and loan terms vary from one lender to another. Here's how to find the best FHA mortgage lender for you.
1. Know your credit score.
FHA is looking for borrowers with a credit score of at least 500. But if you want to get an FHA loan with a down payment as low as 3.5%, you'll need a 580 FICO or above.
That's just the first credit score hurdle: Lenders often tack on extra credit score requirements. So even though FHA may be looking for a 580, a lender might look for 600, 620 or better.
And FHA generally requires a debt-to-income ratio of 50% or less, but again, lenders can have even more stringent benchmarks.
2. Shop more than one FHA lender.
You want to do this not only because one lender may be a bit more lenient in qualifying a borrower than another, but also because FHA mortgage rates can be all over the place.
Lenders price their loans according to current market conditions, as well as mark up their interest rates due to business costs and profit targets. It's like shopping for gas: One station may be much more expensive than a station right down the street.
» MORE: 5 tips for finding the best mortgage lender
3. Know the difference between FHA mortgage insurance premiums and lender fees.
FHA-backed loans require mortgage insurance, to help cover the costs of loan defaults. FHA mortgage insurance premiums are uniform. You'll pay the same premiums at Bank A as you will at Credit Union B. Lender fees are not the same from lender to lender.
You'll get an official loan estimate within three days after you apply for a mortgage. This is a standard, government-mandated form that you'll get from each lender. It makes it pretty easy to compare the terms and fees each lender is offering.
On the second page of the loan estimate, look for "closing cost details." Then, under "loan costs," see Section A, "origination charges." That's where you'll find each lender's total fees.
In this example, the first charge is labeled ".25% of loan amount (points)." These are discount points, which are purely an option you can take or leave to lower your loan's interest rate. The "application fee" and "underwriting fee" are lender charges. You may see all kinds of fees here, with all kinds of names.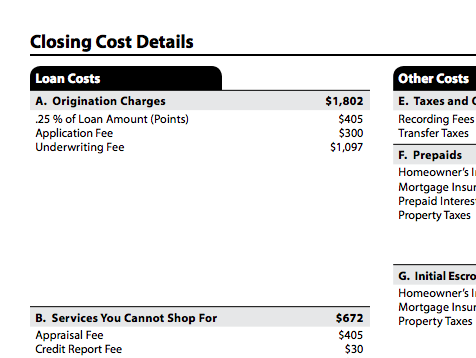 But other than discount points, lender fees are not a good thing and should be negotiated.
An upfront FHA mortgage insurance premium is shown in Section B, "services you cannot shop for," or in the "other costs" column.
Ongoing mortgage insurance premiums, built into your monthly payment, will be on the last page of the loan estimate, under "projected payments."
4. Look for the APR.
Another way to consider how much you're paying in fees is to do a head-to-head comparison of annual percentage rates among lenders.
Your payment rate — the interest rate your monthly payment is based on — is shown on the front page of your loan estimate, under "loan terms."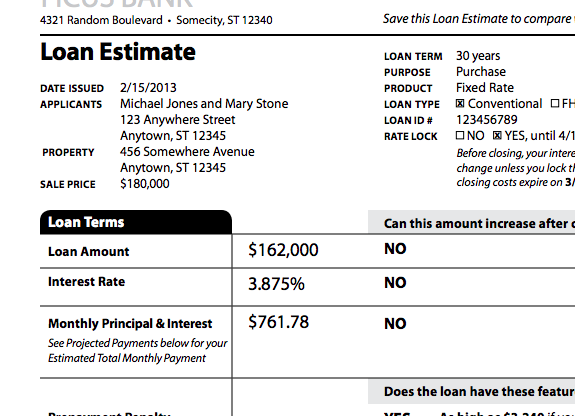 The annual percentage rate — which is your base interest rate plus all loan fees — is on the third and final page of the loan estimate, under "comparisons."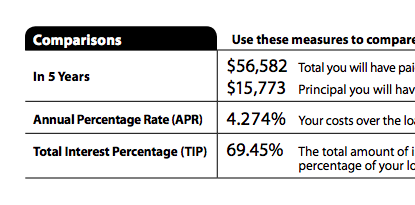 Lenders make money by either charging you fees — such as origination fees, application fees and processing fees — or by building their profit into the interest rate you pay.
Or both.
That's why you want to consider your payment interest rate as well as your all-fees-included APR. Use NerdWallet's mortgage APR calculator to help you see the difference between interest rate and annual percentage rate.
5. Find the right FHA lender for your situation.
Some lenders are built for an online experience, while others are best suited for face-to-face service. That's why we've broken down the best FHA lenders in a variety of circumstances. You can check out our complete list of the best FHA mortgage lenders by category, or browse our short list above.
More from NerdWallet
Last updated on July 2, 2019
Methodology
NerdWallet's selection of mortgage lenders for inclusion here was made based on our evaluation of the products and services that lenders offer to consumers who are actively shopping for the best mortgage. The six key areas we evaluated include the loan types and loan products offered, online capabilities, online mortgage rate information, customer service and the number of complaints filed with the Consumer Financial Protection Bureau as a percentage of loans issued. We also awarded lenders up to one bonus star for a unique program or borrower focus that set them apart from other lenders. To ensure consistency, our ratings are reviewed by multiple people on the NerdWallet Mortgages team.
To recap our selections...
NerdWallet's 5 Tips for Finding the Best FHA Mortgage Lenders