Advertiser Disclosure
Cashier's Check: When You Need One, How to Get It
A cashier's check is a safe way to make large payments. Most banks and credit unions offer them.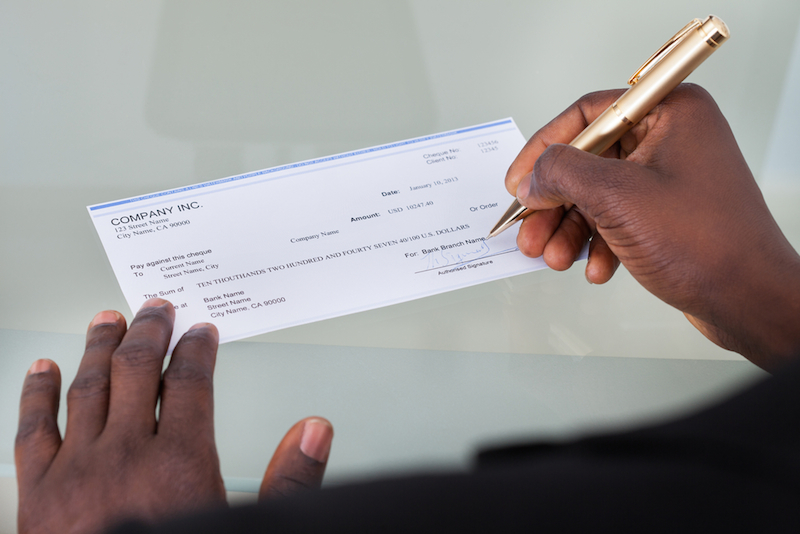 What is a cashier's check?
A cashier's check is a check drawn from a bank's own funds, instead of yours, and signed by a cashier or teller. It differs from a regular check because the bank guarantees its payment, not the check writer. A cashier's check can also be called an official check.
When do I need one?
Cashier's checks are best for large purchases, such as a car or house sale, when you likely can't use a debit or credit card. These checks have extra security features — such as watermarks and sometimes signatures by two bank employees — that make counterfeiting more difficult. So when you purchase one from a bank or credit union, all parties can be confident that the transaction is secure and the risk of theft or fraud is minimal.
» Here's how to decide between a cashier's check and a money order
How can I get a cashier's check?
Most banks and credit unions offer cashier's checks to their customers. Here's how to get one:
Have the exact amount and recipient's name ready before requesting the check. Cashier's checks are drawn on a financial institution's funds, but you supply the check amount to your bank ahead of time. And you need the name of the "payee," the business or person you are paying, since you can't get a blank cashier's check.
Visit a nearby branch and request the check from a teller. This is the standard way, but some banks, especially online-focused ones, make other methods available such as calling or sending an online message to their customer support team. In those cases, a cashier's check would then be mailed to your recipient, which takes longer. If you need the check that day, visit a branch if

your bank has one, or find a bank or credit union that accepts non-customers

.
Pay the check amount plus any applicable fee. If the funds are in an account at that institution, the full amount of the check will be frozen in your account or withdrawn when the check is issued. Have enough in the account to pay any fee as well.

If the bank gives checks to non-customers, cash would be the main payment method. 

The teller will issue and sign the cashier's check.
If you don't have a checking account at a bank or credit union, you might need to open one. Banks and credit unions are the only institutions that can issue cashier's checks, and they aren't required to provide them to people who aren't customers. Some do it, but at least three national banks don't issue them to anyone but account holders. If opening a bank account isn't practical, a money order might be your next-best option.
Cashier's check vs. certified check vs. money order
A certified check is a personal check written by a bank customer and drawn on the customer's account. The bank certifies that the signature is genuine and that the customer had sufficient funds to cover the check when it was issued. (Here are tips on when you should use a certified check.)
Money orders are a prepaid type of payment restricted by a maximum amount, such as the U.S. Postal Service's $1,000 limit on money order purchases. Unlike cashier's checks, money orders aren't backed by a bank since they are paid in advance, usually with cash or a debit card. (Here's the lowdown on when it makes sense to use a money order.)
» ALSO: Interested in maxing out your savings APY? Check out our savings calculator
What are the fees for a cashier's check?
Cashier's check fees vary by financial institution. For example, credit unions might charge less than $5, and big banks might charge upward of $5. At least a few charge a percentage of the check amount. Information about fees and related policies can usually be found in the checking rates and fees pages that most institutions publish on their websites.
Finding free checking
It might be hard to avoid paying a fee for a cashier's check, but you can save on other fees with the right account. Here are three banks with checking accounts that don't charge monthly fees.
















Monthly fee

$0





---





Free ATM access

Over 30,000 ATMs





---





Bonus Features

No overdraft fees





Monthly fee

$0




---





Free ATM access

Over 43,000 ATMs





---





Bonus Features

APYs starting at 0.10%






Monthly fee

$0





---





Free ATM access

Over 39,000 ATMs





---





Bonus Features

Fee-free overdraft line of credit






See more free checking accounts
How can I avoid cashier's check fraud?
Avoid taking a cashier's check from someone you don't know. If you do receive one, wait to use the funds until several days after the check has been deposited, or check with your bank to make sure it has cleared.
Don't accept a cashier's check from someone you don't know. Try not to use the funds — even if you can — until the check clears.
Although funds from a cashier's check deposited into a bank account are usually available the next day, many banks place a hold on amounts over $5,000 until the check has been cleared by the issuing bank. In some cases, this can take days, but that helps protect against cashier's check fraud.
What if I lose the check?
Canceling a cashier's check is generally not an option. If you lose a cashier's check, the bank may require that you get an indemnity bond before issuing another one.
The bond, which is not that easy to get, makes you liable for the replacement check, according to the U.S. Office of the Comptroller of the Currency. The bank regulator recommends contacting an insurance broker for help.
Even with the bond, the bank may require that you wait more than a month for a replacement check.
Updated Jan. 10, 2018.