» This page is out of date
The information on this page is out of date. See NerdWallet's best low interest and 0% APR credit cards for up-to-date offers.
It's becoming commonplace for credit card issuers to provide cardholders free access to their FICO score. When Chase announced it would start offering free scores to customers with the Chase Slate® in 2015, the Nerds wondered whether this perk would stand out from all the other free FICO score offerings.
We found one outstanding feature. But it may not be a good enough reason to get the Chase Slate®.
Credit Score and More: The basics
Offering a free FICO score is one thing, but providing the tools to understand and improve your score is another. This is what sets the Chase Slate®'s Credit Score and More feature apart.
New Chase Slate® customers (and eventually existing customers, too) will get to see their FICO scores for free online by logging in to their accounts. But Credit Score and More also allows cardholders to view a graph of their FICO score progress over time, along with:
Details about the factors influencing their score
A summary of some of the material on their credit report
Tips for and information about improving credit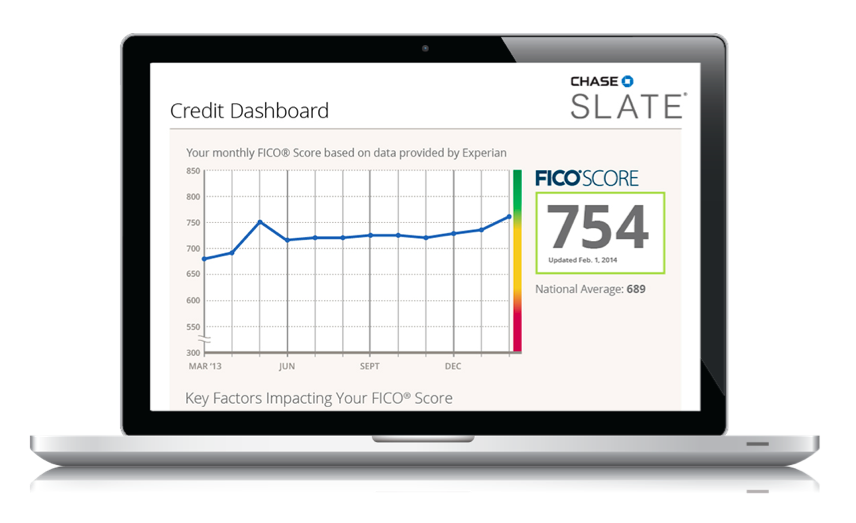 Is Credit Score and More a reason to get the Chase Slate®?
Credit Score and More provides detailed, personalized credit score information beyond what most issuers offer their cardholders, and many consumers will find it very useful. But the Nerds don't think this feature alone is a good enough reason to get the Chase Slate®.
The Nerds highly recommend the Chase Slate® for balance transfers. After a debt is paid off, people may benefit from switching to a card that offers rewards for everyday purchases.
If you follow this advice, you might not get a lot of long-term use out of the Credit Score & More feature. Unless you keep regularly logging in to your Chase Slate® account, you won't see the credit dashboard beyond the months it takes you to repay your balance.
Why the Nerds really love the Chase Slate®
Credit Score & More aside, the Chase Slate® is still a tremendous card for consumers looking to refinance high-interest debt. For one thing, you'll pay 0% on Purchases and Balance Transfers for 15 months, and then the ongoing APR of 16.49% - 25.24% Variable APR. For another, you won't have to pay a balance transfer fee if you move your debt onto the card within 60 days of opening your account.
These qualities, combined with the card's $0 annual fee, make it one of the most cost-effective options out there for getting out from under a pile of credit card debt. If this is one of your financial goals, and your credit is good enough to qualify, we say go for it. See here for more information.
Information related to the Chase Slate® has been collected by NerdWallet and has not been reviewed or provided by the issuer of this card.
Lindsay Konsko is a staff writer covering credit cards and consumer credit for NerdWallet. Follow her on Twitter @lkonsko and on Google+.
---
Images via iStock and Chase.