Mortgage rates remain near nine-month lows — still well below 4% — and early signs point to a hot spring buying season, with homes selling 12 days faster and for 8% more money than one year ago.
Freddie Mac's just-released weekly survey of lenders shows the following average rates for the most popular home loan terms:
30-year fixed-rate mortgages averaged 3.71% with an average 0.5 point for the week ending March 31, 2016.  A year ago, the rate averaged 3.70%.
15-year fixed rates averaged 2.98% with an average 0.4 point. The same term priced at 2.98% a year ago.
5-year adjustable-rate mortgages priced at 2.90% with an average 0.5 point. Last year at this time, the same ARM averaged 2.92%.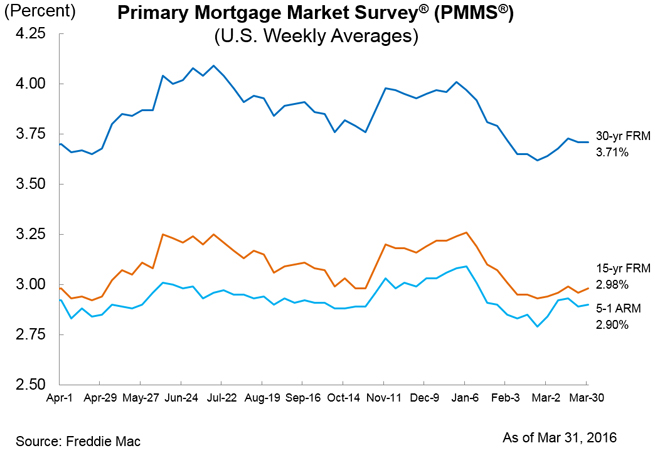 "Dovish comments by Federal Reserve Chair Janet Yellen on Tuesday triggered a rally in Treasury markets and drove the 10-year yield down 13 basis points from last week's high. Yellen's comments came too late to affect this week's mortgage rate survey, and the 30-year mortgage rate remained unchanged at 3.71%," Sean Becketti, chief economist for Freddie Mac, said in a release. "However, if the Fed's cautious tone persists, mortgage rates may register the impact in subsequent weeks."
Meanwhile, mortgage application volume fell slightly from one week earlier, sagging 1%, according to the Mortgage Bankers Association report for the week ending March 25, 2016.
Purchase applications were up 2%, as refi applications fell 3%. Overall, home purchase loan applications remain 21% higher than the same week one year ago.
March home sales: record-high prices and fast-moving inventory
Higher home prices aren't slowing sales so far this early spring buying season. In fact, Realtor.com reports homes listed on the site sold 13% faster in March than the same period last year — in spite of prices being 8% higher than one year ago.
However, inventory is still a problem. Though increasing, the number of homes for sale is still lower than last year.
The median home listed for $238,000.
"The early readings on March inventory and activity on Realtor.com indicate that early-bird buyers are emerging in markets that typically have buyers sidelined with winter weather," Jonathan Smoke, chief economist of Realtor.com, said in a statement. "While listings continue to see monthly growth, inventory is picking up momentum with the median age of inventory moving 12 days faster than March 2015 and 19 days faster than February 2016."
Properties were listed on the site for an average of 77 days before selling, down 13% year over year.
More from NerdWallet
How much house can I really afford?
Compare mortgage rates
Find a mortgage broker
Hal Bundrick is a staff writer at NerdWallet, a personal finance website. Email: [email protected]. Twitter: @halmbundrick
---
Image via iStock.