FHA loans are backed by the government, so you might think the interest rates are regulated. But FHA mortgage rates vary by lender — they're not set by the Federal Housing Administration. That means you'll have to do a little work to get the best interest rate on an FHA mortgage. Here's how.
1.  Check your credit report
It's important to make sure your credit report and score properly reflect you. Why? While FHA guidelines say that borrowers can qualify with a credit score as low as 500, lenders make their own rules about what they'll accept. And the higher your credit score, the better your interest rate will be.
So pull your free credit report, which the three primary credit agencies are mandated to provide you once a year without charge. In fact, you can get all three at once if you're about to apply for an FHA loan.
» MORE: Best lenders for FHA loans
Once you get your report, look for mistakes and omissions. For example, a bad-debt collection that you don't recognize. Or a credit account that you've paid perfectly for quite some time but doesn't show up on the report.
If you find an error in your favor and get it corrected, it might boost your credit score and earn you a lower interest rate.
---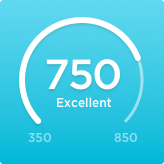 Get Your Free Credit Score Report
Open more doors for your financial goals.
Set your goals and see your progress.
Signing up won't affect your score.
---
2. Make a bigger down payment
FHA mortgages allow down payments as low as 3.5%. But putting down just a little bit more can improve your interest rate. Lenders consider loan-to-value when pricing a loan. A larger down payment lowers your LTV while positioning you as a more-trusted borrower.
You can plug some numbers into the NerdWallet loan-to-value calculator to consider different scenarios.
3. Pay off a credit card
Another key measure lenders consider is your debt-to-income ratio, which is how much you owe, divided by your monthly earnings.
Got a credit card that still has a balance due? Work to pay it off. There can be two positive results: You'll lower your debt-to-income ratio, and quite likely improve your credit score.
Here's a DTI calculator that can help you work the numbers.
4. Don't stop after the first lender
Getting a "yes" from a lender is a great feeling, and many people stop right there. But it's smart to continue shopping for better deals. Think about it: You know you can qualify, you've got an approval in your back pocket, so what's the downside?
Sure, it takes time and more paperwork. But finding a lender that offers you a better FHA mortgage rate reduces the interest you pay over the life of the loan. That can mean a lower monthly payment and saving thousands of dollars.
Use that as an incentive to shop around.

5. Explore state first-time home buyer programs
We saved it for last. Perhaps the best tip of all. Explore first-time home buyer assistance programs offered by your state's housing authority. Many of these nonprofit agencies combine FHA mortgages with down payment and closing cost assistance. We're talking free money, in the form of grants.
Not only that, but these state-sponsored programs often offer even more favorable FHA mortgage rates through associated local lenders.
NerdWallet has a list of these first-time home buyer programs, sorted by state.
To recap:
How to get the best FHA mortgage rate:
Check your credit report and correct any errors; look for omissions of favorable open accounts.
Make a bigger down payment to lower your loan-to-value ratio.
Pay off a credit card. That will lower your debt-to-income ratio and likely improve your credit score.
Shop more than one lender because the FHA doesn't set mortgage rates; lenders do.
Explore first-time home buyer programs offered by your state housing authority.