Best Credit Cards for Cruises
There are many rewarding credit card options to book your next cruise, but they may not be what you think. Here are our top picks.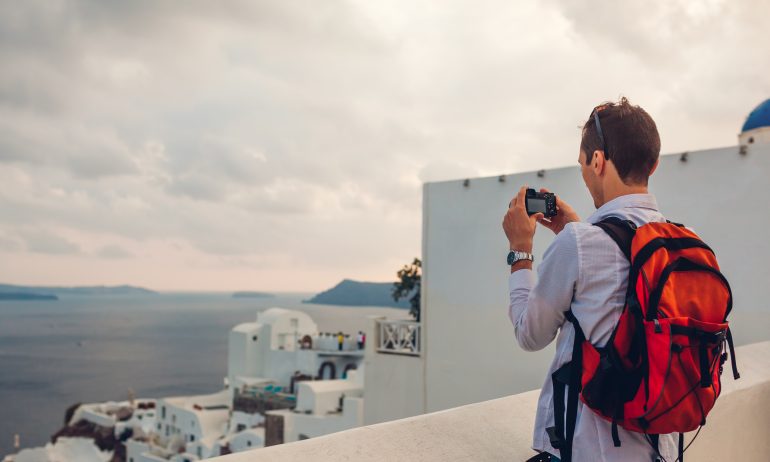 Many or all of the products featured here are from our partners who compensate us. This may influence which products we write about and where and how the product appears on a page. However, this does not influence our evaluations. Our opinions are our own. Here is a list of our partners and here's how we make money.
Thinking about setting sail on the open seas for fun, food and relaxation? Well, today's cruise ships can suit almost any sensibility and budget.
And just as you have many cruise options to choose from, there are numerous credit cards you could choose to pay with. Cruise line-specific cards might seem like an obvious choice, but they aren't always the best. Flexible have more redemption options, often provide heftier bonuses for new cardholders and usually earn more points in many categories.
Here are NerdWallet's best cards for cruises, why we like them and why many co-branded cruise credit cards may not be your best bet.
Why we like it: It earns 2 points per $1 spent on travel (including cruises), as well as bonus rewards on a variety of popular spending categories, including dining. And its points are worth 25% more when redeemed for travel. Plus, it offers travel protections.
Details: The is a traveler favorite because of its solid rewards rate, versatile Ultimate Rewards® points and a midtier price point. Points earned from the are easy to redeem. Just use them to book travel directly in the Chase portal for a solid value of 1.25 cents each for hotels, airfare, rental cars, cruises and experiences. (Or transfer points directly to many large travel partners like Marriott, United, Hyatt and Southwest.)
Though it can't be done online, you can also use Chase Ultimate Rewards® points to book a cruise. Log in to your Chase account, navigate to the travel portal and search the "cruises" tab. A few cruise options will display there, but you'll have to call Chase's Cruises and Tours department to book. And even if you don't see a great cruise option in a search, you may be able to book cruises that aren't listed when you call Chase.
If you book a cruise with the , you'll enjoy if the trip is canceled, interrupted or delayed.
Why we like it: It earns 2X miles per $1 spent on all purchases, including travel and cruises. Miles are easy to redeem, and the card gives some travel protections, too.
Details: You'll earn 2X miles on every purchase, every day. And while you may mistakenly think that miles can be redeemed for airfare only, Venture miles are actually incredibly versatile. You can use the Purchase Eraser to "erase" travel purchases with statement credits, book new travel directly through Capital One or cash out miles for gift cards. All of these redemption options give you the ability to lock in a fixed value of one cent per mile.
It's easy to use rewards to book a cruise. After you've found the best option for you, book it on any website using your . Then, use your miles to erase some or all of the charges. Or you could opt to cash out for gift cards for Carnival, Princess, Disney and Royal Caribbean cruises, to name a few. Alternatively, you could book a cruise directly through the Capital One travel portal using miles.
The offers travel accident insurance and offers up to $100 in credit toward the application fee credit for .
Why we like it: It earns 2X points per $1 spent on travel and dining and 1.5X points on everything else. Points are worth the same no matter how you redeem them. Plus, you'll earn more with an eligible Bank of America® account.
Details: The offers solid rewards earnings and gives flexibility when you redeem said rewards. Earning potential gets even better if you're a member of , which is open to those with at least $20,000 in combined balances in Bank of America® or eligible Merrill accounts. Depending on the size of your account, you can get a rewards boost from 25% to 75%.
Bank of America® has one of the broadest definitions of "travel" of any credit card issuer. Use your to pay for the cruise, airfare, parking fees and some ship excursions, and you'll earn at least 2X rewards on the purchases. Points can be redeemed for a credit on your statement, gift cards, a deposit into a Bank of America® or Merrill account (checking, savings or 529 plan) or travel booked through the Bank of America® Travel Center. Each point is worth 1 cent, no matter how you use them.
Book with your and you'll get trip delay reimbursement, trip cancellation coverage and other travel assistance services.
Why we like it: It earns a standout rate of 4X points per $1 spent on travel (including gas), and it will insure your cell phone while you're cruising (and when you aren't).
Details: The is the midlevel option in the family of U.S. Bank Altitude cards. Use the card to book your cruise and you'll earn a hefty 4X points on the bill. Plus, the card earns 2X on dining, streaming services and grocery store purchases, and comes with a $30 annual credit on streaming services.
U.S. Bank points are worth 1 cent each and can be redeemed for travel (including cruises), cash back or gift cards. (Points earned from the , though, cannot be transferred to its premium sibling, the . That card allows holders to redeem points at a higher value of 1.5 cents each for travel through U.S. Bank.)
The also comes with cell phone protection, so your phone is protected on the high seas and on dry land. Use the card to pay your cell phone bill and you'll get secondary cell phone insurance for a damaged or stolen phone.
Why we like it: It comes with boatloads of luxury perks, extensive travel protections and bonus credits.
Details: While you won't get the highest possible value when redeeming points for a cruise (points will be worth just 0.5 to 0.7 cent each this way), can be a great card to book your trip with and carry while you cruise.
Cardholders of are entitled to the benefits of the American Express Cruise Privileges Program when they book at least five nights. You'll get access to benefits like a credit of up to $300 redeemable toward dining and spa services onboard, plus amenities like wine, champagne and chocolate. Terms apply.
The Cruise Privileges Program works with a dozen major cruise lines, like Royal Caribbean, Holland America and Crystal. When you call this specific department at American Express and book with your card, you'll earn 2X points on the price of a cruise. Terms apply.
also comes with luxury travel perks that can make your journey to the cruise ship more pleasant when you enroll, like automatic hotel elite status and airport lounge access. Plus, the card comes with an annual credit of up to $100 at Saks for pre-cruise shopping. Terms apply.
When you pay for your trip with , you'll be covered for trip delays and cancellations, lost luggage and emergency medical assistance, and you'll get primary rental car coverage, too. Terms apply — see .
There are many cruise line-specific credit cards that can be appealing to brand loyalists. Some offer exclusive perks and discounts that you won't find anywhere else, and most don't charge annual fees. Since many cruise lines have partnerships, the rewards earned on some cards are interchangeable among several cruise brands, too.
But the truth is, for most people, these cards aren't the best option for cruises. In general, co-branded cruise line cards are underwhelming. They tend to offer subpar welcome offers and ongoing rewards, confusing redemption options, and, of course, the biggest drawback is that they lock you into using your credit card rewards solely on a cruise. When compared with other "flexible currency" cards, their value pales in comparison.
To view rates and fees of , see .
The information related to the and  the credit card has been collected by NerdWallet and has not been reviewed or provided by the issuer of this card.