Closing a Credit Card? Make Sure to Do These 5 Things
Consider the impact on your credit score, and adjust expenses you automatically paid with your old card.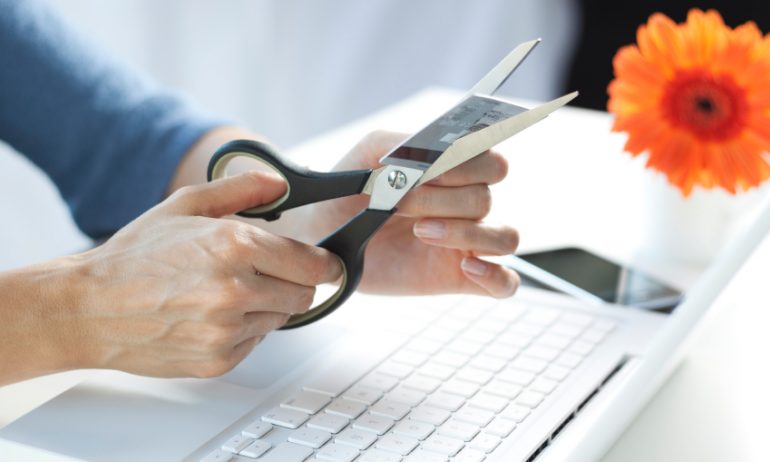 Many or all of the products featured here are from our partners who compensate us. This may influence which products we write about and where and how the product appears on a page. However, this does not influence our evaluations. Our opinions are our own. Here is a list of our partners and here's how we make money.
If you're thinking about canceling a credit card, don't call the credit card company just yet. Acting too rashly can damage your credit score and make it difficult to stay organized when switching to a new card. Take these five Nerd tips into consideration before cutting up your card.
1. Understand how closing a credit card affects your credit
Closing a credit card account can have a negative effect on your FICO score in two ways:
It lowers your total available credit, which can increase your credit utilization ratio. This ratio heavily influences the 30% of your credit score that's determined by how much you owe. If canceling the card brings your ratio above 30%, your credit score may drop.

It affects your length of credit history, especially if you've had the card for a long time. While the positive history on the closed card will stay on your credit report for up to 10 years, closed accounts generally don't factor into your credit score as much as open accounts.
Nerd note: Although canceling a credit card can hurt your credit score, it may still be worth it. For example, if it's a new account, if it has an annual fee, and if you don't use the card often or you can't control your spending, the benefits of canceling might outweigh the costs.
2. Negotiate with the card issuer
It's usually more expensive for companies to find new business than to retain current customers. If you're canceling a credit card because the interest rate is too high or you don't want to pay the annual fee, consider calling the issuer to ask if they'll lower the rate or drop the upcoming annual fee. This tactic won't always work, but it's worth a try, especially if you have a long history with the issuer.
3. Move your automatic payments to a different card
If negotiating doesn't work or you're not satisfied with what the issuer has to offer, start getting ready to move your automatic payments to another card. Go through your previous two or three card statements and identify which charges are automatic payments. Then contact those companies or update your card information through your online accounts to make sure you don't miss any future payments.
If you forget to update your card for one or more recurring payments, the company in question will likely send you an email to let you know your card has been declined. However, if that email happens to land in your spam folder, you could lose your subscription or get hit with a late fee. So it's important to be thorough.
Most issuers generally won't allow you to close your credit card until you've paid off the outstanding balance. This includes any pending transactions. If you have a large balance on a high-interest credit card, you might also choose to transfer the balance to a lower-interest credit card or a card that has a 0% introductory APR period so you can save on interest while paying off your balance.
If, for some reason, you're able to cancel the card with an open pending transaction, remember that you're still liable to pay it off. The card issuer will likely send you a final statement, but it may help to be proactive and check the online account after canceling to make sure you don't owe anything.
5. Check the account periodically for trailing refunds
You can usually ask for a refund to go onto another card if the one you used to make the purchase is closed, but you may encounter a situation where the refund has already been processed or you aren't even aware that you're receiving it. Even though you've closed your account, you may still have limited access to it online. Log in from time to time to make sure you haven't missed something.
Canceling a credit card is more than just cutting it in two. Before going through with it, make sure you're making the right decision for your credit score. Then take steps to keep the transition to a new card as seamless as possible.
Get more smart money moves – straight to your inbox
Sign up and we'll send you Nerdy articles about the money topics that matter most to you along with other ways to help you get more from your money.