How to Maximize Credit Card Rewards When Shopping
Know which card to reach for when you're standing at the cash register or ready to click "Proceed to Checkout".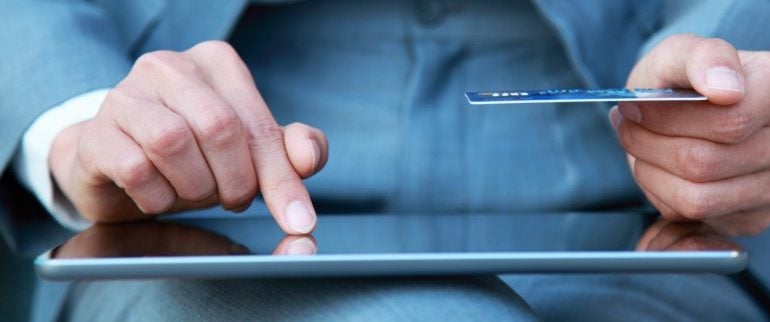 Many or all of the products featured here are from our partners who compensate us. This influences which products we write about and where and how the product appears on a page. However, this does not influence our evaluations. Our opinions are our own. Here is a list of our partners and here's how we make money.
Chances are, you have more than one credit card in your wallet. So how do you know which card to reach for when you're standing at the cash register or ready to click "Proceed to Checkout"?
That's not a question as easily answered as it is asked, but the Nerds are here to help.
How many credit cards should you have, anyway?
The average American has 3.4 credit cards, according to a 2015 survey conducted by Gallup. That's right in line with what the Nerds see as ideal.
"I'd recommend that consumers carry at least three to four cards," says Sean McQuay, NerdWallet's resident credit cards expert. Having a few to choose from allows you to maximize your rewards on each purchase and gives you options in case your go-to card isn't accepted at every store.
McQuay says the ideal mix includes the following:
One or two branded credit cards for the stores where you shop most often.
When you're in the store: If you're not sure which card to use, choose the one with the best flat rewards rate.
For small, everyday purchases
Some people habitually shop at only one or two retailers, whether that means online shopping or a trip to the local Target. If that describes you, having a store credit card isn't a terrible choice, especially if it offers low fees and a generous rewards rate.
Looking at your monthly budget can also help you figure out where you spend the most money. If you have a long commute, for example, it might be worth it to get a good gas card like the Blue Cash Preferred® Card from American Express, which gives 3% back on U.S. gas station purchases and on transit (including such things as taxis, rideshares, parking, tolls, trains and buses). It also earns 6% cash back at U.S. supermarkets, on up to $6,000 a year in spending (then 1%); 6% cash back on select U.S. streaming subscriptions; and 1% cash back on all other purchases. Terms apply (see rates and fees).
But some people might be better off with a credit card that offers rotating quarterly bonus categories, like the Chase Freedom Flex℠. These cards usually give a hefty 5% back on purchases in specific spending areas — in the past, they have included gas stations, restaurants, grocery stores and wholesale clubs — that change periodically.
This year's bonus categories for the Chase Freedom Flex℠:
Chase Freedom® and Chase Freedom Flex℠ bonus rewards categories for 2023

Fitness clubs and gym memberships.

TBD (In 2022: Gas stations; car rentals; movie theaters; select live entertainment).

TBD (In 2022: PayPal; Walmart).
It does take some work to remember which category is prioritized at what time, and most of these cards require you to activate the bonus category yourself through a website or an app. They also commonly come with a spending cap — $1,500 spent in bonus categories each quarter (activation required), for example. After that, you'll be back to earning the flat rewards rate offered on all purchases.
When you're in the store: Check your credit card issuers' smartphone apps to see whether any of your cards has a bonus category that matches the store where you're about to spend money.
For big or infrequent purchases
Rewards on small expenses like a latte or your monthly Netflix bill can definitely add up. But credit card rewards become even more important when you're spending hundreds or even thousands of dollars. If you're preparing to spend money on something big, like a new refrigerator or a honeymoon cruise, it's worth it to do a little extra work to determine which card will give you the best rewards. If you have a rewards card like the Discover it® Cash Back that offers 5% bonus categories, check to see if your big purchase qualifies for the bonus. (The Discover it® Cash Back gives you 5% cash back in rotating categories that you activate, on up to $1,500 per quarter in spending, and 1% on all other purchases.)
This year's bonus categories for the Discover it® Cash Back:
Discover bonus rewards categories for 2023

Select streaming services.

TBD (In 2022: Restaurants; PayPal).

TBD (In 2022: Amazon.com; digital wallets).

*The grocery stores category does not include grocery purchases at Walmart or Target or at other superstores or wholesale clubs.
It may help to think first about what you consider a "large" purchase. Is it anything above $100? Anything above $300? That figure will depend on you and your budget. Think about what that number is for you, and commit to doing extra research to find the best deal on bigger purchases and determine the best credit card for the job.
Big purchases might include:
Fitbits or other fitness trackers
How to choose the best credit card for the job
| | |
| --- | --- |
| Does the purchase match up with a bonus rewards category? | It's worthwhile to plan your spending around credit card bonus categories that come with a 5% rewards rate. Keep in mind that a big purchase might push you right up to the card's spending cap. For example, rewards on the Discover it® Cash Back drop back down to 1% after you reach the $1,500 spending cap in the quarterly bonus categories (activation required). |
| Can you use the purchase to help you meet the minimum spending requirements to score a sign-up bonus? | Cards with sign-up bonuses often require new cardholders to spend a certain amount in the first 90 days of account opening. Putting that stick vacuum cleaner or fitness tracker on your new Chase Sapphire Preferred® Card, for instance, could help you meet the spending requirements for a juicy sign-up bonus. |
| Do you need a little extra time to pay your balance off? | If you think you'll need to spread the cost of a big expense over a few paychecks, consider applying for a credit card that offers a 0% APR period on purchases. Alternately, you can use a 0% balance transfer offer after you make the purchase, but keep in mind that many cards charge a balance transfer fee that will eat into the money you're saving on interest. |
| Do any of your cards offer extra purchase protection or an extended warranty? | |
| When in doubt, go for flat rewards. | If you can't take advantage of a balance transfer offer, don't have a new card with a minimum spending requirement, and plan to pay off the entire purchase before the bill is due, your best bet is to use a card that gives you the best rewards rate across the board. You should also keep an eye on your balances: Putting a big purchase on a card that already has a high balance can bring down your credit score. |
When you're in the store: If you're buying something you can't pay off right away, consider using a credit card that offers a 0% APR on new purchases.
The best time to choose a credit card for a particular shopping excursion is before you go to the store. But familiarize yourself with your credit cards' rewards programs in case you need to make a quick decision about which card to use.
Grouping your bigger purchases on a rewards credit card with 5% bonus categories is likely to net you the highest rewards, but you should also try to get a travel or cash back card with a solid 1% to 2% rewards rate. And if you find yourself visiting a particular store regularly, find out if its store card comes with an attractive rewards rate.
No matter which card you use for a purchase, make sure your stack of plastic doesn't get so complicated that you have a hard time keeping track of the bills. Some people feel more tempted to overspend when they're using credit cards, but when used wisely, credit cards can help you save money on shopping trips big and small.
---
Find the right credit card for you.
Whether you want to pay less interest or earn more rewards, the right card's out there. Just answer a few questions and we'll narrow the search for you.
Get Started
Get more smart money moves – straight to your inbox
Sign up and we'll send you Nerdy articles about the money topics that matter most to you along with other ways to help you get more from your money.