Steaks and Sign-Up Bonuses: How Credit Cards Can Help You Save on Your Wedding
You're not going to pay for the whole affair with credit card rewards, but you can cut your net cost by hundreds.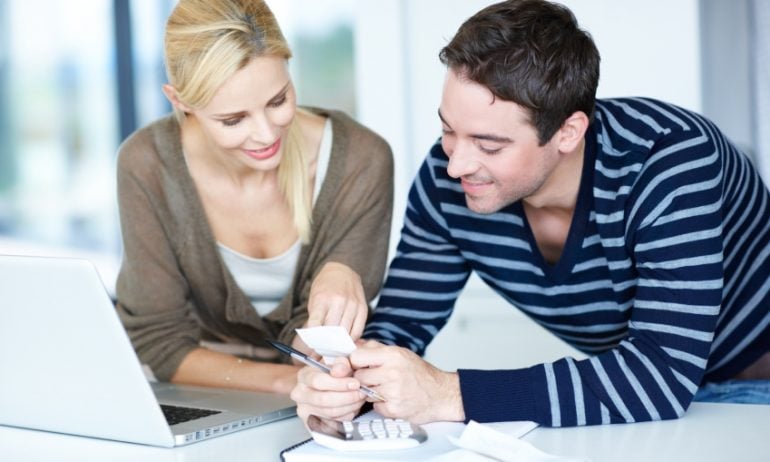 Many or all of the products featured here are from our partners who compensate us. This influences which products we write about and where and how the product appears on a page. However, this does not influence our evaluations. Our opinions are our own. Here is a list of our partners and here's how we make money.
The first rule of planning a wedding: Assume everyone will order the steak, because they will.
When my husband and I were planning our wedding in 2015, we sent our families and friends a menu with three options: eggplant (which cost $14 per person), chicken ($18) and steak ($22). Maybe it was my vegetarian optimism, but I assumed most people would order eggplant. I was wrong. The stack of steak orders got higher and higher, and so did our catering bill.
It broke my little cheapskate heart — until it occurred to me that all that Montana Wagyu top sirloin could help me earn a credit card sign-up bonus worth $500, or roughly 23 steak dinners. It didn't cover the entire catering bill, of course, but it gave me a much better deal. And because I felt better about recouping some of those costs, I was able to spend more time focusing on important stuff — you know, like getting married and spending time with loved ones — and less time wondering why everyone likes red meat so much.
That brings me to the second rule of planning a wedding: Use the right credit cards at the right time. Here's how doing that can save you money.
Weddings can be insanely expensive, even when you whittle down your budget as much as possible. But if you use those expenses to meet the spending requirement for a big sign-up bonus, you can get a decent chunk of your money back.
Say you get a card that offers a bonus worth $500 if you spend $4,000 in the first three months. The bonus effectively gives you a 12.5% discount on that spending. Some go even bigger.
When plotting your bonus strategy, try to find a card that matches your spending habits, so you don't have to kick it to the curb after earning the bonus.
Your "savings" might not always be instant, but they can pay off later in a big way. In our case, the sign-up bonus helped us pay for part of our holiday travel a few months later. And because I paid the balance on my card in full each month, interest charges didn't eat away at these rewards.
Get a card with high flat-rate rewards
I wish there were a special tiered-rewards wedding credit card that gave 5% back on wedding cake, venue reservations and swan-shaped ice sculptures. But there isn't. And tiered rewards cards are a chore to maximize when you're planning a wedding.
Say you use a card that offers 3% back on dining purchases to cover the cost of food at your wedding. That might work — but if the food comes from a catering company or is provided by the wedding venue rather than a restaurant, your card issuer might not consider it a "dining purchase." All of a sudden, you're earning a lot less in rewards than you thought.
When you're dealing with a hodgepodge of vendors, a card with high flat-rate rewards — that is, one that gives you 1.5% or 2% back on every purchase — is usually your best bet. Among no-fee options, the Wells Fargo Active Cash® Card and the Citi Double Cash® Card stand out for high rewards rates.
Use 0% APR offers to save on interest
After earning the sign-up bonus, I put the rest of my wedding purchases on a card with an introductory 0% APR period. I wanted to pay them off over a few months, so as to avoid putting a big wedding-sized dent in my emergency fund. I did that, and I earned a few hundred dollars in flat-rate rewards in the process, while paying nothing in interest. I wasn't making payments forever, either. My card gave me 15 months of 0% purchase APR, but I paid my debt down in three. If you need more time, consider a card like the U.S. Bank Visa® Platinum Card or the Citi® Diamond Preferred® Card.
As long as having a 0% card won't tempt you to overspend, using one to save on interest might work to your advantage. Just make sure you're applying for the right kind. The cards you see offered at jewelry stores, dress shops or tux shops that promise "0% interest if paid in full" by a certain date aren't the same as 0% APR cards from major issuers. They're deferred interest offers. With these cards, if you don't pay in full by the end of the period, retroactive interest will show up on your bill like a wedding crasher.
In wedding planning, moderation is important. As someone who ate most of the leftover wedding cake in one sitting the day after the ceremony, this isn't advice I'm used to giving, but hear me out: It's possible to sign up for too many credit cards, and it's possible to spend too much. Months from now, you want to be looking at an album of wedding photos and remembering your big day with fondness, not worrying about a pile of credit card debt or damaged credit scores.
To avoid that, get specific. Build a budget on the free apps offered by the WeddingWire.com or TheKnot.com, or just make a spreadsheet and gather quotes from vendors early. Take stock of the credit cards in your wallet and ask yourself whether it makes sense to get a new one. If you're hoping to take advantage of a sign-up bonus or 0% APR offer, sign up for those cards early enough so that you have them on hand when the invoices start pouring in.
Your plan might not always be perfect — especially if you think that everyone loves eggplant — but you can always readjust your spending and get back on track.
This article was written by NerdWallet and was originally published by Forbes.
Find the right credit card for you.
Whether you want to pay less interest or earn more rewards, the right card's out there. Just answer a few questions and we'll narrow the search for you.
Get Started
Get more smart money moves – straight to your inbox
Sign up and we'll send you Nerdy articles about the money topics that matter most to you along with other ways to help you get more from your money.