Are We in a Recession?
It's official: The economy entered a recession in February 2020.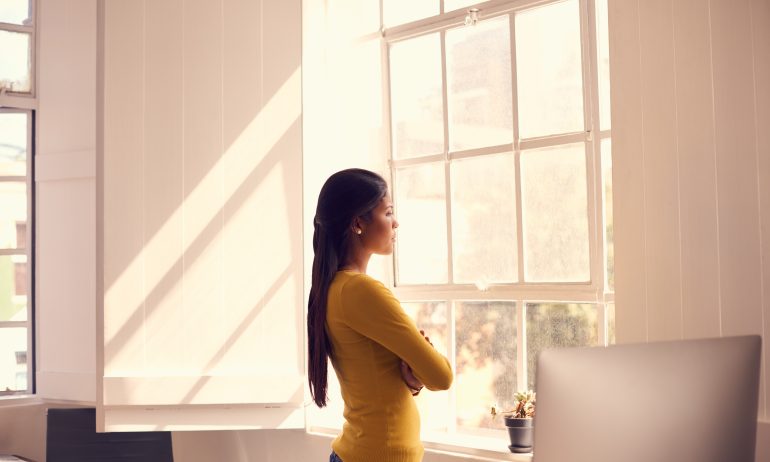 Many or all of the products featured here are from our partners who compensate us. This may influence which products we write about and where and how the product appears on a page. However, this does not influence our evaluations. Our opinions are our own. Here is a list of our partners and here's how we make money.
There's a lot of uncertainty regarding the coronavirus pandemic. But one thing is clear: It's inflicting considerable damage.
More than 100,000 people in the United States have died, nearly 2 million have fallen ill and millions have stayed home. That's sending ripple effects throughout the economy and leading many to wonder, are we in a recession?
We look to a committee with the National Bureau of Economic Research, a nonprofit research organization, for the declaration of a recession. It typically requires gathering several months of data to make such an announcement. The NBER made its official designation in early June: Yes, the U.S. entered a recession in February 2020.
The NBER looks for declines in employment, industrial production and other economic activities when assessing whether a recession is taking place. These factors are reflected in current trends. Let's dive into a few:
The unemployment rate began to climb in March and soared to 14.7% by April, according to data from the U.S. Department of Labor. For comparison, the unemployment rate peaked at 9.5% during the recession of 2007 to 2009.
While the rate has started to fall, nearly 21 million people are still unemployed.
Reduced spending and manufacturing
Physical and mental barriers are leading people to consume and produce less. Many businesses have shut down physical locations, and companies are slowing production as demand for goods and services drops.
And many are choosing not to spend even when they have the option. Consumer confidence waned in March and April due to market volatility, unemployment and uncertainty about the effects of the pandemic, according to a survey from The Conference Board, a nonprofit business think tank. Consumer confidence began to stabilize in May.
A recession is a significant decline in economic activity "lasting more than a few months," according to the NBER's definition. While it's still on the early side — shelter-in-place orders and the rise in unemployment began in March — the decline is likely to continue for at least a couple more months.
The White House's Guidelines for Opening Up America Again don't offer a deadline. States and regions must meet specific criteria before instituting the three-phase plan to loosen restrictions, which seemingly will be a prolonged process.
Even as orders begin to lift, many predict it will take time for the economy to return to a sense of normalcy.
"It's not going to come roaring back. You can't just turn the light switch off and then turn it back on without some problems. So we're in for a long slog," says Ryan Sweet, senior director of economic research at Moody's Analytics, a financial intelligence company.
NerdWallet Guide to COVID-19
Get answers about stimulus checks, debt relief, changing travel policies and managing your finances.
Historically, recessions have lasted 17 1/2 months on average, according to the NBER. But this economic climate presents unique circumstances that make it difficult to draw a direct comparison to past events.
"It's not driven by economic factors. It's driven by a health situation. So we've got to treat it differently and understand it differently. Under that set of circumstances, there's no simple way of knowing when," says Joel Naroff, president of Naroff Economics LLC, an economic consulting firm in Holland, Pennsylvania.
The economy could rebound in the second half of 2020, predicts Lynn Reaser, chief economist at Point Loma Nazarene University in San Diego. However, the recession's impact may linger long afterward.
"It's going to take years to recoup all the jobs that were lost and recoup all the lost output," Sweet says.
Will it lead to a depression?
The country hasn't entered a depression since the decade-long Great Depression in 1929. Persistent unemployment and uneasiness are raising fears that the present-day economy could be heading down that path. Many experts say it's a possibility — albeit an unlikely one.
"What people need to understand about the Great Depression is that it was a series of rolling recessions," Naroff says. "The risk here is opening the economy too soon. If you open before all is clear, and there's a reignition of the virus and you have to start shutting things down again, basically what happens is that all of the actions taken will have been lost."
The severity of the recession also depends on consumer behavior. If people are reluctant to spend once the economy reopens, that could spell trouble for recovery, Naroff says.
Whether or not this recession becomes a depression, labels won't matter much in the end.
"To many people, this could feel like a depression because unemployment is going to be high for a long period of time," Sweet says.
Millions are struggling to manage their finances, but they aren't without options.
"What's really important is that people understand the policy response and how that can help them if they've been impacted by the coronavirus," Sweet says.
Start by looking into assistance provided by federal and state governments. For example, the Coronavirus Aid, Relief, and Economic Security Act includes expanded unemployment benefits and relief for homeowners, small businesses and student loan borrowers.
We'll help you get on track
See your spending breakdown and spot opportunities to save money.