Insulin Users May Benefit From Medicare Senior Savings Model
Seniors with diabetes may pay less for insulin with this program, which debuts in some Medicare drug plans in 2021.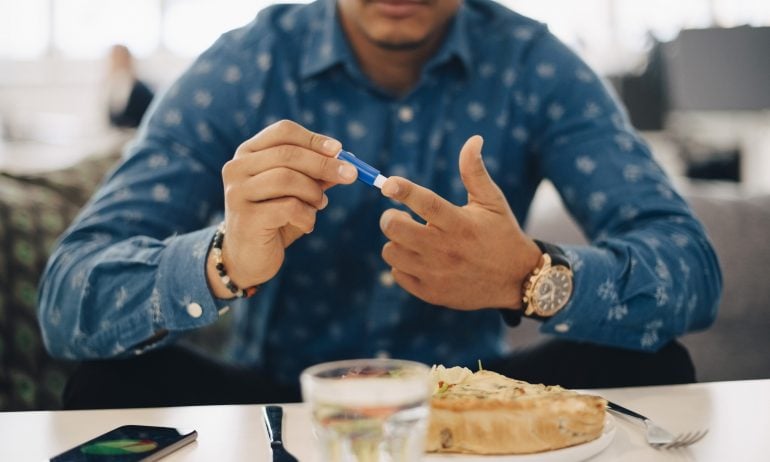 Many or all of the products featured here are from our partners who compensate us. This influences which products we write about and where and how the product appears on a page. However, this does not influence our evaluations. Our opinions are our own. Here is a list of our partners and here's how we make money.
Under the Part D Senior Savings Model, Medicare recipients in participating plans will pay no more than a $35 copay for a month's supply of insulin. The change is an effort to combat the dramatic rise in insulin prices and the subsequent burden on seniors with diabetes. People with Medicare Part D paid $984 million out-of-pocket for insulin products in 2017, quadrupling the amount paid 10 years earlier, according to an analysis from the Kaiser Family Foundation.
Diabetes is most common among people 65 and older, and more than one third of Medicare recipients have diabetes, reports the foundation. The Centers for Medicare and Medicaid Services, or CMS, estimates the Senior Savings Model could save people with diabetes an average of $446 annually, or 66%, in out-of-pocket insulin costs.
More than 1,750 Medicare Part D prescription drug plans and Medicare Advantage Plans with prescription drug coverage in all 50 states applied to be part of the new program in time for the 2021 open enrollment period going on through Dec. 7, according to CMS. That means it's worth checking to see if a plan in your coverage area will offer the new price.
Welcome as savings on insulin are, the rollout of the new plan has come with plenty of caveats. Different insurers are classifying the program in different ways, so it can be hard to tell if your current plan or plans you are considering offer the lower prices. And even if you find a participating plan, it may not cover the type of insulin you are currently prescribed.
It's great to see affordable insulin, says Sue A. Greeno, a Medicare advocate at the Center for Medicare Advocacy, "but there's still a lot of confusion when it comes to choosing prescription drug coverage."
Here's what diabetes patients need to know to make the most of their Medicare Part D prescription drug coverage.
Shopping for Medicare plans? We have you covered.
Best for member satisfaction

MEDICARE SUPPLEMENT, or Medigap, is private health insurance that covers "gaps" in traditional Medicare coverage. Compare options from our Medigap roundup.

Best for Medigap plan options

Best for premium discounts

Star ratings from CMS and on a 5-★ scale.
How Medicare Part D works
You can purchase Medicare Part D prescription drug coverage in two ways — through a stand-alone Medicare Part D plan or via a Medicare Advantage Plan that includes Part D prescription drug coverage. Both types of plans are sold by private insurers.
All plans must meet a standard level of coverage set by Medicare. This means they must cover the same categories of drugs, such as diabetes medicines, but plans can choose which specific drugs are covered in each category. That said, they must include at least two drugs in the most commonly prescribed categories.
For diabetes drugs, Medicare Part D plans are required to cover injectable and inhaled insulins. (External insulin pumps and the insulin may be covered under Medicare Part B.) The Senior Savings Model is available only through what's known as enhanced Medicare Part D plans. These often come with slightly higher premiums but cover a wider variety of medicines.
Read more about the different parts of Medicare and what they cover.
What you'll pay for insulin with Senior Savings
The new program changes the complicated formula used to determine what insurers and manufacturers can charge for insulin products in a way that reduces the patients' costs. In addition, with the new program, insulin copays aren't subject to deductibles or what's known as the coverage gap.
The coverage gap kicks in when you and your insurer have paid $4,130 in prescription drug costs for plan year 2021. After that, you are responsible for 25% of all of your medicine costs. With insulin, however, members of participating plans continue to pay only the monthly copay up to $35.
Once Medicare beneficiaries spend a total of $6,550 out-of-pocket on prescription drugs in 2021, (not including the insurer's portion), they enter Part D's catastrophic coverage phase. In this phase, out-of-pocket drug costs are drastically reduced and people with diabetes will pay 5% of insulin costs, whether or not they are in a plan with the Senior Savings Model.
What to look for when comparing plans
You can look for Medicare Part D and Medicare Advantage plans that are participating in the new program on Medicare.gov's plan finder. The tool allows you to screen for the Medicare Part D and Medicare Advantage plans with Part D coverage offered in your area. When using the tool, you can enter the list of medicines you take, including insulin. And you can filter for plans that are part of the Senior Savings Model. (Click on "Filter Plans," then check the insulin savings box.)
Keep in mind these are early days and insurers are testing the program with limited rollouts. Aetna, for example, is focusing mainly on Florida. "Aetna is participating in limited geographic areas at first," says Christopher Ciano, president of Aetna Medicare. "We want to learn if the program has long-term viability that will drive savings."
If you do find participating plans, be sure to look at the plan details to make sure the type of insulin you take is on the list of drugs covered by the insurers in your search. This list is also called a formulary. You'll be able to compare prices at up to five pharmacies in your area, including a mail order option. You may find a variety of copays among pharmacies with some charging the full $35 maximum for a monthly dose of insulin while others charge much less.
Finally, be sure to compare all the plans that come up in your search carefully, even those that don't participate in the insulin savings program. Depending on what other medications you take and the cost of the type of insulin you need, you may find that a plan with low or no deductibles and low copays on all of your medicines may be less expensive than a plan in the Senior Savings Model that may have high out-of-pocket costs for your other prescription drugs.
Medicare covers a lot of things — but not everything. Find out where Medicare stands in the following areas:
Get more smart money moves – straight to your inbox
Sign up and we'll send you Nerdy articles about the money topics that matter most to you along with other ways to help you get more from your money.