Medicare Part B: What It Covers, What It Costs
Medicare Part B is outpatient coverage that helps pay for doctor visits and other medical services and supplies.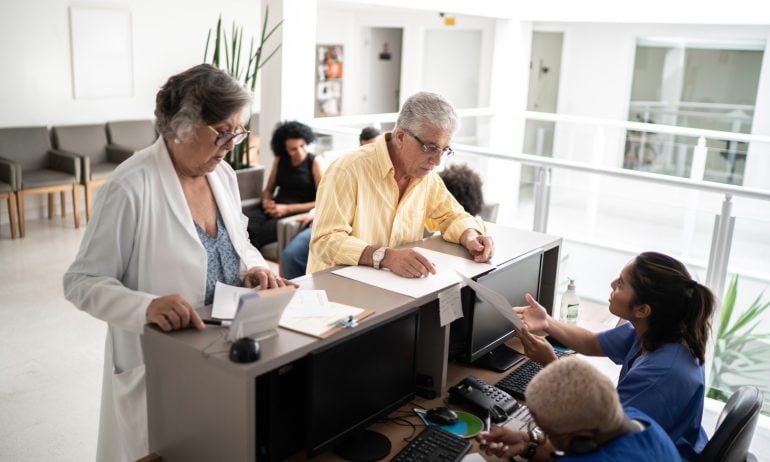 Many or all of the products featured here are from our partners who compensate us. This may influence which products we write about and where and how the product appears on a page. However, this does not influence our evaluations. Our opinions are our own. Here is a list of our partners and here's how we make money.
Medicare Part B is the portion of Medicare best known for covering doctor visits and other outpatient medical services. In 2021, most people pay a monthly premium of $148.50. This premium is adjusted each year and can vary depending on your income.
You at age 65 and should sign up during the Initial Enrollment Period, the seven-month period around your birthday. Hitting the deadline is important. If you delay, you may face an expensive penalty.
It's important to remember that , including Part B, won't take care of all of your health care costs. There are premiums, deductibles and copays. And some elements of health care, including long-term care, may not be covered at all by Medicare. "Even people who have made the best plans for retirement don't always consider health care costs — including costs associated with Medicare — in their retirement budget," says Phil Moeller, author of "Get What's Yours for Medicare: Maximize Your Coverage, Minimize Your Costs."
Original Medicare is made up of two parts: and Part B.
While generally covers hospital stays and some skilled nursing facilities, Part B generally covers the following:
Premiums can vary depending on your income.
In 2021, the majority of people pay Medicare Part B monthly premiums of $148.50. (Premium amounts are adjusted each year.)
High-income beneficiaries may pay more than that. Beneficiaries whose income exceeds $88,000 will pay what's known as an income-related monthly adjustment amount, or IRMAA, in addition to the standard monthly Part B premium. Total premium payments for people whose income exceeds $88,000 range from $207.90 to $504.90, depending on income. For a full list of adjusted premium costs, visit
Medicare Part B comes with an annual deductible. In 2021, it is $203.
After you meet the deductible for the year, you typically pay 20% of the Medicare-approved amount for doctor services and other Medicare benefits. This assumes your doctor or other provider accepts Medicare assignment. In other words, your provider will accept the amount Medicare agrees to pay for the treatment or service. Some providers who charge more than the Medicare-assigned amount may bill patients for the difference. Always check with a new physician or other health care provider that they accept the amount Medicare pays.
Many Original Medicare enrollees purchase , also called , to help pay the out-of-pocket costs associated with Medicare Part B.
It's extremely important to sign up for Medicare Part B on time. If you decide not to sign up for Part B at age 65 when you become eligible and later change your mind, you'll pay an extra 10% above the standard premium cost for every 12-month period you delayed. What's more, you'll pay extra for the entire time you are covered by Medicare. That extra premium can add up to a significant amount over the course of your retirement.
Many people who sign up for Medicare choose a plan, also known as Medicare Part C.
Medicare-approved private insurers administer Medicare Advantage plans. These policies must provide all of the same coverage in Original Medicare Part A and Part B. Often these policies include Medicare Part D prescription drug coverage and extra benefits not covered by Original Medicare, such as dental, vision, wellness and some home-care benefits.
In order to offer these extra benefits and keep costs down, Medicare Advantage plans often negotiate with a network of providers that plan members must use. This is different from Original Medicare in which beneficiaries may receive treatment from any Medicare provider.
If you choose Medicare Advantage, it's important to compare total costs — including premiums, cost sharing and out-of-network charges — among plans and versus Original Medicare. Be aware that cost sharing and benefits of the plan you choose can change from year to year, so you need to evaluate coverage during every Medicare open enrollment period. Medicare.gov offers a to help compare Medicare Advantage Plans.
Keep in mind: If you choose Medicare Advantage, then decide to move back to Original Medicare with Medicare Supplement Insurance, you may pay more than you expected. That's because in all but four states, if you don't sign up for a Medigap policy within six months of the time your Original Part B Medicare insurance begins, insurers may deny you coverage based on preexisting conditions, such as asthma, heart disease, diabetes or a pending surgery.
If you have additional questions about Medicare, visit Medicare.gov or call 800-MEDICARE (800-633-4227, TTY: 877-486-2048).