What Car Payment Can You Afford?
It's smart to spend less than 10% of your monthly take-home pay, but there's some flexibility with this budgeting approach.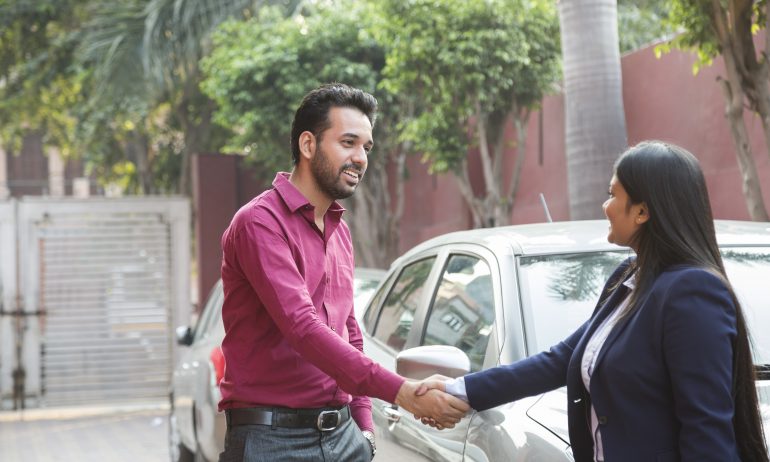 Many or all of the products featured here are from our partners who compensate us. This may influence which products we write about and where and how the product appears on a page. However, this does not influence our evaluations. Our opinions are our own. Here is a list of our partners and here's how we make money.
Before you hit the dealership you should take a moment to decide what monthly car payment you can afford.
To cut to the chase, it's smart to spend less than 10% of your monthly take-home pay on your car payment, so you can keep your total car costs below 15% to 20% of your income.
That might leave you feeling you can afford only a beat-up Yugo. But there's an interesting caveat to this rule of thumb. It's called the balanced budget approach. Here's how it works.
Balance your budget, your life and your car payment
NerdWallet recommends using the 50-30-20 rule, dividing your take-home pay into three general spending categories:
50% for needs such as housing, food and transportation — which, in this case, is your monthly car payment and related auto expenses (more on that below).

30% for wants, such as entertainment, travel and other nonessential items.

20% for savings, paying off credit cards and meeting long-range financial goals.
The monthly payment for your auto loan definitely falls into the "needs" category. For many people, a car is a lifeline, connecting them to essential tasks such as holding down a job or transporting the kids to school.
However, there's some flexibility in the balanced budget approach. If you want a more expensive car, you could consider part of your monthly payment as spending in the "wants" category, so long as you keep the budget balanced overall.
So, while 10% of your take-home pay for your car payment may sound restrictive, if you economize in other budget areas, then you could choose to spend more on your car.
Find preapproved car loans
Your payment isn't your only car expense
Don't forget that on top of your car payment there are extra auto-related expenses. This includes insurance, gas, repairs and maintenance, parking and even tolls.
Many financial experts recommend keeping total car costs below 15% to 20% of your take-home pay. So while your car payment is 10% of your take-home pay, you should plan on spending another 5% on car expenses.
For example, if your monthly paycheck is $3,000, your car payment would be about $300 and you'd plan on spending another $150 on automotive expenses.
Avoid a costly car payment mistake
Once you've determined the monthly car payment you can afford, consider what goes on under the hood when the lender calculates your payment. Factors include:
The annual percentage rate, or APR, which includes the interest rate.
You could waste a lot of money by focusing only on the monthly payment and ignoring your total financing costs. For example, take a look at how two vastly different loans can result in the same car payment.
Also keep in mind that the interest rate on your auto loan will depend on your credit score and other factors. Lower credit scores generally result in higher rates. It's smart to compare offers to find the most competitive rate on your auto loan, but it's especially important if you have bad credit.
Additionally, while many people take out a longer loan to get a more affordable car payment, they often end up paying considerably more in interest over the life of the loan. (NerdWallet recommends loans of no more than 36 months for used cars and 60 months for new cars.)
Get what you want — but stay balanced
Now that you know what car payment you can afford and how it fits into your budget, you'll be better equipped to negotiate a good deal.
And while most financial experts recommend economizing on auto expenses, if upgrading your ride is important to you, go for it — as long as the total budget remains balanced.
Get more smart money moves – straight to your inbox
Sign up and we'll send you Nerdy articles about the money topics that matter most to you along with other ways to help you get more from your money.