FHA Loan: What You Need to Know
An FHA loan is a mortgage insured by the Federal Housing Administration. Allowing down payments as low as 3.5% with a 580 FICO, FHA loans are helpful for buyers with limited savings or lower credit scores.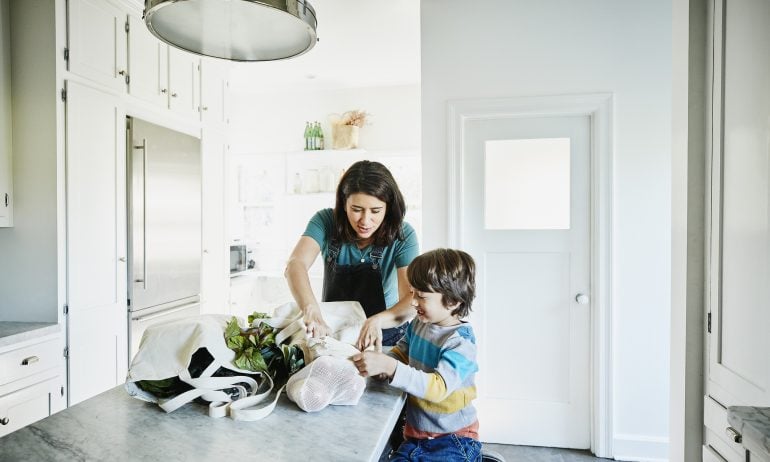 Many or all of the products featured here are from our partners who compensate us. This may influence which products we write about and where and how the product appears on a page. However, this does not influence our evaluations. Our opinions are our own. Here is a list of our partners and here's how we make money.
Whether you're already sure an FHA loan is right for you or you're still trying to figure out just what the FHA is, we've broken it all down. No need to wade through the FHA handbook; find answers to all your FHA FAQs right here.
An FHA loan is a mortgage insured by the Federal Housing Administration. With a minimum 3.5% down payment for borrowers with a credit score of 580 or higher, FHA loans are popular among first-time home buyers who have little savings or have credit challenges.
The FHA insures mortgages issued by lenders, like banks, credit unions and nonbanks. That insurance protects lenders in case of default, which is why FHA lenders are willing to offer favorable terms to borrowers who might not otherwise qualify for a home loan. Only an FHA-approved lender can issue an FHA-insured loan.
An FHA home loan can be used to buy or refinance single-family houses, two- to four-unit multifamily homes,  and certain .
Specific types of FHA loans can also be used for new construction or for renovating an existing home.
The Federal Housing Administration — better known as the FHA — has been part of the U.S. Department of Housing and Urban Development since 1965. But the FHA actually began more than 30 years before that, as a component of the New Deal.
In addition to a stock market crash and the Dust Bowl drought, the Great Depression saw a housing market bubble burst. By early 1933, roughly half of American homeowners had defaulted on their mortgages.
The FHA was created as part of the National Housing Act of 1934 to stem the tide of foreclosures and help make homeownership more affordable. It established the 20% down payment as a new norm by insuring mortgages for up to 80% of a home's value — previously, homeowners had been limited to borrowing 50%-60%.
Today, the FHA insures loans for about 8 million single-family homes.
It's easier to qualify for an FHA loan than for a , which is a mortgage that isn't insured or guaranteed by the federal government.
The FHA offers a variety of loan options, from fairly standard purchase loans to products designed to meet highly specific needs. Here's an overview of FHA loans commonly used to buy a house:
» MORE: Learn more about and
No matter which type of FHA loan you're seeking, there will be limits on the mortgage amount. These limits vary by county. FHA loan limits in 2021 range from $356,362 to $822,375.
The upper limit for FHA loans on single-family homes in low-cost counties is $356,362. An example is Lucas County, Ohio, where Toledo is located. The upper limit for FHA loans in the highest-cost counties is $822,375 — San Francisco County, California, for example.
Some counties have housing prices that fall somewhere in between, so the FHA loan limits are in the middle, too. An example is Denver County, Colorado, where the 2021 FHA loan limit is $596,850. You can visit to find the FHA loan limit in any county.
You'll need to satisfy a number of requirements to qualify for an FHA loan. It's important to note that these are the FHA's minimum requirements and lenders may have additional stipulations. To make sure you get the and loan terms, shop more than one FHA-approved lender and compare offers.
The minimum credit score for an FHA loan is 500. If your score falls between 500 and 579, you can still qualify for an FHA loan, but you'll need to make a larger down payment. Again, these are FHA guidelines — individual lenders can opt to require a higher minimum credit score.
Though the FHA has not changed its requirements, the combined effects of the COVID-19 pandemic and recession have led many FHA lenders to raise their minimum required credit scores for FHA loans. Many lenders currently ask for a credit score of at least 620.
If you've got a credit score of 580 or higher, your can be as low as 3.5%. A credit score that's between 500 and 579 means you'll have to plunk down 10% of the purchase price.
The good news? It doesn't all have to come from savings. You can use gift money for your FHA down payment, so long as the donor provides a letter with their contact information, their relationship to you, the amount of the gift and a statement that no repayment is expected.
The FHA requires a DTI of less than 50, meaning that your total monthly debt payments can't be more than 50% of your pretax income. This includes debts that you aren't actively paying.
For student loans in deferment, your FHA loan underwriter will include 1% of the loan's total as the monthly payment amount. For other types of loans that you aren't currently repaying, underwriters will use 5% of the loan's total to calculate your DTI.
The property you're trying to buy with an FHA loan, whether it's a house, a condo, a manufactured home or a multifamily home, has to meet FHA minimum property requirements.
The FHA requires an appraisal that's separate (and different from) a . They want to be sure the home is a good investment — in other words, worth what you're paying for it — and ensure that it meets basic safety and livability standards.
For an FHA 203(k) , the property may undergo two separate appraisals: An "as is" appraisal that assesses its current state, and an "after improved" appraisal estimating the value once the work is completed.
» MORE: What's included in an
is built into every loan. When you get an FHA mortgage, you'll make an upfront mortgage insurance payment (which can be rolled into the total amount of the loan), and make monthly payments thereafter.
If you start with a down payment of less than 10%, you'll continue to pay mortgage insurance for the life of the loan. Those with 10% down payments will pay FHA mortgage insurance for 11 years.
Applying for an FHA loan will require personal and financial documents, including but not limited to:
Your lender may be able to automatically retrieve some required documentation, like credit reports, tax returns and employment records. Special circumstances — like if you're a student, or you don't have a credit score — may require additional paperwork.
Even if your credit score and monthly budget leave you without other choices, be aware that FHA loans involve some trade-offs.
Disadvantages of FHA loans:
Even though the FHA sets standard requirements, FHA-approved lenders' requirements may be different.
and fees also vary by lender, so it's important to comparison shop. Getting a from more than one lender can help you compare the total cost of the loan.
Although HUD's minimum requirements for FHA loans haven't changed, seem to favor applicants with higher credit scores. Over 72% of FHA borrowers had FICO scores of 650 or above in July 2021, with an average score of 676 for FHA purchase loans, according to data from ICE Mortgage Technology.
On average, it took longer to close an FHA purchase loan in July 2021 than in July 2020 — 51 days compared with 46 days a year earlier. Conventional purchase loans, meanwhile, closed in an average of 47 days in July 2021, according to ICE data.
HUD data shows that in July 2021, over 33% of FHA loans were for amounts between $250,000 and $399,000 — by far the most common range. Nearly 70% of FHA loans issued during this period covered at least 96% of the home's estimated value, implying that most FHA buyers are making the minimum FHA down payment of 3.5%.