ADP RUN Payroll Review 2023: Cost & Features
ADP makes it easy for a business to create a custom payroll package by offering numerous plans and add-on features.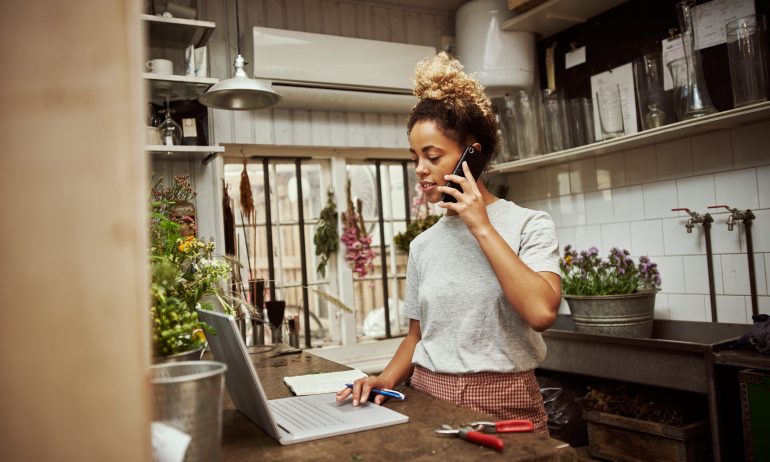 Many or all of the products featured here are from our partners who compensate us. This influences which products we write about and where and how the product appears on a page. However, this does not influence our evaluations. Our opinions are our own. Here is a list of our partners and here's how we make money.
ADP, a giant in the payroll processing industry, offers payroll products to fit businesses of all sizes. ADP RUN is geared for small businesses with one to 49 employees, but can also be used by businesses with 50 or more employees.
ADP RUN offers full-service payroll features such as tax filings and payments, multi-state payroll and payroll debit cards at all plan levels. With expanded HR features available at higher plan levels, ADP RUN is a good choice if you value scalability and add-on features, such as employee retirement, workers' compensation and employee health insurance plans. However, higher-tier plans and add-ons drive up the cost of a product and ADP's lack of pricing transparency makes it difficult to compare RUN to its competitors.
| | |
| --- | --- |
| | Pricing starts at $79 per month plus $4 per employee. Businesses can request a price quote on the company's website. Three months free on all plans, terms and conditions apply. |
| | Yes. All four plans calculate, file and deposit federal and state payroll taxes. |
| Ability to manage employee benefits | Good. Benefits administration, retirement, health insurance and workers' compensation features are available as add-ons. |
| Employee access to portal | Excellent. ADP provides 24/7 support from payroll experts. For HR-specific questions, the HR Pro plans offer phone access to a designated team of HR Business Advisors, available for one-off questions and scheduled check-ins. |
| | Excellent. ADP provides continuous 24/7 support from payroll experts to answer complex payroll questions from businesses running payroll. For HR-specific questions, the HR Pro plans offer phone access to a designated team of HR Business Advisors, available for one-off questions and scheduled check-ins. |
| | Good. Its user interface is simple and straightforward. You are alerted to confirm each step of the payroll process and can easily move between a computer and mobile device. |
How does ADP RUN payroll work?
ADP RUN offers a choice of four packages that help customers manage their payroll, tax and compliance functions, and can be expanded to support HR, recruiting and employee benefits as well. You can request a price quote on the company's website, and introductory promotions such as three months free are sometimes offered.
After getting RUN set up, you can initiate a payroll run from the main dashboard, review employee time cards, edit hours and rates, preview the cash needed for the pay period and complete your payroll run from your computer, smartphone or tablet. A short demo is available on the ADP website, or you can schedule a live demo through a sales rep.
Both internal and external audits of technology, security and related controls are conducted across the enterprise multiple times a year, and you'll receive security updates and alerts from ADP to help you protect your business and employees.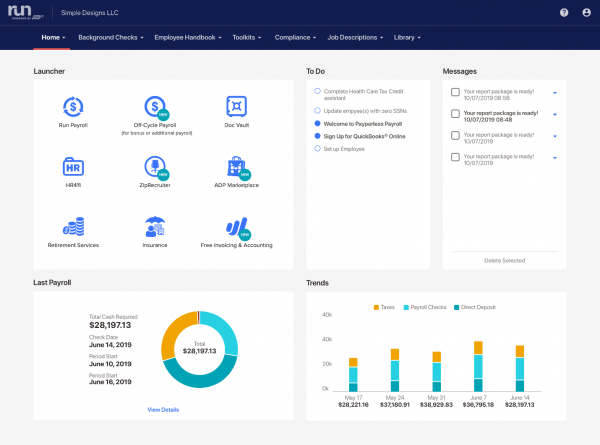 ADP RUN pricing and features
RUN is recommended for businesses with up to 49 employees, but it can still be used by larger businesses. Four packages are offered with additional features included as you move up the tiers. Add-ons can be selected to further customize each plan.
Essential — $79 per month plus $4 per employee per month.
Enhanced — Pricing available through sales rep.
Complete — Pricing available through sales rep.
HR Pro — Pricing available through sales rep.
Add-on features - Pricing available through sales rep.
In addition to RUN, ADP offers a number of other payroll plans. Roll by ADP is a chat-based mobile app that can be used to pay employees and contractors anywhere in the U.S. Also, ADP's Workforce Now, with three tiered packages, is an option for businesses with 50 to 999 employees. ADP also offers plans for organizations with 1,000 or more employees or ones that employ workers over multiple countries. These include ADP Global Payroll, ADP Celergo and ADP GlobalView Payroll.
Top-notch payroll features, even with basic plan
RUN offers an impressive list of key payroll features, even at the lowest-tier Essential plan. You can run payroll from your office computer or a mobile device and pay your employees by check, direct deposit or through ADP's direct debit card. RUN offers expanded tax filing services that include responding to inquiries from taxing agencies on your company's behalf. Payroll and HR reports, employee access and new hire onboarding features are also included with the Essential plan and the creation and delivery of W-2s and 1099s is available for an additional fee.
Add-ons such as time tracking and retirement services
As your payroll and HR needs change, you can add other ADP offerings such as time tracking, retirement services and insurance benefits. ADP's time and attendance feature is a cloud-based tool that allows you to schedule employees and have them clock in and out of shifts. The company's retirement services help you select retirement savings accounts to offer to employees. Insurance benefits include access to health care plans from an established network of providers and pay-as-you-go workers' compensation insurance.
Because products are designed around size, a business has the option to scale up or down to other ADP products if RUN isn't the right fit. Small businesses that have grown beyond 49 employees have the option to move to ADP's Workforce Now packages that have core payroll features plus enhanced HR tools including talent acquisition, onboarding and employee performance features. Alternatively, a business that has reduced its workforce to 10 or fewer employees could move to Roll by ADP, a lower-cost option. It includes payroll, tax filing and employee self-service features at a monthly cost of $29 plus $5 per employee.
Lack of pricing transparency
Unlike some ADP alternatives, the company doesn't provide the cost of its RUN payroll packages on its website. To get a price quote for the plans and features you want, you'll have to talk to a sales rep. This lack of pricing transparency makes it difficult to quickly compare ADP payroll options against other similar payroll plans
Additional cost for many features
To get all the features you want for RUN, you may have to purchase a higher-tiered plan or pay for add-ons. For example, workers' compensation and employee benefits plans are features that must be added to plans. Also, HR support is limited at the base level and for expanded HR features, you will need to move up to either the Complete or HR Pro plan.
In general, customer satisfaction ratings for ADP payroll services are positive. Reviewers commented frequently that ADP customer service reps are courteous and helpful, although comments were also made about long hold times and limited help during setup. Other positive comments included that the platform was easy to navigate, employee access to update information was helpful and that the HR tools in addition to payroll made it an all-in-one platform.
On the other hand, comments on the fee structure and not wanting to pay extra for services were mentioned by customers who rated ADP highly overall.
QuickBooks Payroll starts at $45 per month plus $5 per person per month (option for 50% off for three months or free trial for 30 days). It offers unlimited payroll runs at every plan level, while ADP RUN charges you based on frequency. If you currently use QuickBooks Online, accounting integration will be the easiest with QuickBooks Payroll, although ADP RUN also integrates with QuickBooks Online and other accounting software. However, without the additional purchase of QuickBooks Online, integration with other products is limited. Plus, you'll have to pay for a higher-tier plan if you want help with payroll setup services and time-tracking features.
Gusto, starting at $40 per month plus $6 per person per month, has transparent pricing for two of its three plans, while ADP RUN requires you to get a quote from a sales rep. Gusto offers unlimited payroll runs, health benefits administration and employee self-service at its lowest-tier Simple plan. To get similar features with RUN, you would need to purchase add-ons. Gusto offers expanded HR features with the Premium plan, but this comes at a quote-based price. And its live support has limited hours, while ADP RUN has live support available 24/7.
OnPay offers a single plan starting at $40 per month plus $6 per person with robust payroll services including unlimited monthly payroll runs, multistate payroll and federal, state and local tax filings. It's available in all 50 states and the first month is free. Automated onboarding tasks, e-signatures, state new hire reporting, compliance audits and a resource library are some of the available HR features. Licensed brokers can help you set up medical, vision and dental insurance. However, if you're interested in customizing a plan or want the option to move between plans, ADP may be a better choice for you. And while OnPay integrates with QuickBooks, Xero and some other apps, it can't match the integration options offered by ADP.