Bookkeeper vs. Accountant: Which Does Your Business Need?
Bookkeepers are often involved in a business's day-to-day operations, while accountants take a higher-level view.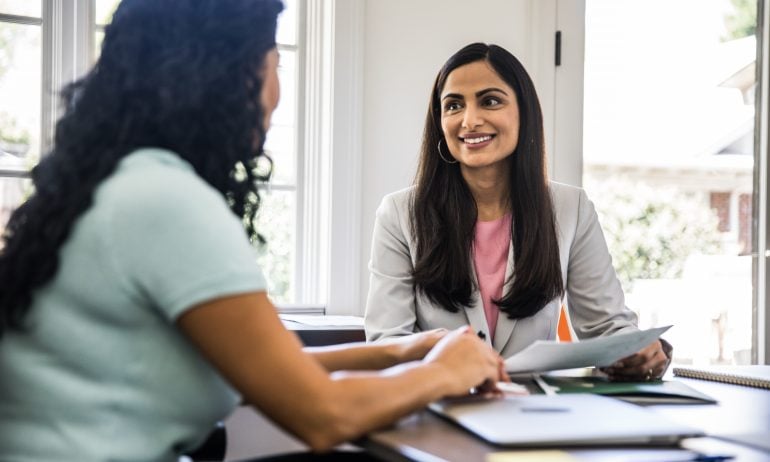 Many or all of the products featured here are from our partners who compensate us. This may influence which products we write about and where and how the product appears on a page. However, this does not influence our evaluations. Our opinions are our own. Here is a list of our partners and here's how we make money.
The terms "bookkeeper" and "accountant" are often used interchangeably, and both types of professionals share the same long-term goal: helping your business financially thrive. But bookkeepers focus more on daily responsibilities, like recording transactions, while accountants provide overarching financial advice and tax guidance.
If you're a small-business owner debating whether to add a bookkeeper or an accountant, the right choice will depend on your unique needs. Here's what a bookkeeper does, as well as what an accountant does, so you can determine the best option to manage your business's important financial tasks.
What does a bookkeeper do vs. an accountant?
Bookkeeping for a small business revolves around keeping accurate records of all financial activity. Bookkeepers do this by being heavily involved in a business's daily operations, such as:
Keeping track of financial transactions.

Reconciling bank accounts.

Handling both accounts receivable and accounts payable.
Many bookkeepers also prepare financial statements and may even assume certain payroll responsibilities. These tasks can include setting up and managing the business's payroll system.
Since accountants specialize in tax planning, they can also advise business owners to make sure they're paying their taxes appropriately and taking steps to minimize their tax liability.
Do you need a bookkeeper or accountant?
Bookkeepers and accountants can be in-house employees, freelancers or external companies and generally work as a team. For example, bookkeepers are often the ones who compile important financial documents that accountants need during tax season. But each can help your small business stay on top of its finances in unique ways.
When to consider a bookkeeper
Here are some instances in which your business may need a bookkeeper:
You need day-to-day assistance. Bookkeepers are entrenched in daily business operations, uniquely positioning them to troubleshoot financial issues and predict challenges before they arise. They can likely also provide useful insights on a number of topics, like modifying your business's budget and making your accounting protocols more efficient.
Your business begins scaling quickly. You may not mind balancing the books and handling financial transactions yourself, and software like QuickBooks or Xero can automate a significant amount of this work. But as your business expands, bringing on a bookkeeper can help alleviate your workload and free up your time to devote to other areas of the business.
You want a trusted advisor. Many bookkeepers take on this role for their employer. This may be especially true if you partner with a bookkeeper who understands your specific industry. For example, bookkeepers may be aware of new accounting technologies and trends that could help streamline procedures or increase profits.
When to consider an accountant
You may want to hire an accountant in the following situations:
You want tax help. When it comes to drawing up tax documents and keeping your overall financial records error-free, an accountant can provide peace of mind. If you want someone with a higher level of mastery in accounting, you could consider a certified public accountant. CPAs are accountants who have been practicing longer, completed a higher level of education and passed the CPA exam. CPAs also need to keep their certification current, so they're often up to date on important tax law changes.
You're applying for a small-business loan. Since accountants have a handle on your company's overarching finances, having one may come in handy if a lender asks you complicated questions about your business's performance. An accountant may also be able to advise you regarding the interest rates, terms and conditions of any small-business loan offer you receive.
You need long-term guidance. Accountants often take a higher-level view of your financial operations, which can help make the right accountant a good source when you're faced with important financial decisions. Many small-business owners turn to their accountants for long-term advice, big and small.