QuickBooks for Mac 2021 Review
Here's what you should know when evaluating QuickBooks for Mac 2021 for your small business.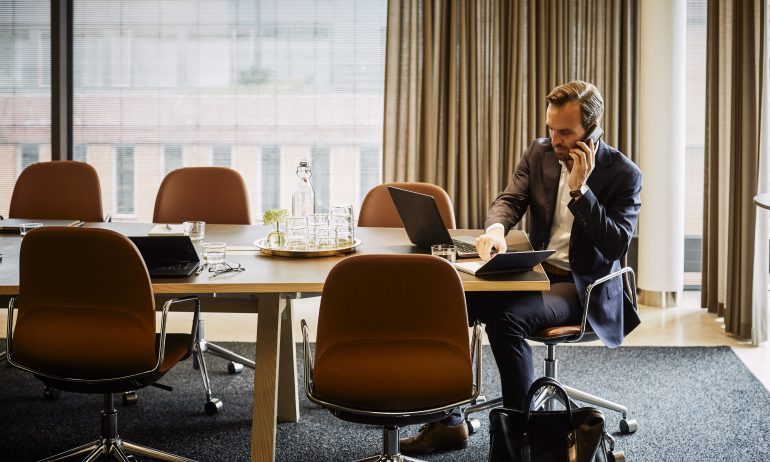 Many or all of the products featured here are from our partners who compensate us. This may influence which products we write about and where and how the product appears on a page. However, this does not influence our evaluations. Our opinions are our own. Here is a list of our partners and here's how we make money.
Software company Intuit is one of the best-known resources for financial tools. Its Apple-exclusive product, QuickBooks Desktop for Mac 2021 (or, QuickBooks for Mac), works well for a niche group of small-business owners.
QuickBooks for Mac is a good fit for users who:
Heavily rely on Apple computers.

Have three or fewer employees who will use their accounting software.

Prefer having their software on a computer rather than in the cloud.

Prefer paying a flat rate upfront rather than a monthly subscription fee.

Don't need mobile access to their accounting system.
Existing QuickBooks for Mac users will appreciate several new features for 2021 that simplify payment collection, including automated reminders, the ability to combine multiple invoices in one email, and an online payment portal.
QuickBooks for Mac users also need to monitor several factors, including:
Maintaining their own data backups and security.

Keeping track of payroll or payments through a separate system.

Paying additional fees for customer support.
Overall, QuickBooks for Mac 2021 can work well if you're just starting out. But if you're planning to scale your business or anticipate more complex needs in the future, this version of QuickBooks may be limiting.
| | |
| --- | --- |
| | $399.99 one-time payment for a single-user license $649.99 for two users $899.99 for three users |
| | Three; all users must be on the same network. |
| Easy sharing with accountants? | It depends. Files can be shared, but conversion can be tricky if the accountant has a different system. |
| Does it integrate with other programs or tools? | No. QuickBooks for Mac 2021 does not integrate with any other tools such as QuickBooks Payroll or QuickBooks Payments. |
| | |
QuickBooks for Mac 2021 pricing
QuickBooks for Mac 2021 starts at $399.99 for a single-user license. If multiple people need access to QuickBooks at the same time, you can purchase a multiuser license for up to three simultaneous users.
Business owners who like owning their software outright may appreciate the simplicity of a one-time purchase. But Intuit discontinues software updates on all desktop programs after three years. So by 2024, you will no longer be able to update your system or receive customer support for QuickBooks for Mac 2021.
What businesses should keep in mind before using QuickBooks for Mac 2021
Software compatibility between Windows and Mac
While this version of QuickBooks is designed to be compatible with your Mac, you'll be locked into Apple's ecosystem for the duration of your software use. If you decide to switch computing systems to Windows, for example, you'll need to purchase a new version of QuickBooks that's compatible with your new operating system.
If your accountant uses a Windows version of QuickBooks, you will need to export a copy of your company file every time you have them look over your books. (They will also need to be running the equivalent version of your software; in this case, they would need to use a 2021 version of QuickBooks.) After receiving the files back from your accountant, you would have to convert the file back into your QuickBooks for Mac system.
You'll also need additional software to use all of the tools and features: Sending invoices by email will require an email client such as Microsoft Outlook or Apple Mail.
Finally, QuickBooks for Mac doesn't integrate with any other tools — including Intuit's own Payroll and Payments software. Users looking to incorporate payroll or payment processing into their accounting workflow will need to purchase separate licenses for additional software, then manually import data between the two systems every time an update needs to be made. (In contrast, QuickBooks Online users can browse a marketplace of more than 600 integrated applications designed to connect dozens of functions into QuickBooks.)
In short, QuickBooks for Mac 2021 is a good fit only for businesses that have no issue with any of the above restrictions, and see no reason to update their accounting software within the next three years.
Data integrity and security
Since QuickBooks for Mac 2021 lives on your computer rather than in the cloud, you'll need to be vigilant about backing up your data on a regular basis. While QuickBooks for Mac 2021 supports automatic backups, you are responsible for deciding where your company file will be stored, and how often you update that backup.
High possibility of user error
If you have multiple team members using QuickBooks for Mac, you'll need to create a workflow to ensure no one inadvertently overrides someone else's changes.
In single-user mode, nobody can make changes to QuickBooks until the first user has finished and saved their work. Meanwhile, some actions can only be completed in single-user mode, which means you can't leave QuickBooks running in multiuser mode all the time. You'll also need to set up a designated computer to run QuickBooks Server if you're using the system in multiuser mode.
And since all of your accounting data is stored on your computer rather than in the cloud, you'll also need to make sure that you set up a fail-proof backup system. Otherwise, one ill-timed computer crash or an outdated backup of your data could completely erase all of your bookkeeping.
If you're trying to set up a streamlined workflow, QuickBooks for Mac 2021 may not be the best fit for you. Instead, consider QuickBooks Online, which will automatically allow every user on your plan to make necessary updates in real time without overriding anyone else's work.
Less functionality compared with QuickBooks for Windows
If you're a former user of QuickBooks Desktop on a Windows operating system, we have bad news. While QuickBooks for Mac is very similar in functionality, the system simply isn't as robust as its Windows cousin. But the Mac version could still be a strong contender among desktop accounting software.
Is the future uncertain for QuickBooks for Mac?
Even if you fall in love with QuickBooks for Mac 2021, there's no guarantee that future versions will be available.
Intuit doesn't promote QuickBooks for Mac as rigorously as it does QuickBooks Online, a web-based version of accounting software based on a monthly subscription fee. If you simply look for "QuickBooks" on Intuit's website, the main page for QuickBooks prominently features various plans for the online versions.
In contrast, you'll have to scroll all the way to the very bottom of the website to find the full list of QuickBooks products.
Several years back, Intuit announced that it would discontinue the Mac version of its desktop software after 2016. Of course, that decision was reversed later on, and Intuit continues to provide desktop accounting software for both Mac and Windows users.
But the fact remains that the product's future was uncertain at one point in history, and there's no guarantee that it won't happen again.
Is QuickBooks for Mac 2021 right for your business?
Intuit's QuickBooks for Mac 2021 is designed with a very specific customer in mind. For example, self-employed freelancers and creatives who prefer Apple products could do well with this version of QuickBooks, especially if they do all of their own bookkeeping. But a traditional company with a growing accounting department may find itself spending more and more time adapting to the limitations of this product as the team expands.
Unless you're certain that QuickBooks for Mac is the best tool for your accounting needs, you may want to evaluate some other options before making a final decision.