Best Credit Card Readers for iPhone in 2021
The best card readers for your iPhone are reasonably priced, compatible with your phone, functional and secure.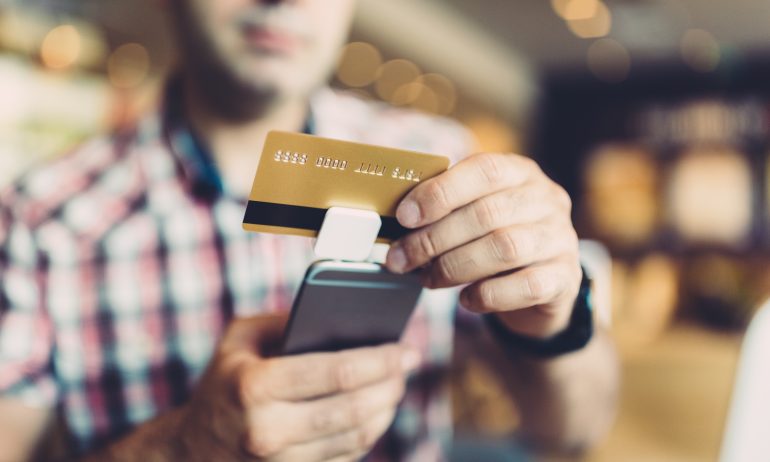 Many or all of the products featured here are from our partners who compensate us. This may influence which products we write about and where and how the product appears on a page. However, this does not influence our evaluations. Our opinions are our own. Here is a list of our partners and here's how we make money.
When paired with a mobile point-of-sale app, iPhone credit card readers can allow you to accept and process credit cards via swipe, chip and even contactless. For iPhone users, it can be one of the simplest and most efficient ways to accept payments from customers.
Ultimately, the best credit card reader for iPhone will depend on your business and what you need from your card reader, mobile POS software and payment provider. Any of these credit card readers and services may serve your business well.
Square readers: Best overall credit card reader for iPhone
Square offers not one but two different types of credit card readers for iPhone that work with the Square POS app (and can also be used on iPad).
Square offers the Square Reader for Magstripe, which is a piece of hardware that allows you to accept swiped card payments. There are two different versions of this credit card reader for iPhone, one with a headphone jack connector and the other with a lighting connector, to accommodate both newer and older versions of the iPhone. Additionally, this Square reader can be used with both an iPad and an Apple computer.
The second credit card reader for iPhone that Square offers is the Square Reader for Contactless and Chip. As the name implies, this reader allows you to accept EMV chip cards, Apple Pay and Google Pay. Unlike the Square Magstripe Reader, this reader connects wirelessly to your iPhone via Bluetooth.
Square mobile POS software
In order to use either of the Square credit card readers for iPhone, you have to download the mobile Square POS app. With this software, you receive a variety of impressive features, including:
Digital receipts, tips and signatures.

Ability to add and customize products.

Real-time analytics and reporting.

Save credit cards on file.

Offline mode to swipe payments without an internet connection.

Integration options for other Square and third-party tools.

Data encryption, fraud prevention and more security features.

Customer support via phone, email or live chat.
One of the most notable benefits of the Square readers is that you can sign up for a Square account for free online and receive a free Magstripe Reader. Additionally, the Square mobile POS software is free to download and use.
If you want an additional Magstripe Reader, you'll have to pay $10 for each. The Contactless and Chip Reader will cost $49. Therefore, hardware aside, the only Square fees you'll pay to use either of these credit card readers for iPhone will be transaction fees. Square charges flat-rate fees of 2.75% for each transaction. Square does not charge startup fees, authorization fees, statement fees, PCI-compliance fees or other extraneous fees, and you can expect your funds to be in your business bank account within one to two business days.
Square's credit card readers for iPhone are a top option for small businesses. The Square free POS software is one of the most feature-rich out there and can give you the full range of business management capabilities.
The Square credit card readers are flexible, easy to use and affordable, especially considering that you receive a free magstripe reader with your account. Additionally, the transaction fees you'll incur with these card readers are clear, flat-rate and competitive with other solutions on the market.
PayPal Here: Best for hardware options
Although PayPal is typically known for its online payment solutions, it also offers PayPal Here as an option for accepting in-person credit card payments on the go.
Like Square, there are a few different types of PayPal Here credit card readers to choose from. First, there's the PayPal Here Mobile Card Reader, which can be plugged into the audio jack of your iPhone and, with the PayPal Here app, can be used to accept credit card swipes. PayPal also offers the Chip and Swipe Reader, which connects to your iPhone via Bluetooth and can accept dipped and swiped credit card payments.
Next, PayPal Here offers the Chip and Tap Reader, which accepts all three payment types: dipped, swiped and contactless via Bluetooth. The last of the PayPal Here card reader options is the Chip Card Reader, which can accept EMV cards as well as swiped and contactless payments. Unlike the Chip and Swipe Reader, this hardware includes a keypad for pin entry. The Chip Card Reader also connects to your iPhone via Bluetooth.
Each of these PayPal Here credit card readers for iPhone can be used with iPad as well.
PayPal Here mobile POS software
Regardless of which PayPal Here credit card reader you choose, you'll have to pair the reader with the PayPal Here POS mobile app.
The PayPal Here POS app has the following features:
Customize receipts, add tips, apply discounts, refund sales.

Create your product list.

Assign roles and permissions for employees.

Track sales and generate reports.

Connect to other PayPal small business solutions or POS systems.

Transfer funds from your PayPal account to your business bank account.

Access customer support via phone or email.
With PayPal Here you can sign up online and download the app for free. Additionally, with the limited-time PayPal offer, you can receive a free Mobile Card Reader or Chip and Swipe Card Reader when you sign up for your account.
On the whole, you'll pay limited fees with PayPal Here — mostly just transaction fees and the cost of any other credit card readers for iPhone you choose to purchase. In terms of the card readers, the four options are priced as such:
Mobile Card Reader: $19.99.

Chip and Swipe Reader: $24.99.

Chip and Tap Reader: $59.99.

Chip Card Reader: $99.99.
Regardless of which of the four readers you use, you'll pay a 2.7% processing fee per transaction. PayPal does not charge startup costs, termination fees or monthly fees. It does charge a $20 chargeback fee.
Overall, PayPal Here stands out as offering some of the best credit card readers for iPhone due to its variety of options, general affordability and ease of use.
Although a variety of small businesses may find great use out of PayPal Here, with the connection to PayPal's online payment platform, this solution is even more well-suited for online-based businesses looking for a quick and easy in-person payment option, or for service-based businesses who want to be able to quickly and easily swipe customer cards as they complete jobs on-the-go.
Payanywhere: Best for low-cost processing
For a simple, affordable credit card reader for iPhone, you might also consider Payanywhere. Payanywhere offers a full-service payments platform, which includes its two mobile card reader options.
The first iPhone credit card reader Payanywhere offers (also compatible with iPads and Apple computers) is the 2-in-1 Reader. This reader connects to your iPhone via Bluetooth and can accept dipped and swiped cards. The other Payanywhere credit card reader for iPhone option is the 3-in-1 reader. This reader includes the added capability of being able to accept contactless payments.
Payanywhere mobile POS software
The Payanywhere iPhone app pairs with both of its card readers and allows you to take credit card payments, online and offline. This software also includes:
Tips and signatures on screen.

Email, text or print receipts.

Open tickets and start a tab.

Create and send invoices.

Perform refunds and voids.

Access transaction data and sales reports.

Customer support via phone, email and chat.
Payanywhere operates on a pay-as-you-go pricing structure. There is no cost to download the Payanywhere iPhone app, and when you sign up for your account, you receive a free 2-in-1 Reader. Additional 2-in-1 readers cost $29.95 each, and the 3-in-1-reader cost $49.95.
Payanywhere charges 2.69% per transaction for each in-person card payment regardless of which of the two credit card readers for iPhone you use. This rate is designated for merchants processing under $10,000 per month. If you have a higher processing volume, you can contact Payanywhere for a plan with custom credit card processing fees.
Payanywhere does not seem to charge any additional fees for its service, with the exception of a $3.99 inactivity fee, which you'll incur if you do not process a transaction for 12 months. This inactivity fee will recur each month until processing continues or you cancel your account.
Payanywhere's simplicity and low processing rates make it a great option for some small businesses. Although Payanywhere might not be the best option for larger businesses that need a more robust and complex POS system, it's a great option for quick and easy on-the-go processing.
SumUp: Best for simple design and ease of use
Perhaps the most straightforward credit card reader for iPhone is SumUp. SumUp only has one all-inclusive reader.
The SumUp Card Reader can accept EMV chip cards, swipe cards and contactless cards, as well as Apple and Google Pay and connects to your iPhone or iPad via Bluetooth.
SumUp mobile POS software
Just like its single credit card reader for iPhone option, the SumUp mobile POS app is simple and easy to use. This mobile app allows you to:
Track all of your sales and view basic analytics.

Create product catalog and manage inventory.

Add tips, process refunds, accept e-signatures.

Monitor payouts in real-time.

Print receipts or send via email or text.

Create unique employee accounts.

Integrate with e-commerce platforms.

Payouts to your bank account in one to two days.

Access phone and email-based customer support.
SumUp only charges a flat rate of 2.65% per transaction and a fee for the physical reader, which costs $19. SumUp does not charge monthly fees, fees for PCI compliance or a fee to use the SumUp app. Moreover, SumUp does not require a contract, and you can cancel at any time. There's even a 30-day money-back guarantee for its card reader.
SumUp is a great credit card reader for iPhone for businesses looking for the quickest and easiest way to accept in-person credit card payments via mobile device. Although SumUp does have some limitations — it doesn't have as many features as other options, requires an internet connection and doesn't offer a free card reader with your account — it also has some significant benefits on top of its overall simplicity. SumUp has one of the lowest transaction rates on this list and at only $19, the credit card reader is one of the most capable and most affordable for iPhone.
SwipeSimple: Best option from a merchant account provider
The last option on this list functions a little differently than the others. SwipeSimple, cannot be acquired directly from the website or from the SwipeSimple company. Instead, SwipeSimple must be purchased through a merchant service provider, like Payment Depot or WorldPay, as part of your service package with that organization
Nevertheless, SwipeSimple has a significant amount to offer with its card readers and mobile POS app. First, it offers two different credit card readers: the Swift B200 and Swift B250. The Swift B200 can accept EMV chip cards and magstripe cards by connecting to your iPhone via Bluetooth. The Swift B250 can accept mobile wallet payments in addition to EMV and magstripe payments. This credit card reader for iPhone also connects via Bluetooth.
SwipeSimple mobile POS software
By connecting the SwipeSimple mobile app to your card reader, you can accept and process payments on the go. This app also includes features such as:
Offline mode to accept payments without internet.

Manage multiple devices, merchant accounts.

Modify tip and signature prompts.

Data encryption and fraud protection.
Since you have to purchase the SwipeSimple credit card reader for iPhone and its corresponding service from your merchant service provider, the price will vary, depending on the provider you work with. This being said, if you already work with a merchant service provider or need a provider that includes a merchant account, you might consider talking to your provider about SwipeSimple for details regarding pricing.
For example, Payment Depot is a merchant account provider that works with SwipeSimple, and it provides a free mobile reader (although it doesn't specify which one) with all of its subscription plans. Additionally, its processing rates are very affordable, starting at interchange plus $0.15 per transaction with the basic level plan.
SwipeSimple works with 15 out of the top 50 merchant acquirers in the U.S. and has high reviews on the iOS App Store. Therefore, it's certainly worth looking into SwipeSimple for your credit card reader for iPhone.
Square POS Great for small-business owners looking for a top-notch POS with quick setup and easy-to-understand fees. Read Review.

Toast POS Great for restaurants that need specific features and 24/7 customer support.

Clover POS Great for small-business owners looking for reasonable prices and versatile hardware options.

Merchant account providers

PaymentCloud Great for businesses in high-risk industries.

Payment Depot Great for cost-effective credit card processing for midsize businesses.
A version of this article was first published on Fundera, a subsidiary of NerdWallet.