Guide to JetBlue Baggage Fees
JetBlue baggage fees can add up, but there are ways to avoid them, including by holding a JetBlue credit card.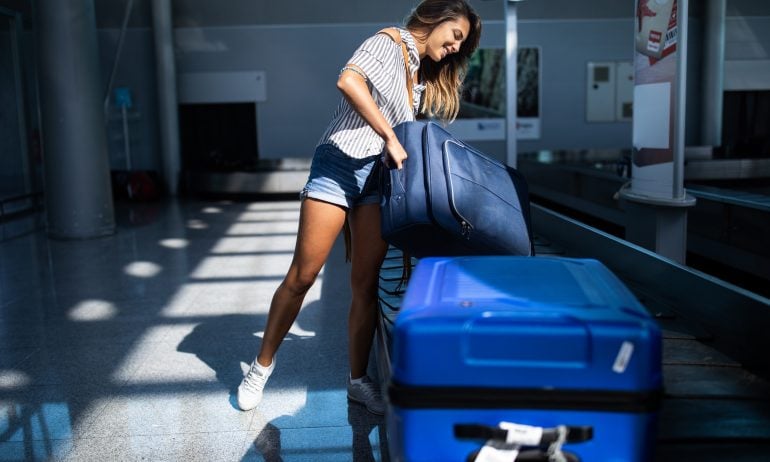 Many or all of the products featured here are from our partners who compensate us. This influences which products we write about and where and how the product appears on a page. However, this does not influence our evaluations. Our opinions are our own. Here is a list of our partners and here's how we make money.
Travelers pick JetBlue Airways for its low fares, access to popular destinations and in-flight service. While many people carry their bags on the plane, others choose to check their bags so they can focus on enjoying the flight. If you're #TeamCheckedBags, you need to understand how much JetBlue baggage fees are, when they apply and how you can avoid paying them.
How many bags can you bring on JetBlue?
When flying with JetBlue, the number of bags you can carry on or check in, and the fees for doing so, vary based on multiple factors, including:
The weight of the luggage.

What credit card you have.
JetBlue carry-on allowance
All JetBlue fares include one personal item that can fit under the seat in front of you. This includes a backpack, purse, laptop bag, approved pet carrier and similar items.
Most JetBlue tickets include one carry-on bag that fits in the overhead bin. However, sometimes the overhead bins fill up before you can board the plane, and you must gate-check a carry-on bag. Domestic travelers with Blue, Blue Extra or Mint fares or who purchased an Even More Space seat are guaranteed that their bag will make it on board.
Blue Basic fares don't include a carry-on bag. If these passengers attempt to bring a carry-on bag, they're charged $65 for the first or second bag or $180 for the third bag. Exceptions to this rule include:
JetBlue transatlantic passengers.
JetBlue checked bag allowance
The airline offers five fare classes, and all except Blue Basic allow passengers to check bags. Some fare classes include the first checked bag for free, while others charge a fee.
To avoid an oversized-luggage fee, checked bags should be 62 inches or smaller in overall dimensions (length plus width plus height) or weigh less than 50 pounds.
Restrictions on the number of checked bags and their size or weight vary by destination. Destinations with specific limitations include:
Current JetBlue baggage fees
Fees for checked luggage vary depending on your:
If you prepay for luggage in the app or during booking, or if you pay at the airport.
People with Blue Basic, Blue and Blue Extra fares pay a $35 fee for the first bag and $45 for the second for flights within the U.S., Latin America and the Caribbean if paid at the airport or within 24 hours of departure. Flights between the U.S. and the U.K. or Europe are $65 for the first bag and $105 for the second.
If your fare doesn't include checked bags, you'll save $5 per bag on the first two checked bags by paying in advance on jetblue.com or in the JetBlue app. The fee for a third checked bag (or more) is $200 per bag on flights to the U.K. and Europe and $150 on all others. For anything beyond the first two checked bags, travelers must pay at the airport or during check-in.
Here's what you can expect to pay for your first and second bags on JetBlue:
Within the U.S., the Caribbean and Latin America
| | | |
| --- | --- | --- |
| | | |
| | | |
| | | |
| | | |
| | Included (up to 70 pounds). | Included (up to 70 pounds). |
| | | |
| | | |
Between the U.S. and the U.K.
Overweight and oversized baggage fees
Excess baggage fees apply to checked bags that weigh more than 50 pounds or are more than 63 linear inches. Checked bags that are 51 pounds (23.13 kilograms) to 99 pounds (44.91 kilograms) are $150 per bag on domestic flights. On flights to or from the U.K. or Europe, the fee is $150 (£120/€140).
Linear inches measure the length, width and height of a checked bag. Bags measuring 63 inches (160 centimeters) to 80 inches (203.3 centimeters), including wheels and handles, owe a $150 fee per bag. The fee is $150 (£120/€140) on flights to or from the U.K. or Europe.
Bags over 80 inches or 99 pounds aren't accepted as checked luggage.
Eligible sports equipment counts as a checked bag, including golf bags, fishing rods, skimboards, skis or snowboards. They can be added to your reservation at any time. Although they may be oversized baggage, there are no additional fees as long as it meets the weight limit. The same JetBlue baggage fees schedule applies to sports equipment as to a piece of standard luggage.
Credit cards that give a free checked bag with JetBlue
JetBlue offers three credit cards, but only two of them include free checked bags. The JetBlue Plus Card and JetBlue Business Card offer the first checked bag free for the cardholder and up to three companions on the same reservation. To qualify for this benefit, you must use your JetBlue credit card to book your ticket.
While the no annual fee JetBlue Card offers numerous benefits, it doesn't offer free checked bags.
Other credit cards that reimburse JetBlue checked bag fees
JetBlue credit cards aren't the only ones that help travelers avoid paying for baggage fees. Some travel credit cards offer annual credits that cover checked baggage fees. Here are a few travel cards that include these benefits.
Check-in times for checked luggage
All luggage must be checked-in at the airport at least 40 minutes before departure on U.S. domestic flights and 60 minutes for international flights. Passengers must check in their own bags unless they're checking in bags for their family.
JetBlue doesn't accept checked bags more than six hours prior to the flight's scheduled departure time. Flights departing from San Juan, Puerto Rico, are an exception: Passengers cannot check in a bag more than four hours before those flights.
Not only can JetBlue passengers pay for their checked luggage ahead of time, but they'll also save $5 off JetBlue baggage fees on the first two bags by prepaying online.
Average fees compared across airlines
In NerdWallet's most recent analysis of airline fees, we compared seat selection, checked baggage and overhead carry-on baggage fees charged by the major U.S. airlines on typical one-way fares. Here's how they stacked up:
Frequently asked questions
Is overhead bin space for most fares really guaranteed?
Do any JetBlue fares include free checked bags?
Are checked bag fees refundable?
Are there any exceptions to the new Blue Basic no-carry-on-bag rule?
What will happen if I bring a carry-on with a Blue Basic fare?
JetBlue baggage fees recapped
When flying on JetBlue, you may incur fees for checking a bag. JetBlue baggage fees vary based on your destination, the type of ticket or the size of your luggage. You can waive checked bag fees by buying certain fare classes, earning Mosaic elite status or having the right credit card. Extra fees apply when checking multiple bags, if a bag is too large or it weighs too much. Some passengers avoid checked bag fees by stowing their luggage in the overhead bins during boarding.
---
How to maximize your rewards
Get more smart money moves – straight to your inbox
Sign up and we'll send you Nerdy articles about the money topics that matter most to you along with other ways to help you get more from your money.