How to Pick a Premium Travel Credit Card
Paying more than $450 in credit card annual fees can sound absurd, but they can easily pay off.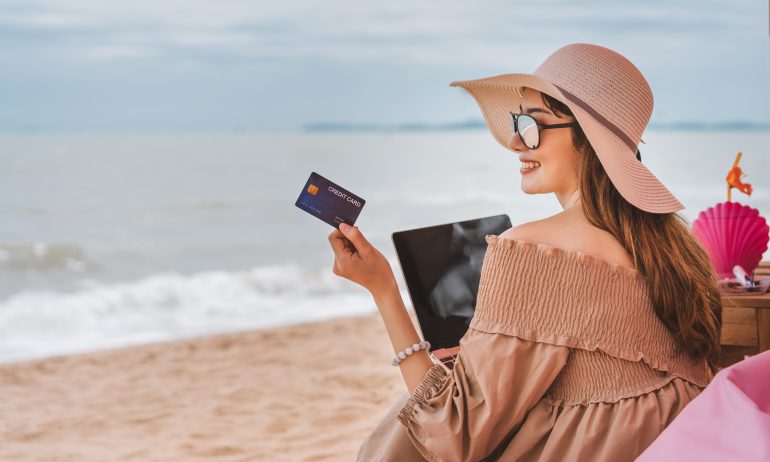 Many or all of the products featured here are from our partners who compensate us. This may influence which products we write about and where and how the product appears on a page. However, this does not influence our evaluations. Our opinions are our own. Here is a list of our partners and here's how we make money.
You've probably seen that one friend who always lives it up on vacation. They frequently post pictures of themselves inside secluded airport lounges, champagne in hand. They always seem to be getting suite upgrades at their hotels. Meanwhile, you're waiting at the gate as the last group to board, trying to cram your airport sandwich into the backpack you'll soon try to cram under the basic economy seat in front of you.
While your current credit card rewards account might consist of a measly few hundred points that you'll exchange for a restaurant gift card, it's possible to get a taste of the VIP life by upgrading to a premium .
Read our guide to help you compare travel credit cards.
There's no official definition of a premium travel credit card. On the whole, a premium travel credit card usually means it comes with valuable benefits (though they vary widely by card). Some are , like free checked baggage and priority boarding. Others are , like automatic elite status, free night certificates and free breakfast. And some credit cards are more general, but still just as ritzy with access to , extra spending rewards on purchases like travel and dining, credits and more.
One thing premium travel credit cards do have in common: three-figure annual fees.
There are eight credit cards out there today that we consider "Premium Travel Credit Cards." They are:
All the great benefits don't come for free. Every card in this guide has an annual fee of $450 or more. While it's generally not difficult for frequent travelers to justify the annual fee, that's still a big cost upfront.
Hold a credit card, and you need to commit to traveling a fair amount with Delta, regardless of whether that flight is more convenient. Even the flexibility of a or  travel portal won't have all the booking options you may want. If you don't like that level of commitment, a is more flexible, but the trade-off is your cash back is unlikely to match the value you could earn by committing to travel rewards.
These cards tend to have high APRs. If you're not able to keep up with your bills in full, you'll pay interest charges and other fees that'll quickly eat into the value of any potential rewards. If you tend to carry a balance, consider a instead.
You'll likely just have one (maybe two) premium credit cards, so think carefully about which one you want. Unlike when you built your existing credit card collection, where you might have four — Target, Amazon, Costco plus that you got in college — that tactic probably won't fly on cards with $450 annual fees.
Once you've committed to getting a premium travel credit card, prioritize the benefits you value most and whittle down your options from there. There's no one ultimate credit card that has everything, like airline status and hotel status and Centurion Lounge access and travel credits. But some cards come pretty close.
To help you narrow it down, we've created a short survey to understand your goals and help choose the best premium travel credit card for you:
Some people find it easy to show brand loyalty. In some cases, it feels like the choice is made for you, like if your local airport happens to be an hub or if your corporate headquarters are next to a . Others like brand loyalty so they can build up status.
While brand-specific cards probably won't help you much when you're traveling with the brand's competitor, they can propel you to VIP status at that brand with benefits like upgrade priority, free room nights on hotel cards or extra lounge access with the airline cards.
If you're already loyal to , Delta, United, or , or any of those brands' transfer partners, then consider the following cards:
The is mostly about access to the carrier's exclusive Admirals Club airport lounges. On its own, individual Admirals Club membership costs $500 to $650, depending on elite status and whether you pay for a new membership or a renewal.
The is less about the spending rewards, and more about the Delta VIP perks:
The best benefits of holding the materialize when you actually stay at Hilton hotels:
Those resort credits plus the free night reward can justify the card's annual fee right there, as long as you stay at Hilton hotels to use them. Plus you'll get automatic Hilton Honors Diamond status.
Hold the , and you'll be entitled to benefits including:
While there are a few other general travel benefits, including membership (enrollment required) and a statement credit for , most of the card's benefits come from spending money and staying with Marriott, so consider this card only if you're ready for that commitment. Terms apply.
The big sell with the is lounge access:
Economy class passengers can typically expect to pay $35 for the first checked bag on domestic flights and $45 for the second. Priority Boarding costs $15 on its own. That's $95 of value right there for a one-way flight had you purchased those things out of pocket. Spend that kind of money on three round-trip flights per year, and you've already justified the annual fee — and that doesn't even factor in other benefits like lounge access.
Loyalty to one brand means minimal flexibility to book at others, which is challenging if your airline doesn't serve your next travel destination. It also poses a cost-saving conundrum if a similar hotel from the competitor hotel chain is offering a huge discount.
You're considered a "travel credit card free agent" if you:
If that sounds like you, you're probably better off with a card that lets you earn and redeem rewards through a broad "travel spending" category, which might entail any of the following three cards:
The is another top of the line premium travel card that is a great fit for those not concerned with brand loyalty:
What's more, your options for travel redemptions are ultra-flexible. Since the Chase Ultimate Rewards® travel portal is powered by Expedia, you have the flexibility to book rooms beyond just the big hotel chains.
If you do want to book travel with a big brand, you can also transfer your points to of which there are about a dozen, including , Marriott, and United.
The is for people who prefer choice when it comes to hotel brands and who stay at least four nights in a row. That's thanks to a benefit in which your fourth hotel room night is free when you book and prepay for a four-night hotel stay through Citi's ThankYou rewards portal.
The discount is based on the average nightly rate, not including taxes and fees (rather than the literal cost of the fourth night), and the benefit can be used twice per calendar year. You'll find that especially valuable when you want free nights at hotels that don't otherwise have loyalty programs.
If you like the idea of booking travel on points or miles, you have that option too, as you can to partners including Turkish Miles&Smiles, Singapore KrisFlyer miles and Avianca Lifemiles. Notably, there are no hotel transfer partners for Citi.
might be your best choice. You can't have it all, but you can get pretty close.
provides some level of VIP status at many of the brands listed previously as well as general travel perks:
There are more than 20 airlines and hotels that you can transfer your points to, including , Delta, Emirates, , , Hilton and Marriott.
Now that you've decided whether you want to be loyal to one brand versus having point flexibility, you can rule out a big chunk of credit cards from your list of premium credit cards to consider.
Other factors to consider when picking the best premium credit card for you include airport lounge access, in-flight extras and checked bags, Global Entry and TSA Precheck, bonus points on spending, trip insurance benefits and car rental coverage. Here's a closer look at which cards make sense for your specific preferences.
Are you the kind of person who brags about showing up to the gate five minutes before it closes?  Or are you the kind of person who shows up two hours early to avoid the stress of missing your flight, and enjoys sipping a cappuccino before takeoff?
If you're the former, you probably don't need lounge access. If the latter, airport lounge access can drastically improve the quality of your trip. It's amazing what a free drink consumed in a less-crowded, quieter setting can do.
All eight cards give you some degree of airport lounge access; the best one for you will depend on which lounges you want access to.
Do you regularly check bags, line up to be the first to board, and treat yourself to an in-flight beverage or snack beyond the usual soda and pretzels? Or do you pack light, bring your own in-flight meal and prefer being last to board anyway?
If the former, you're either going to want a credit card that automatically covers the costs of those extras, or at least one that provides a statement credit reimbursing you for them.
Other than the (which comes with only $300 in Marriott hotel credits) all the other seven cards come with some form of airline specific or general travel credit to cover these types of fees.
are two types of programs that allow you to get through airport security quicker, which means you probably won't have to take off your shoes, and you'll likely get to your gate (or ) faster. Many premium credit cards on the market today will reimburse you for your application fee (TSA Precheck is $85 and Global Entry is $100).
If you're seeking Global Entry or TSAPrecheck, every card in this guide, with the exception of the , will get you a credit for these programs.
One of the best ways to continually rack up more points and miles (to cover the cost of your travel) is by earning points for your everyday spending. Yet with premium credit cards, earning supercharged spending rewards can be a mixed bag. Some cards offer the best spending rewards you'll find in certain categories, namely travel and dining. But other cards offer paltry earn rates, to the point where you'd be better charging your purchases to a cash-back card and using your earnings to pay for your next vacation.
Here are the returns you can expect to earn on each credit card. Dollar values are based on of points and miles valuations.
Note that each issuer has a unique definition for each of the following categories. For example, some issuers may consider subway fares as travel while others don't, and some consider bars or cafes as restaurants while others don't.
Value of points per dollar spent on dining:
Value of points per dollar spent on airfare*:
*Bonus points on American, Delta and United branded cards are limited to airfare with their respective brands. For AmEx issued cards, flights must be booked directly with the airlines or through AmEx Travel. 
Some credit cards — including many in this guide — provide travel insurance if you use your card to pay for your travel expenses.
The degree of coverage differs by card. Depending on how much coverage you need and the level of customization you're willing to sacrifice, you might find your credit card's coverage is sufficient enough that you don't need to buy a separate policy from a at all.
The following credit cards also offer some sort of trip insurance:
Many credit cards also include some degree of . While most policies won't cover absolutely everything, you might be able to avoid taking up the rental car company's offer of coverage, usually for around an additional $10 a day, by charging your rental car to the right credit card.
For some cards, coverage is primary, while for others it's secondary. If your card offers primary insurance coverage, typically you'll have to decline the collision damage waiver or similar coverage offered by your rental car company in order for your credit card's primary coverage to be applicable. Then use the card to pay for your rental.
The following credit cards also offer rental car coverage.
With annual fees starting at $450 for premium credit cards, you'll probably have to think carefully about which one you want. Considering that many cards have overlapping benefits, it doesn't make sense to pay two annual fees.
The biggest factor in deciding which premium card is best for you comes down to how flexible you're willing to be with brands. If you're flying with American, Delta or United regularly, you'll find you get better benefits with their co-branded credit cards.
If you dislike the idea of sitting on a mountain of brand-specific miles you're not certain when you'll use, it's almost always better to go for a general premium travel credit card.
Once you've committed, determine which other benefits you value most.
You can't have it all, as there's no single card that offers early boarding, airline lounge access, hotel status and unlimited free checked bags. If you're looking for that, readjust your expectations.
But you can determine which credit card benefits are nonnegotiables, which ones might be nice-to-haves and which ones you don't anticipate using at all.
It's impossible to say whether one credit card is "the best." After all, personal finance is personal. But for travelers who appreciate the finer things in life — and don't mind paying hundreds of dollars in annual credit card fees to get them — the right premium credit card can greatly improve their travel experiences.
All information about the has been collected independently by NerdWallet. The is no longer available through NerdWallet.
To view rates and fees of the , see .
To view rates and fees of , see .