JetBlue Mint: Your Guide to Flying First Class
JetBlue's Mint has some of the roomiest seats in first class among domestic airlines.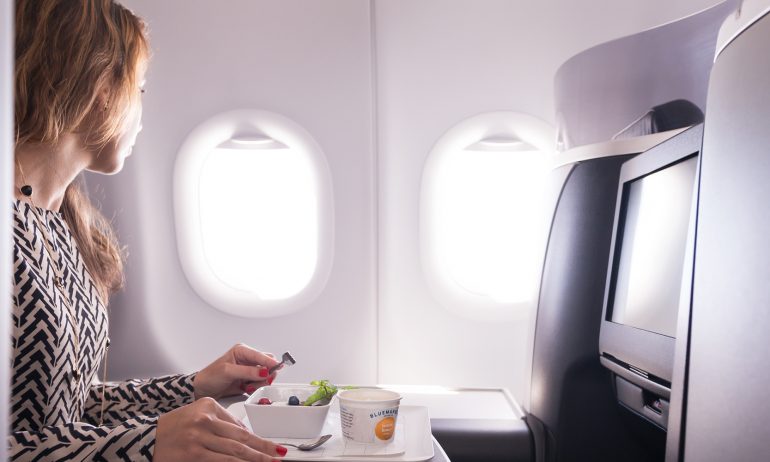 Many or all of the products featured here are from our partners who compensate us. This influences which products we write about and where and how the product appears on a page. However, this does not influence our evaluations. Our opinions are our own. Here is a list of our partners and here's how we make money.
Does JetBlue offer a first-class flying experience? Kind of — and it's not too shabby an option, either. However, if you're looking for seats specifically labeled "first class," you may have a hard time finding them; the airline calls its premium seats "JetBlue Mint."
Depending on the flight, there are additional tiers of JetBlue Mint seats that are even fancier. Some flights offer Mint Suites, which gives you a private suite complete with a sliding door. And in the even bigger Mint Studio, there's enough room for two people.
So what is it like to fly in first class on JetBlue? Is JetBlue Mint really worth it? We break it all down for you in this guide to JetBlue's first class.
What JetBlue Mint seats are like
When flying first class on JetBlue, expect a lot of space: You're getting a fully lie-flat seat that's 6 feet 8 inches long. The seats even have cushions with adjustable firmness and a massage feature.
The seat will include a 15-inch (or larger) TV fully-loaded with free on-demand movies and shows, live TV and other entertainment, including meditation and digital newspaper access.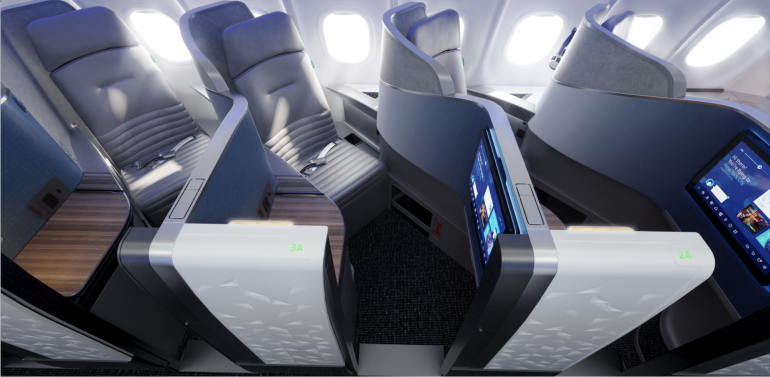 On some flights, your JetBlue Mint seat is actually an entire suite, which includes a tilting 17-inch seat-back screen, wireless charging capabilities, a phone ledge, in-seat power and small-item stowage.
JetBlue Mint Suites launched in June 2021 on a limited number of flights between New York and Los Angeles, with 16 fully lie-flat, private suites with a sliding door for every Mint customer. Later in 2021, JetBlue will introduce a 24-seat layout on its Airbus A321 Long Range aircraft, which service flights between New York-JFK and both London Heathrow and London Gatwick airports.
Those suites are placed in a herringbone configuration. You'll find 24 private suites on the transatlantic version and 16 on the transcontinental one.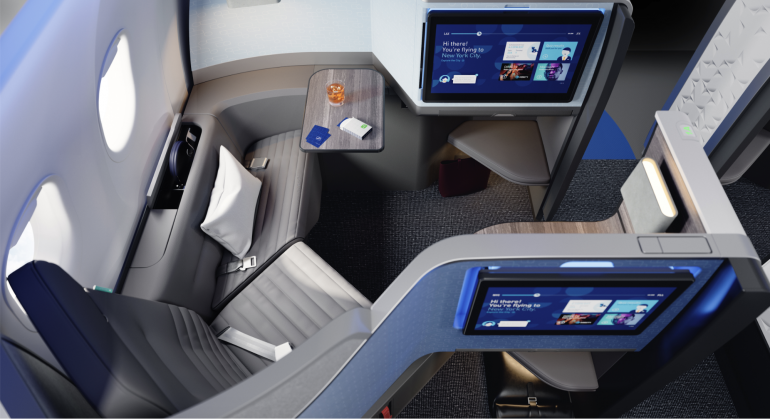 Sit in the first row, and JetBlue will do you one better. Each of the aircraft outfitted with the Suites will also have two "Mint Studios" in the first row. Those are even larger than the Suites, featuring a 22-inch tilting seat-back screen (versus the 17-inch screen), an extra side table for added productivity and a guest seat that can accommodate an additional Mint customer during flight at cruising altitude.
What else you can expect when flying JetBlue Mint
You'll get quite a few extra perks besides just more legroom and lie-flat seats when you fly JetBlue Mint. Here are some of the highlights:
A faster airport experience: With Mint, you'll have access to a dedicated check-in queue and expedited security lane. You'll have priority boarding, making you one of the first on and off the plane. Plus, it's not just you who gets off sooner — your bags will too, thanks to a preferred bag claim carousel.

Your second bag checked free: Mint Customers get not only their first bag checked free, but the second checked bag free too (up to 70 pounds). This benefit is only accessible to Mint flyers and JetBlue Mosaic members. Otherwise, Blue Plus customers and JetBlue Plus card members get their first bag checked free, but will have to pay $45 for the second.

Premium food: The economy-class snacks were already pretty good on JetBlue, so it only makes sense that the food on a Mint fare is even better. While menus vary by flight, expect items like pineapple French toast or smoked trout for breakfast and ceviche or beef tenderloin for dinner. Before you go, you'll receive a bag of premium chocolate-covered cashews. Though, depending on who you ask, that might be a downgrade from the previous pre-arrival snack of a Milk Bar cookie.

Mixed drinks: Mint flyers are also offered wine and cocktails. Opt for the "Mint Condition" cocktail, named after the first-class cabin. This drink consists of Bombay Sapphire gin or Tito's Handmade Vodka, ginger, lime, cucumber and mint. There's even an alcohol-free version, too.

A sleeping kit by Tuft & Needle: Once onboard, you'll receive a sleeping kit designed by Tuft & Needle, which includes a convertible blanket with built-in foot pocket, a memory foam-lined pillow with a pillowcase, an eye mask and earplugs.
How to book a seat in JetBlue Mint
Mint fare availability varies
First off, don't expect Mint fares to be available on every JetBlue flight; Mint is an option only on select cross-country domestic flights and international routes. If you're taking a quick trip from, say, Los Angeles to Lake Tahoe, no Mint for you.
If your route does have a JetBlue Mint option, you'll book as usual.
Simply search your route and choose JetBlue fare class you want. At the booking window, you'll be able to toggle between options such as paying in dollars or TrueBlue points or booking nonrefundable versus refundable (which are typically more expensive) fares.

If you're booking a class reservation for multiple people, you can't put one person in Mint and someone else in a lower fare class. If you want Mint for you, but don't mind leaving your buddies in Blue Basic, you'll have to book them on a separate reservation.
Can you upgrade to Mint after booking?
Yes, it's possible to change your seat should you decide to upgrade to Mint later. But know that if you paid with points, you'll have to use points to upgrade. Likewise, if you paid with cash or a card, you can only upgrade using that same payment method.
How is JetBlue handling COVID-19 for Mint customers?
If you flew JetBlue Mint before the pandemic, expect changes beyond just different food and that new amenity kit. JetBlue has modified some of its service offerings to aid in social distancing or improved hygiene. Changes include:
Your arrival snack is sealed.

Your meal and dessert are served together with a lid or foil covering.

Garnishes are served on the side.

Drinks are served in single-use cups and refills are served in a new cup.
And JetBlue Mint has cut some of its old offerings. Temporarily removed services include:
Welcome drink and pre-departure beverage service.

Bread, breakfast sides and fruit options.
You also likely won't be the first to board anymore. Because JetBlue temporarily suspended its normal boarding procedures to promote social distancing, most customers will now board the plane back-to-front. That means you'll likely be one of the last to board but you'll still be one of the first off.
JetBlue's first-class Mint experience rivals that of most other major airlines — and in some areas, outpaces the competition. With roomy lie-flat seats, semi-private suites, free meals and entertainment, and a speedy check-in and boarding process, if you're willing to pay the price, the Mint experience is likely worth it.
Frequently asked questions
What is the JetBlue Mint cancellation fee?
What do you get with JetBlue Mint?
Is JetBlue Mint the same thing as business class?
Do all JetBlue flights have Mint?
Are all JetBlue Mint seats lie-flat?
---
How to maximize your rewards
Get more smart money moves – straight to your inbox
Sign up and we'll send you Nerdy articles about the money topics that matter most to you along with other ways to help you get more from your money.