The recent and rapid rise of robo-advisors has left one significant hole in the market: Few of these advisors manage workplace retirement plans like 401(k)s, which hold many of America's retirement assets.
Enter Blooom, which exclusively manages defined contribution plans: 401(k)s, 403(b)s, 457s, 403(a)s and thrift savings plans. The company manages nearly $500 million in assets. It uses automated technology and human advisors to make the most of a client's plan offerings, then checks for rebalancing opportunities every 90 days. Clients have access to financial advisors via chat and email. There's no account minimum, and Blooom charges a flat fee of $10 a month.
---
Quick Facts
Management fee: $10 per month
Account minimum: $0
One month free
Blooom is best for:
Employer-sponsored plan participants.
Hands-off investors.
Investors with higher-than-average risk tolerance.
Blooom at a glance
Overall



Account management fee
401(k) analysis is free.
Account management: $10/month
Portfolio
Not Rated
Investments used are limited to 401(k) offerings. Blooom prioritizes index funds, with occasional use of actively managed funds. The service first reviews funds already owned.
Account minimum
$0
Account fees (annual, transfer, closing)
None
Accounts supported
Employer-sponsored plans: 401(k), 457, 403(b), 401(a) and TSP
Automatic rebalancing
Portfolios are checked every 90 days and rebalanced if needed.
Customer support
Email and chat support only, but financial advisors are on staff to answer financial planning questions.
Where Blooom shines
401(k) management: An employer-sponsored plan like a 401(k) is the primary retirement savings vehicle for many people. However, it's rare for an online advisor to manage them; most deal exclusively with individual retirement accounts and taxable accounts. The field isn't completely without competition, though it's close: Vanguard Personal Advisor Services and Personal Capital both offer 401(k) guidance, but not direct management. Blooom excels in its ability to manage any 401(k), no matter where the account holder works or where the account is held. There's no need for your employer to have a partnership with the service.
No account minimum: Beginner savers can have Bloom manage their accounts right from the start, giving them a better shot at getting off on the right foot.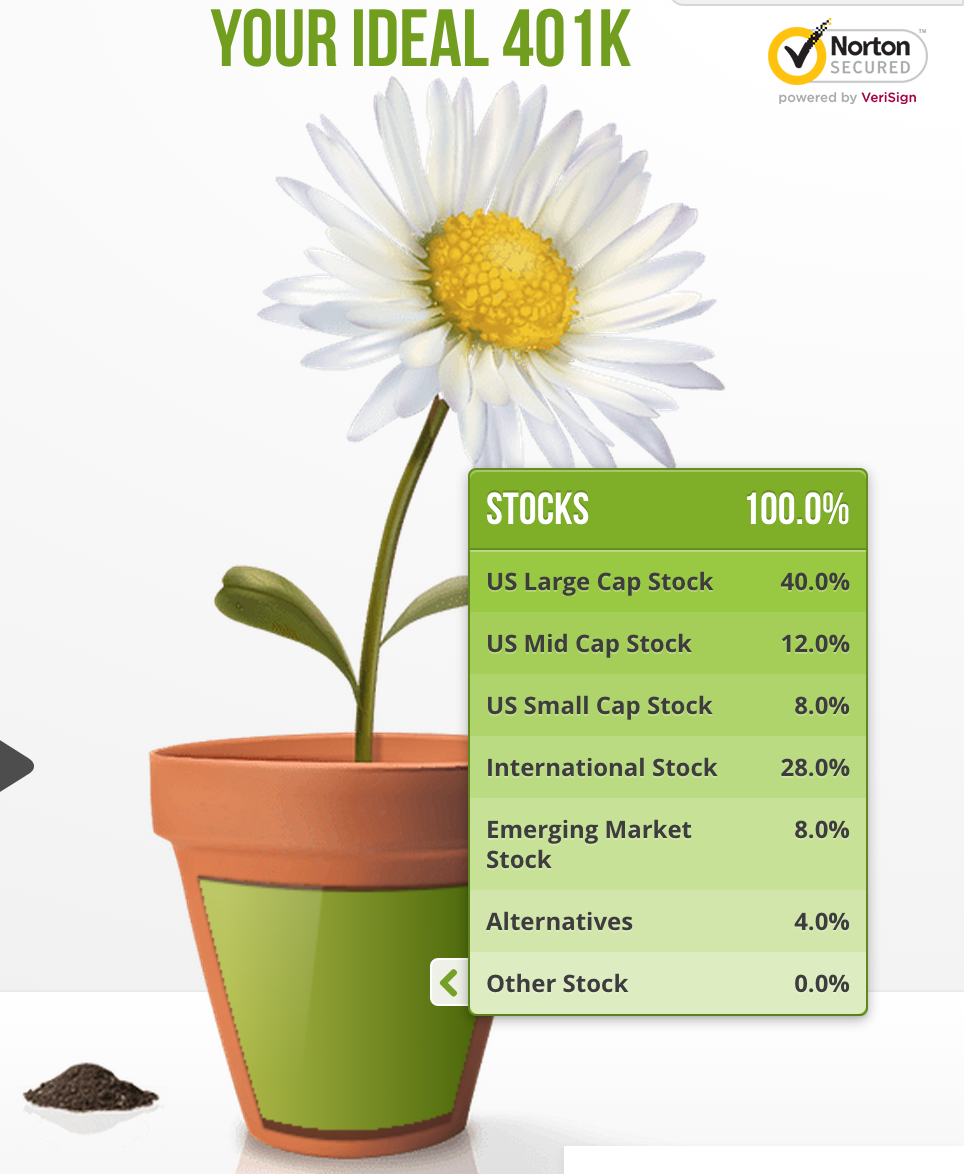 Free analysis: Anyone can connect and analyze a 401(k) for free, a process that's about as painless as it gets. You create a Blooom account and link your 401(k) by selecting your provider and logging in on Blooom's site. Using a flower as a symbol of your 401(k)'s health, the company shows how your existing allocation is faring and suggests ways to improve it. At that point, do-it-yourselfers could easily take those recommendations and change their asset allocations on their own. Investors who want help can sign up for management with Blooom, which includes rebalancing every 90 days. Blooom sends its customers an email notification each time it makes an adjustment.
Investment expense audit: Employer plans generally offer limited investment options, many of which carry higher-than-average fees. Blooom works within the investments available in the account by classifying each fund option into one of 14 categories. Then the company's algorithm selects the fund in each bucket with the lowest internal expense ratio. Although there are many instances when there's only one fund in each category — and, as such, no way to lower expenses — this method can help investors lower their expenses overall while maintaining an appropriate asset allocation and diversification.
Financial advisors: We ding any company that doesn't have direct phone support for its customers. But if that doesn't matter to you, you'll be happy with Blooom's email and chat support, which includes access to financial advisors. The company says these advisors are available to answer any financial planning question, including questions that fall outside of 401(k) management — things like debt repayment, budgeting and preparing for major life events.
Cost: There's something to be said for Blooom's clean, flat monthly fee. Investors know exactly how much they're paying, and the fee is charged to a credit or debit card rather than being skimmed from the account balance. But there's a downside to flat fees, too. In order to compare costs with other advisory services, both robo and human, it's important to evaluate that fee as a percentage of the assets under management.
Here are a few examples of Blooom's pricing at various account levels:
| Account balance | Fee as percentage of assets per year |
| --- | --- |
| $2,000 | 6% |
| $10,000 | 1.2% |
| $25,000 | 0.48% |
| $50,000 | 0.24% |
| $100,000 | 0.12% |
Blooom says its median account balance is $33,100 — $10 a month on that balance works out to an annual fee of 0.36%. For comparison, human advisors typically charge around 1% of assets under management, and robo-advisors typically range from 0.25% to 0.35%. Given that Blooom is one of the few robo-advisors that manages 401(k)s, and that the company offers customers access to financial advisors, we think that's a reasonable charge.
Where Blooom falls short
Limited investor assessment: The company sign-up process, which involves linking your 401(k) account by signing in with your user name and password, is straightforward. But it may not be comprehensive enough from an investing standpoint. The questions that determine how Blooom allocates your assets don't delve any deeper than your birthday and target retirement age, and no mention is made of risk tolerance or investment goals. Some of that can be explained by the company's focus on employer retirement plans: It rightly assumes that the goal of every client is retirement. However, investors of every age vary in their risk tolerance, and that should be considered. Blooom says that many investors aren't confident in their risk tolerance and that the company's streamlined application makes the service more appealing.
Aggressive allocation: For the sake of testing, several NerdWallet staffers — ranging in age, though all under 40 — linked their 401(k) accounts to Blooom. All were given the same asset allocation recommendation of 100% exposure to stocks. Bloom says its algorithm tends to favor equities until the investor is roughly 20 years from retirement. Many investors would consider this too aggressive; few people have the stomach for this strategy, even with an investment manager like Blooom watching their backs. Investors who don't agree with the allocation that Blooom recommends can change it by simply moving a slider during the sign-up process.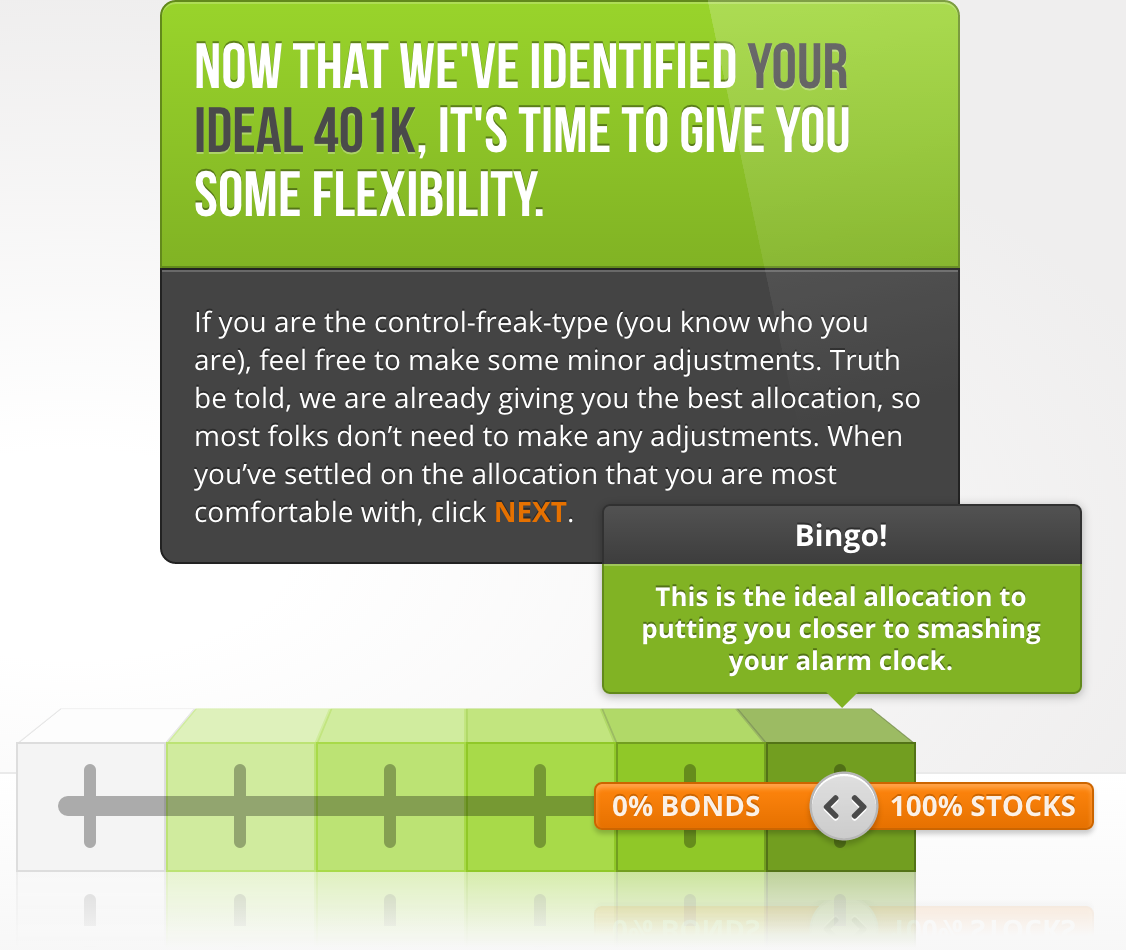 Is Blooom right for you?
Blooom earns four stars from NerdWallet because it brings much-needed investment management to employer-sponsored retirement plans, which are usually the primary retirement vehicle for those who have them. Few other robo-advisors have tapped this market, and those that have either require high account minimums or don't provide the kind of comprehensive management that Blooom offers. If you're looking for a robo-advisor for your 401(k), Blooom is the best option.
But before signing up, do the math to figure out what percentage of assets you'll pay based on your account balance and how that will change as your balance grows. You can cancel the service at any time, and it's easy to do because your 401(k) remains where it is. Investors can also test drive the service with the company's free analysis tool.
Arielle O'Shea is a staff writer at NerdWallet, a personal finance website. Email: aoshea@nerdwallet.com. Twitter: @arioshea.
Updated March. 1, 2017.