Review: 2016 Toyota Mirai Fuel Cell
One of only two fuel cell electric cars on the U.S. retail market, the Toyota Mirai — like the plug-in electric Tesla — aims to marry creature comfort and cutting-edge technology.
What you'll like: Responsive luxury car for the long-awaited "hydrogen highway." Super-comfortable seats, edgy look, space-age dashboard and years of free fuel.
What you won't like: Little access to that free fuel — only a handful of stations, almost all in California. Pricey. Small trunk.
What you don't know: There's a better chance of getting blown up by the gas tank in your car than the hydrogen tank in the Mirai.
Price: $57,500 sticker price, $499 a month to lease — but tax incentives and other perks bring both down. Details below.
Gallery (click to expand)
What's different about the Mirai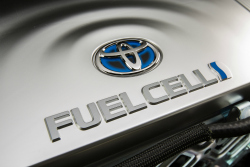 There's been talk about the "hydrogen highway" for years, a network of hydrogen fueling stations filling up cars that emit only drops of water so clean you could drink it. Sounds great, doesn't it? But that vision of the future is 10 years away. And it's always been 10 years away.
Until now.
Toyota, along with Honda and Hyundai, is putting its money where its corporate mouth is, finally offering a car powered by electricity generated by a fuel cell. The 2016 Toyota Mirai is now for lease or sale for those who can afford the high price tag and have a sense of adventure. The Hyundai Tucson Fuel Cell is already available for sale and lease in California, and Honda's Clarity Fuel Cell is expected to enter the market by the end of 2016.
The Mirai, a luxury sedan loaded with high-tech safety features, stickers at $57,500. But that price is reduced substantially by many factors we'll discuss later. It can travel up to 312 miles on a fill-up and takes about five minutes to refuel from a growing network of hydrogen fueling stations around Los Angeles and San Francisco. Two "connector stations" — one along Interstate 5 and one on the 101 freeway in Santa Barbara — make it possible to drive the Mirai between L.A. and the Bay Area.
The Mirai is, in a sense, an electric car that gets its power from a fuel cell rather than from electricity stored in a battery. The main advantage of the fuel cell car over an electric car with a battery is faster fill-ups and a longer range.
How it drives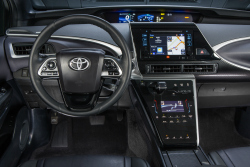 The Mirai is a midsize luxury sedan with touch screens, mounted in a swoopy dashboard, that provide stats on the driving experience, including fuel efficiency and battery charge levels (yes, it has a battery to briefly store electricity from its regenerative braking system, which activates a generator while braking or slowing down). The leather seats are comfortable and provide strong lateral support as if the car was built to be driven hard on winding roads.
A touch of the go pedal gives a surge of acceleration typical of electric cars. The Mirai's drive train makes an assortment of soft sounds — whining and buzzing — many of which are typical of electric cars. Overall, the engine noise is nearly silent and the road noise is very low, delivering a solid, upscale ride.
On a very short test drive, the suspension was firm but comfortable, handling potholes with ease. The brakes were spongy and unresponsive, which is typical of hybrid and electric vehicles, due to the regenerative braking technology.
What's included
The front-wheel drive Mirai comes in only one trim level, so the only decision you need to make is among the four available exterior colors. The sedan is packed with advanced safety features such as blind spot monitoring, lane departure warning, automatic emergency braking and adaptive cruise control. It also comes with several other perks:
Free fuel for three years, or up to $15,000 worth, whichever comes first.
An eight-year/100,000-mile warranty for the fuel cell components.
Free maintenance for three years/35,000 miles.
Roadside assistance for three years.
Complimentary rental car for trips outside the network of hydrogen fueling stations (up to seven days per year).
Carpool stickers for the HOV lanes.
Pricing: A Nerd crunches the numbers
Leasing: Most customers will lease the Mirai, because technology is progressing quickly, and after the three-year lease is over, more advanced cars will be available. The lease payment is $499 a month for three years with $3,649 due at signing, totaling a pricey $21,613 for three years of ownership. But wait — a California Air Resources Board rebate of $5,000 wipes out the down payment while also covering almost three monthly payments, bringing the ownership total cost to $16,613 for three years.
And it gets even better. Compare the Mirai, with its free hydrogen perk, with the similar-sized Toyota Avalon, which Fueleconomy.gov says has a $1,350 annual gas bill, and that adds up to a savings of $4,050. Now the out-of-pocket three-year total is only $12,563, or a monthly cost of about $350 (excluding registration and insurance costs).
Buying: Discounts and lease deals may pop up in the future. But for now, figure you will have to pay the sticker price of $57,500. Toyota sweetens the deal by offering 0% financing for 60 months. Furthermore, a $7,500 "Trailblazer" rebate and the $5,000 CARB rebate bring the price down to a still-pricey $45,000.
Knock off another $4,050 you don't have to spend on gasoline, and you are at $40,950. Some buyers might also be able to use the $8,000 federal tax credit, which would bring the Mirai to an optimistic final price of $32,950 — about the price of a 2016 Toyota Avalon.
Nerd's-eye view
There are many unknowns in the future of the fuel cell car. Perhaps the biggest is the availability and cost of hydrogen. If the hydrogen highway expands across the country and the cost of the fuel cell technology comes down, it could signal a clean alternative to gasoline-powered cars. But cheaper electric cars are already available, and charging stations are more plentiful. So you have to wonder whether the viability of fuel cell cars will perhaps remain 10 years in the future, after all.
Philip Reed is a staff writer at NerdWallet, a personal finance website. Email: [email protected].