Buying a home means finding the right house and a helpful real estate agent to guide you through the less-than-easy process. Redfin.com is built to do both. It looks like a typical home search site, like Zillow or Realtor.com, but Redfin isn't really just a home search site; it's a real estate brokerage.
With its own agents and local teams of support staff, it's aiming to work with you all the way from house hunting to loan closing. And discount its fees in the process. Here's how Redfin compares with other online real estate portals.

What Redfin.com does best:
Makes good use of technology with features like its "virtual home tour," called the 3D Walkthrough.
Allows easy house hunting. Its "best-of-breed broker app" is easy to use and allows you to add notes to listings.
Provides direct-to-agent appointments. With "Book It Now," scheduling an in-person tour of a home is a matter of just a couple of clicks, by simply choosing a convenient date and time.
Offers customer satisfaction transparency. Every client is surveyed, and every completed review is published detailing a Redfin real estate agent's performance.
Redfin.com at a glance
| Features | Pros | Cons |
| --- | --- | --- |
| Home listings | 3D Walkthrough is a virtual house tour featuring interactive views from multiple angles inside homes that are listed with a Redfin agent. It's like a Google Street View of a home's interior. | Currently available in about one-third of the markets Redfin serves (28 out of 80) |
| Neighborhood info | The Search by School feature shows all the homes for sale in an area served by a certain school by displaying enrollment boundaries. | Attendance zones are subject to change. Since the data is provided by third-party vendors and not sourced directly from local school boards, you'll want to confirm the information with a local agent. |
| Other resources | Redfin Open Book offers reviews of home-related services and vendors, such as lenders, inspectors, title companies, handymen and women, and stagers. | Because vendor reviews are sourced from Redfin users, in some markets only a handful of choices is provided for a limited number of services. |
| Finding an agent | The agent search feature includes large profile photos, the number of deals done by the agent and star-rated reviews of agents. Redfin says every customer survey response is posted online. | Searches return only Redfin agents, who currently serve about 80 metro markets. If you're in a smaller city or live in one of at least a dozen states, you're out of luck. |
What makes Redfin.com different
The most popular home search sites provide a marketing platform to real estate agents, but Redfin is actually a broker — promoting its own agents. That's a big difference. You can search for homes and research neighborhoods, but when you decide it's time to contact an agent, your search results will return only Redfin agents or partners.
To distinguish itself from other national real estate firms such as Century 21, Re/Max and Coldwell Banker, Redfin offers a twist on broker/agent commissions — in the form of rebates. For home sellers, Redfin charges a 1.5% listing fee, rather than the typical 2-3%, with a minimum fee of $4,500.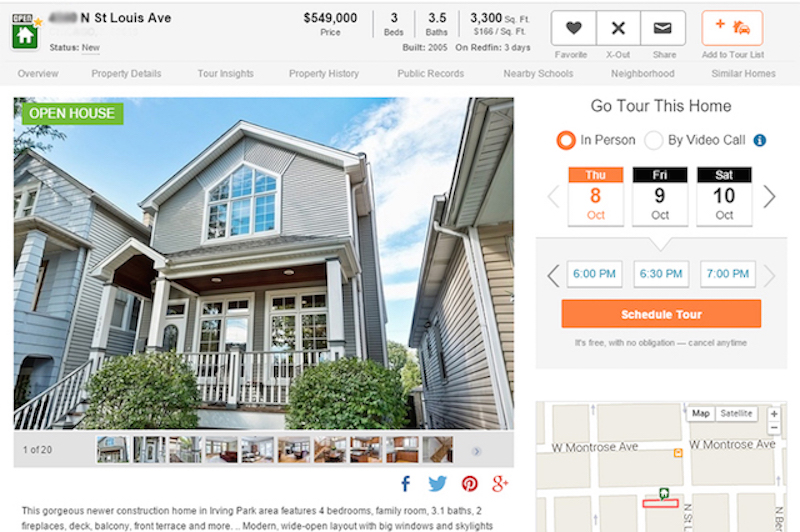 For buyers, Redfin refunds a portion of the agent's commission, generally 15%, though the amount varies with the market and the price of a property. In some cases you may deal with a "partner agent" who actually works for another brokerage firm rather than a Redfin agent — in that case, discounts may vary.
The commission refund is applied against closing costs, with lender approval. And yes, that means you could lose the refund if the lender nixes it. It's important to communicate with the lender from the outset about the Redfin commission rebate to be sure things go smoothly. But even then, there's a risk you may have to forfeit the rebate. In fact, a few states don't allow commission refunds, including Louisiana, Missouri, Oklahoma, Oregon and Tennessee.
Each client is asked to review his or her agent, with every review published on the website. Agents with high customer satisfaction are eligible to receive a bonus — $1,000 and sometimes more — according to Redfin.
Reasons to use Redfin.com
Home value tool: No doubt realizing the popularity — in spite of the controversy — of Zillow's home value "Zestimate," Redfin launched its own home valuation tool a couple of years ago. After entering your home's address, the tool allows you to choose from a list of recently sold, comparable homes in the neighborhood and then calculates a value estimate for your property.
Allowing an owner to choose homes that are most similar in value to their own is a unique approach, especially when compared with Zillow's Zestimate, which is a black box valuation tool without user input.
Instant updates: Smartphone or email notifications can be triggered when new homes are listed or when prices drop in the area that interests you the most.
Sellers can fuel demand: If you sell a home through a Redfin agent, you can notify other interested potential buyers when you receive an offer on your home, and set a deadline to accept competing offers.
Apps: Redfin ranked No. 5 overall among home search sites but earned "best-of-breed broker app" in a review by Clareity Consulting, an information and IT consultancy serving the real estate industry. "Redfin offers relevant functionality in a very palatable package," Clareity says.
With large images and basic information presented in an initial view, a house hunter can easily drill down for more detailed info. Plus, a user can add his or her own pictures and notes to each listing.
App Store reviews laud Redfin's ease of use, the sharable "Favorites" feature and open house search capabilities. However, iOS and Android users alike were looking for more home search filters, including parameters for swimming pools, fireplaces and garages.
The bottom line
With 10  years of venture capital funding under its belt, Redfin has a lot of believers, at least among the "smart money." For users, the home search capabilities, powered by local Multiple Listing Services (MLS), are comparable to what you'll find on Zillow and Realtor.com.
At best, only a tiny fraction of real estate agents in your area are likely to be represented in agent search results on Redfin. But the refund-powered broker/agent discount plan is worthy of consideration.
More from NerdWallet:
Hal Bundrick is a staff writer at NerdWallet, a personal finance website. Email: [email protected]. Twitter: @halmbundrick