If you're a rewards travel expert, you're probably familiar with Southwest's Companion Pass. But that famed benefit will get a bit harder to earn in 2020.
In advance of these changes, we'll explore the pros and cons of this perk, tips on how to earn it and when you may want to skip it.
» Learn more: NerdWallet's guide to the best airline and hotel loyalty programs
Companion Pass basics
The Southwest Companion Pass is one of the most sought-after benefits in the rewards travel space. The companion pass allows fliers to choose a companion to fly with them free of charge (just pay taxes and fees) each time you purchase or use points to book a flight.
Currently, travelers earn the Companion Pass by flying 100 qualifying one-way flights or earning 110,000 qualifying points in a calendar year. In 2020, the points needed to earn the pass will be upped to 125,000, though the number of qualifying flights will remain the same.
After earning the Companion Pass, the awardee can use it for the remainder of the year in which it was earned, plus the following calendar year.
You can earn the Companion Pass by using a Southwest Rapid Rewards credit card, shopping and dining at participating restaurants and retailers and, of course, traveling with Southwest.
» Learn more: Complete guide to the Southwest Rapid Rewards program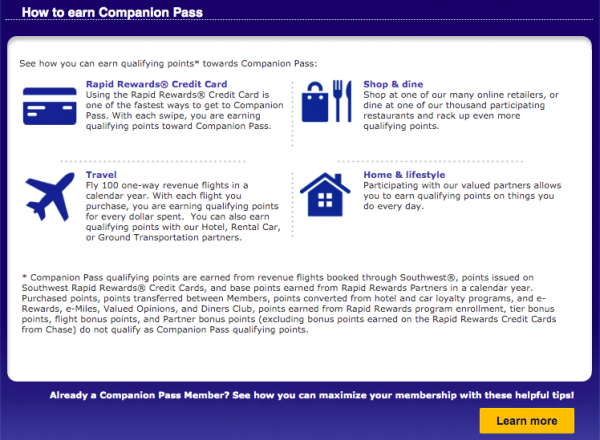 Weighing the pros and cons
Obviously, the biggest pro of the Companion Pass is being able to essentially get a two-for-one deal on flights for at least a year. This can amount to huge savings, especially if you and your designated companion are big travelers. And while you do have to pay taxes and fees for each companion flight, these are usually nominal on Southwest (generally $5 to $10).
Another major perk of the Companion Pass is that once you earn it, you can use it in conjunction with points as well as paid travel. For example, you can use your points to book a Southwest flight for yourself, then use your pass to book your travel partner's flight — essentially getting two flights for the price of none.
Earning the pass with flights
But this perk isn't without its drawbacks. While the Companion Pass has always been a stretch for some travelers to earn, it's about to get a bit more difficult come 2020.
Southwest recently announced it was upping the requirements needed to earn the pass next year. Beginning January 1, 2020, travelers will either have to take 100 qualifying one-way flights or accumulate 125,000 qualifying points (up from the previous 110,000-mile requirement) to earn the pass.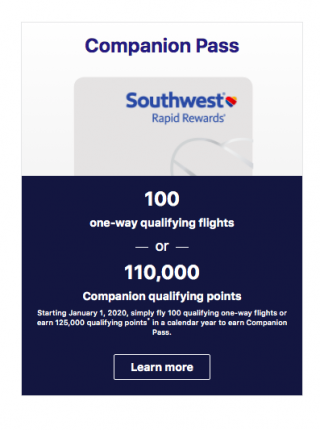 Regardless of whether you're earning the pass in 2019 or 2020, doing so with flights isn't an easy feat for the occasional traveler. Racking up 100 qualifying one-way flights means you'll need to fly at least 50 round-trip flights in a single calendar year — almost one flight a week.
If you're a very frequent traveler, the Companion Pass might be a realistic perk to pursue in this manner. But if you're more of a travel-for-leisure type, earning it this way may be a bit out of reach.
Earning the pass with points
You could also earn the pass by accumulating 125,000 qualifying points next year, which can be another tricky feat since purchased points and reward travel don't count toward this figure.
Points earned from Southwest credit cards do count (including their sign-up bonuses). But even a bonus alone won't get you there by itself; you'll need to put a good amount of spending on your card if you're going to earn a Companion Pass this way.
And there's always the risk you could end up spending more than you should for the sake of earning miles, so it's a good idea to weigh what you'll spend to earn the pass versus how much the pass could save you.
Think about these questions: Do you always fly Southwest? If so, could you bring a guest with you on some (or all) of the flights you'd take in the next year? Then it might be worth the extra spend to earn this pass. But you should also consider whether that spending may be more rewarding if you put it on a different card.
Let's walk through an example. We already know that earning a Companion Pass will cost you either 100 qualifying one-way flights or 125,000 points in 2020. Signing up for a Southwest Rapid Rewards® Premier Credit Card could net you the following welcome bonus: Earn 40,000 points after you spend $1,000 on purchases in the first 3 months your account is open.
You'd still need to collect 85,000 additional points to earn the Companion Pass in 2020. This card awards 2x points for every dollar you spend on purchases with Southwest or Rapid Rewards hotel and car rental partners, as well as 1 point for every $1 spent elsewhere.
For comparison's sake, let's say you don't have Southwest status, are mostly buying their cheapest "Wanna Get Away" fares, and take a few trips a year for a total of $2,000 spent on airfare. With Southwest, you'd earn 12,000 points from those flights under their revenue-based earning model (6 points per dollar spent on flights).
That leaves you with an annual requirement of over $70,000 worth of spending at 1x earnings to qualify for the pass.
» Learn more: Full review of the Southwest Rapid Rewards Premier card
But that amount of cash may be better spent on another rewards card. For example, with the Chase Sapphire Preferred® Card, you'll earn this bonus: Earn 60,000 bonus points after you spend $4,000 on purchases in the first 3 months from account opening. That's $750 toward travel when you redeem through Chase Ultimate Rewards®.
This card offers 2x points on travel and dining at restaurants and 1x per $1 on all other purchases, so you may be able to earn points more quickly for all your travel spending — and transfer your points to Chase partners if you travel with carriers other than Southwest.
We should also note that it's important to compare the value of any points you'll earn on these cards. Currently, NerdWallet values Southwest at about 1.7 cents per point and Chase Ultimate Rewards® points at about 1.25 cents each.
» Learn more: NerdWallet's Chase Sapphire Preferred review — a must-have card for travelers 
Specifics of earning the Companion Pass
You know the requirements to earn Southwest's companion pass — take 100 qualifying one-way flights or earn over 110,000 qualifying miles within a calendar year (125,000 in 2020). But what does qualifying mean, anyway?
Here's what counts toward a Companion Pass:
Revenue flights (i.e., a flight purchased with cash or credit, not using rewards points or other bonuses).
Partner hotel stays.
Partner car rentals.
Points earned via a Southwest Rapid Rewards credit card (including sign-up bonuses).
But there's a laundry list of what doesn't count toward earning a Companion Pass too, including purchased points, reward travel and (ironically) travel using the Companion Pass itself. To be clear: You can use the pass in conjunction with points to book a flight, but you won't earn any qualifying points from Companion Pass travel.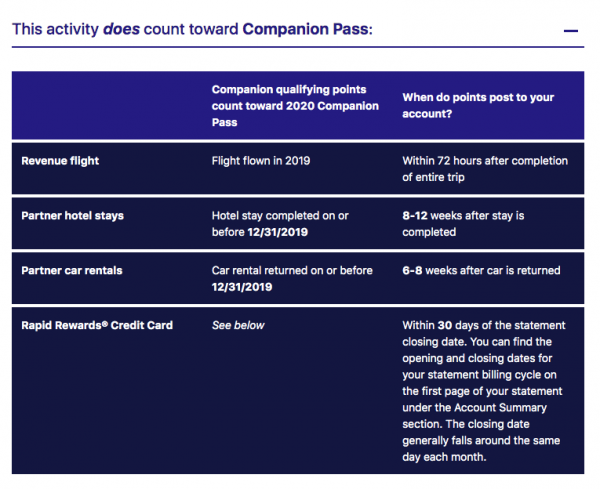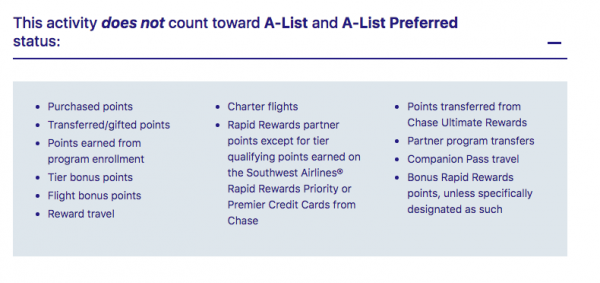 » Learn more: Your guide to the Southwest Companion Pass
The bottom line
The Southwest Companion Pass is one of those benefits that rewards travelers dream about. After all, it essentially cuts the airfare cost for your next couples-only getaway in half. But it's not easy to earn, and travelers can easily fall into the trap of spending more than they should just to earn it. Remember to weigh the cost of the pass against how much you'll spend to earn it. And if you're not a dedicated Southwest flyer, it's OK if you want to skip it altogether.
How to maximize your rewards
You want a travel credit card that prioritizes what's important to you. Here are our picks for
the best travel credit cards of 2020
, including those best for:
Planning a trip? Check out these articles for more inspiration and advice:
Find the best airline credit card for you
Which Southwest Airlines credit card should I get?
Earn more points and miles with these 6 strategies