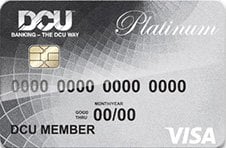 DCU Visa® Platinum Secured Credit Card
DCU Visa® Platinum Secured Credit Card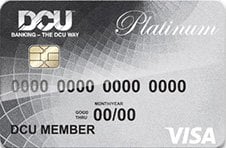 DCU Visa® Platinum Secured Credit Card
Card details
Secured card rates well below the national average

Borrow against your DCU savings account

No Annual Fee*

No Fees or Higher Rates for Cash Advances and Balance Transfers

Works with Apple Pay®, Google Pay™, and Samsung Pay

Insurance, car rental, travel, and warranty benefits

Optional Overdraft Protection On Your DCU Checking

Buy online easily and safely with Visa Checkout

Embedded EMV chip to protect your card information
Rates, fees & offers
Annual fee

$0

Rewards rate

N/A

Bonus offer

N/A

Intro APR

N/A

Ongoing APR

APR: 13.75%, Variable

Penalty APR: Up to 18.00%, Variable

Cash Advance APR: 13.75%, Variable

Foreign transaction fee

None
Not sure which card is best for you?
Take a simple quiz to find out
NerdWallet review
By Ben Luthi
Rating details
3.7
Editor's overall rating
Pros and cons
Pros
Qualify with limited / bad credit

No annual fee

No foreign transaction fee
If you have bad credit or no credit, the DCU Visa® Platinum Secured Credit Card is one of the top secured credit cards available. The main reason is that it's generous on fees. The $0, and there is no balance transfer fee or cash advance fee.
Another perk is the DCU Visa® Platinum Secured Credit Card's interest rate: The ongoing APR is 13.75%, Variable — relatively low. The card reports your credit activity to all three credit bureaus, helping you establish positive credit history more quickly. Plus, it doesn't put a cap on how high your credit limit can be — as long as you have enough cash to secure it with a collateral deposit.
A couple of things to consider: The DCU Visa® Platinum Secured Credit Card doesn't offer rewards, and it requires cardholders to become Digital Federal Credit Union members. If you want more information, check out our full review.